Delivering a High-volume 32ℓ Spray Tank Yamaha Motor: "Competitive Agriculture"with FAZER R Industrial Unmanned Helicopter Showcased at the October "Japan International Aerospace Exhibition 2016"
October 11, 2016
IWATA, October 11, 2016—Yamaha Motor Co., Ltd. (Tokyo: 7272) announced today that it has developed a new unmanned helicopter, the FAZER R. On sale from November 2016, this high-end industrial unmanned aircraft (commonly known as "drones") model is designed for the agricultural sector.

As it can carry a load of 32 liters of spray, the largest ever in Yamaha Motor's range of industrial-use unmanned helicopters ("unmanned helicopters"), the FAZER-R will have the ability to spray chemicals over four hectares of land without the need to reload or refuel, allowing significant increases in efficiency and labor saving for agricultural spraying.

Ahead of its launch in November, the FAZER-R is being exhibited at the Japan International Aerospace Exhibition 2016, being held at Tokyo Big Sight from Wed. October 12 to Sat. 15.
Features of the FAZER-R
Enhanced output of the well-established horizontally-opposed 2-cylinder fuel-injected engine which is fitted to the current FAZER model. (Enhanced output from 19.1kW to 20.6kW at the same maximum output RPM due to an enlarged exhaust diameter and increased compression ratio)


3D wing-shaped tail rotor design based on technical guidance from JAXA (Japan Aerospace Exploration Agency). Reduction in energy loss during flight through improvements in aerodynamics.


Fitted with a 32-liter capacity spray tank (current FAZER model has a 24-liter tank)


Crosstalk avoidance has been enhanced through expanding the wireless control range available to 10 frequencies (current FAZER model is 7 frequencies) in an early response to amendments to the frequency allocation table by the Ministry of Internal Affairs.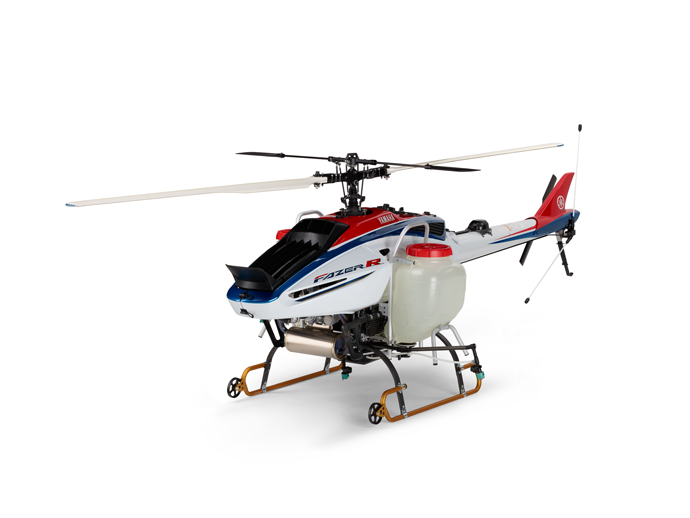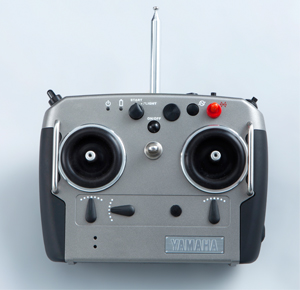 Model
Launch Date
RRP
Target Sales
FAZER R
2016
November
13,424,400 yen

(Unit price 12,430,000 yen, consumption tax 994,400 yen)

160 units

(Annual, Domestic, not including OEM)
Market Background and Product Positioning
In recent years, a strong and competitive agricultural sector has been promoted in Japan through with the "Competitive Agriculture, Forestry, & Fisheries" policies and the TPP etc., which has demanded a new level of efficiency and profitability. For many years, customers have requested an unmanned helicopter capable of carrying large volumes of spray that can be delivered over a wide area with just one flight.

With this in mind, Yamaha Motor embarked on the development of the new FAZER R building on the excellent opportunity to answer market demand provided by the amendments to the Aircraft Manufacturing Industry Act* in 2014. The focus of this product, to be able to carry an even bigger spray load based on the current FAZER platform, has seen load capacity increase to a high total tank volume of 32-liters (16 liters x 2), or a total 30kg in seed hopper capacity (15kg x 2), providing the capability to distribute large amounts of a wide variety of sprays and fertilizers. Also, enlarging the size of the fuel tank from holding 5 liters to 5.8 liters of regular gasoline has allowed for even longer flight times when compared to the current model, achieving the increase in competitiveness required for the comprehensive gains in efficiency and labor saving for Japan's "Competitive Agriculture."
* Aircraft Manufacturing Industry Act amendments: Within the category of unmanned devices (drones), those of a total weight (maximum laden weight including fuel etc.) of 100kg or over were subject to restrictions, but in April 2014 the threshold for restrictions was revised from "100kg or over" to "150kg or over."
Deployment in a Range of Agricultural Sectors
Yamaha Motor's unmanned helicopters have predominantly been utilized as spraying equipment in the agricultural sector, with approximately 2,700 units operating in Japan (as of 2015, including OEM). Increased usage for the spraying of pesticides and fungicides in rice paddies is clearly evident, with 42.5% (2015 Yamaha Motor estimate) of Japan's rice paddy surface area being sprayed by Yamaha Motor unmanned helicopters.

Areas other than rice paddies have also seen an increase in the utilization of Yamaha Motor unmanned helicopters. Beginning with wheat and soybeans in the early 1990s, practical application has gradually spread, to pest control in crops such as potatoes and dent corn, and then to fruit.

The direct sowing of rice paddies has also attracted attention in recent years. This method of sowing directly using an unmanned helicopter to spread iron-coated rice seeds has removed the requirement for conventional rice planting by manually transplanting seedlings, and has attracted attention as a means of enhancing the efficiency of agricultural work.

Examples of utilization overseas are also increasing. Around 270 units have been utilized since being introduced into the strong Korean rice paddy sector in 2003. In Australia, use in stock farming and mining sectors as well as for weed control around dam walls and high-voltage power cables began from 2011. In the U.S., the commercial spraying of vineyards in California's Napa Valley is due to begin from 2017.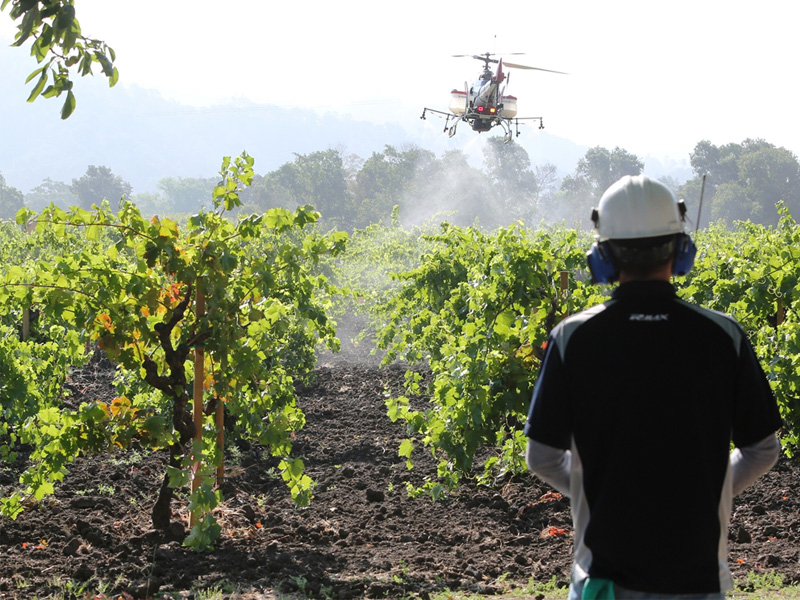 FAZER R: Main Specifications

Item
Specification Value
Dimensions/Weight
Overall Length x Width x Height
3,665mm x 770mm x 1,078mm
Main Rotor Diameter
3,115mm
Tail Rotor Diameter
550mm
Wet Weight *
71kg
Engine
Engine Type/Cylinder
Arrangement
Liquid-cooled, 4-stroke, OHV, 2-valve,
horizontally opposed 2-cylinder engine
Total Displacement/Bore x Stroke
390cm3/66.0mm x 57.0mm
Maximum Output
20.6kW at 6,000r/min
Fuel Type/Fuel Tank Capacity
Regular gasoline/5.8ℓ
Performance etc.
Payload
32Kg/Altitude approx. 300m, 30°C
24Kg/Altitude approx. 1,000m, 30°C
Frame Type
Trapezoid carbon frame
Control System
YACS II (YAMAHA Attitude
Control System-Cruise Control)
Control Frequencies
73MHz 10 frequencies
* The wet weight is the weight when the sprayer attachment unit (not including the sprayer tank) is attached to the machine with the oil and fuel tanks full.