Yamaha Motor Launches YXZ1000R SS for North American Market, Second ROV Pure Sports Model Delivers Fun Gear Changes with Paddle Shift System
June 9, 2016
IWATA, June 9, 2016—Yamaha Motor Co., Ltd. (Tokyo: 7272) announced today the North American launch of the new YXZ1000R SS ROV (Recreational Off-highway Vehicle), scheduled from July 2016. The YXZ1000R SS is a two-seater pure sports model, equipped with a paddle shift change system designed to enable a wide range of thrill-seekers to enjoy sports driving. Manufacturing will be carried out by U.S. Group company Yamaha Motor Manufacturing Corporation of America (YMMC).

Particularly in North America, the demand for ROVs is high across a wide range of markets, including commercial, recreational, and sports applications. Yamaha Motor has been expanding its ROV line-up every year, most recently adding the pure sports YXZ1000R (equipped with a sequential manual five-speed transmission) in September 2015, in addition to the multi-purpose VIKING and VIKING VI and the recreational Wolverine models.
Based on the YXZ1000R, the new YXZ1000R SS has been developed as a model offering high-level sports driving to a wide range of users.
Main features include a class-first paddle shift 5-speed Sports Shift (SS) manual gear change. Based on the YCC-S (Yamaha Chip Controlled Shift) technology used in some YAMAHA motorcycles, this system enables gear selection directly from the steering wheel, eliminating the need for a clutch pedal. Other features include an electric gear selector providing smooth gear changes between Drive, Reverse, and Neutral.
In addition to the standard specifications of the YXZ1000R SS, the high-grade YXZ1000R SS SE also features a special paint design and FOX brand 2.5 Podium X2 Shocks® for both front and rear suspension.

Yamaha Motor will continue to launch new ROV products to build a wide-ranging lineup that meets customer expectations, aiming for further sales expansion.
This model is not able to be registered to obtain license plates, and thus cannot be driven on public roads.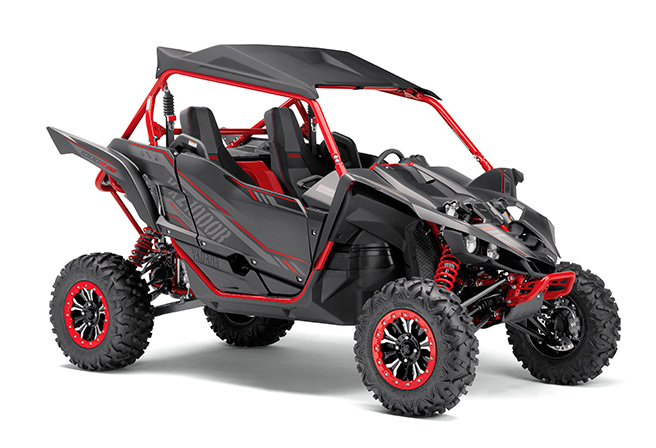 Model
YXZ1000R SS
Launch Date
July 2016
RRP
Standard Spec.:20,599 US dollars
SE Spec.:22,399 US dollars
Target Sales
10,000 units
(total for two models, first full year from release, in the U.S.)