Yamaha Motor Launches Saluto RX Street Model Featuring Superior Cost-Performance, 110cc Motorcycle Aimed at India's Largest Demand Category
April 15, 2016
IWATA, April 15, 2016—Yamaha Motor Co., Ltd. (Tokyo: 7272) announced today the launch of the new 110cc street model Saluto RX motorcycle in the Indian market from late April.

The Saluto RX was developed as a "next-generation 110cc street model", and features superior cost-performance and a sporty exterior. The newly-developed 110cc BLUE CORE engine achieves a fuel economy improvement of approximately 13% compared to previous Yamaha Motor models due to the synergistic effect of optimized combustion chamber shape, efficient placement of the cylinder fins and a design which carefully considers the cooling system, and optimal control of firing timing along with the culmination of a range of loss reduction measures. Moreover, the incorporation of weight-reduction technology in many parts of the motorcycle has delivered a 98kg curb weight - the lightest in its class*- which contributes to nimble handling.

The styling features smooth accentuated lines from the tank to the seat and a front mask that evokes the design of the high-end model Saluto. The design expresses ease of riding with nimbleness, comfort, and ample space for tandem travel.
The Saluto RX is being launched into the 100cc-125cc motorcycle category, which is the largest demand category of the Indian motorcycle market occupying approximately 60% of total annual sales of over 16 million units. This new addition to the lineup complements the 125cc Saluto launched in 2015, and strengthens Yamaha Motor's business in the key demand areas of the provinces of India.
*As of March 2016, Yamaha Motor survey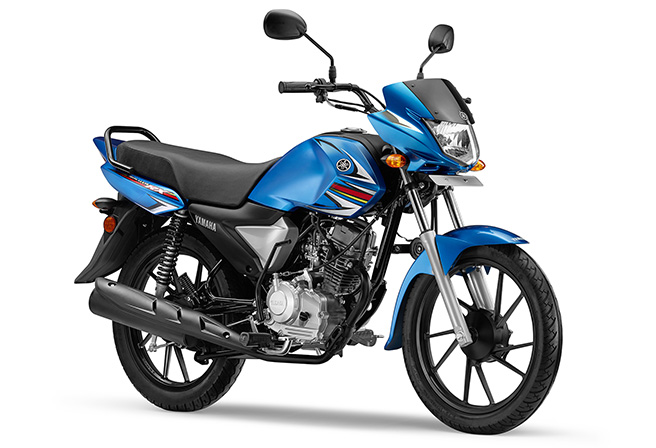 | | |
| --- | --- |
| Model | Saluto RX |
| Launch Date | Late April 2016 |
| RRP | From 46,400 Indian rupees (Delhi retail price) |
| Target Sales | 60,000 units (first full year from time of release, in India) |