A single-theme design project collaborated on by Yamaha Corporation and Yamaha Motor, &Y (Andy), The &Y01 design - An electrically power-assisted wheelchair that performs music
September 24, 2015
A single-theme design project collaborated on
by Yamaha Corporation and Yamaha Motor

&Y (Andy)

The &Y01 design - An electrically power-assisted wheelchair
that performs music


Yamaha Corporation
Yamaha Motor Co., Ltd.
JAPAN-The design teams of Yamaha Corporation (Yamaha) and Yamaha Motor Co., Ltd. (Yamaha Motor) have joined forces to work together to design a project under a single theme - &Y (Andy).
With "&Y" the two companies have designed the "&Y01", an electrically power-assisted wheelchair that plays music, and so far have produced three concept models. These models will be used in performances of "SLOW MOVEMENT - The Eternal Symphony" by the NPO "SLOW LABEL"*1, an initiative which links local and international artists and designers with businesses and welfare facilities in crafting new products and concepts that make the most of their distinctive characteristics. There will be two performances: one on Saturday, October 3 at the plaza in front of United Nations University (Shibuya-ku, Tokyo) and another on Sunday, October 25 in Toyosu Park (Koto-ku, Tokyo).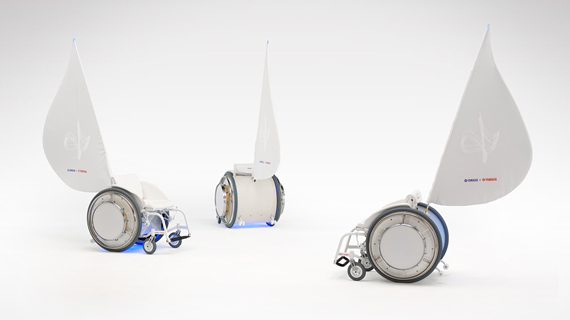 The &Y Project
As companies that share the same Yamaha brand, Yamaha Corporation and Yamaha Motor have collaborated on different projects under the banner "Two Yamahas, One Passion." In the design field in particular, where there is a high degree of compatibility, the two design divisions have collaborated on the planning and proactive rollout of the international graphic design competition, "Graphic Design Award by Yamaha," and other initiatives, such as "project AH A MAY," where trade design fields and throw design ideas back and forth with the goal of discovering the unique style of Yamaha that both departments share.
Moreover, the current project "&Y" is the first time both design departments have worked together on the design of a concept model.
Going forward, we are aiming for a collaboration that embodies the unique style of Yamaha by delving into the possibilities of fusing musical instrument and audio equipment design with motorbike and other mobility design.
Background to the production of &Y01
The aforementioned SLOW MOVEMENT - The Eternal Symphony from SLOW LABEL brings together 15 performers of varying ages, gender, nationalities, and degrees of able-bodiedness, chosen via public subscription, with creatives from various fields to workshop together and create a performance project that seeks to spread the message of Diversity and Harmony. They have placed much focus on the performances that utilize our wheelchairs, and also worked on the "&Y" project with the design concept of "A wheelchair that performs music" in mind.
This project has its roots in the company philosophy common to Yamaha and Yamaha Motor of sharing new Kando* and rich culture with as many people as possible, and we anticipate that linking this project and SLOW MOVEMENT will result in a great synergistic effect.
*Kando is a Japanese word for the simultaneous feelings of deep satisfaction and intense excitement that we experience when we encounter something of exceptional value.
Product Intro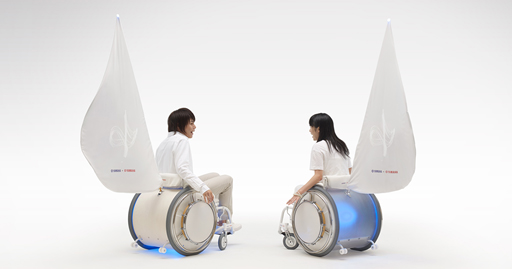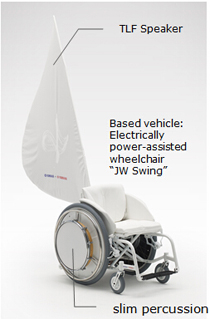 The design image is that of a white yacht sailing through the waves.
The power-assist function of the pure-white JW Swing*2 makes travel so light and smooth it is as if someone is pushing from behind, giving the rider a feeling of elation that is enough to make them break into song. Installed on either side of the wheelchair are slim percussion instruments that enhance the performer's expression, and coupled with a battery case in the shape of a drum frame, Yamaha has truly created a wheelchair that gives the rider the experience of riding a musical instrument. Boasting TLF Speakers*3 modeled on a ship's sail, the silhouette of the wheelchairs is reminiscent of a 1/8th note, expressing the enjoyment of performing freely.
*1

"SLOW LABEL" is an NPO that has its origins in a project carried out in the Spiral complex of cultural facilities established by Wacoal Art Center Co., Ltd.
*2

JW Swing:
The JW Swing is an electrically power-assisted wheelchair that provides electrically-driven assistance adjusted according to the difficulty posed by operating the handrims of the wheelchair. The product was developed with the goal of giving wheelchair-users a wider area of travel, as well as support to lead a more self-reliant life.
*3

JTLF Speaker (TLF=Thin, Light, Flexible)
At only 1.5mm thick, these Yamaha speakers are very thin, lightweight, and have superior concentrated sound directionality along with long-range sound delivery. As the sound travels in a straight line from the whole surface of the speaker, even having several together will not create a mixing of the sound easily, and this ensures sound can be delivered to the audience with clarity. Not only that, the sound can travel long distances even at low volume.
The SLOW MOVEMENT Public Performance
Related Website (Product Introduction Page)
Yamaha Corporation
Yamaha Motor Co., Ltd.
SLOW LABEL "SLOW MOVEMENT"
Related Links
"Yamaha Design" Yamaha Corporation
"Yamaha Motor Design" Yamaha Motor Co., Ltd.
*The product and contact information contained in this news release is correct as at the day of release.
Please be aware that there may be instances where information changes after release.