Yamaha Motor's Performance Damper Features in LEXUS RC, Sixth LEXUS model to implement the system
September 18, 2015
IWATA, September 18, 2015 – Yamaha Motor Co., Ltd. (Tokyo: 7272) announced today that the company will supply its unique chassis damping component - the Performance Damper - for use in the LEXUS RC200t, the new LEXUS Coupe announced on September 17 (*Set as an option for LEXUS RC350 models).

The RC is the sixth LEXUS model to be fitted with Yamaha Motor's Performance Damper following its successful implementation in the LEXUS CT200h (Version L/C, F SPORT), RX450h/350 (F SPORT), HS250h, NX300h/200t (F SPORT), and IS350/200t.

The Performance Damper is a chassis damping component that is set in the main structural areas of vehicles. It is a device designed to control and absorb minute distortions and vibrations. The Performance Damper was first used in a mass-production model in April 2004, four years on from its basic concept development in 2000. Since then, the Performance Damper has been contributing to improvements in stability and comfort in a wide variety of vehicle types.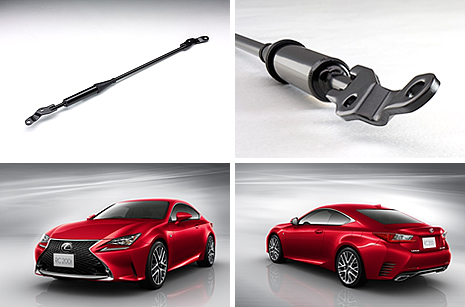 Features of Performance Damper
Normally, when a passenger vehicle is in motion, micro distortions of less than 1mm occur in the body. A metal vehicle body has elastic characteristics and lacks damping force, meaning that external distortion energy is accumulated and released almost unchanged, repeating the cycle of distortion at a natural frequency.

Performance Dampers add a damping element to the chassis, thereby absorbing the distortion energy and releasing it as heat.

Along with the expectation of curbing an excessive rate of distortion on the chassis, providing greater mobility and stability at high speeds as well as superior maneuverability when the chassis is subjected to relatively high chassis distortion, Performance Dampers also contribute to greater comfort.