Yamaha Motor Launches Fourth ROV YXZ1000R for North American Market, Pure Sports Model featuring Newly-developed 998cc Liquid-cooled 3-cylinder Engine
September 2, 2015
IWATA, September 2, 2015 - Yamaha Motor Co., Ltd. (Tokyo: 7272) announced today the launch of a core product in the RV*1 business, the fourth model in the ROV (Recreational Off-highway Vehicle) lineup. The two-seater YXZ1000R pure sports model will be launched from September 2015 in the North American market, where ROVs are highly popular. Manufacturing will be carried out by U.S. Group company Yamaha Motor Manufacturing Corporation of America (YMMC).

ROVs are used in a wide range of situations, from practical field applications to recreational and sports markets. Primarily popular in North America, the ROV market has been growing in recent years, with total demand in the U.S.A. reaching approximately 240,000 units in 2014. Yamaha Motor has been expanding its ROV sales by launching the multi-purpose VIKING and VIKING VI, along with the recreational Wolverine model. Designed to deliver sports driving in a variety of environments such as rough ground, deserts, etc., the YXZ1000R pure sports model therefore rounds out a product lineup that meets a wide variety of customer demands, from practical field applications to recreation and sports.
The main features of the YXZ1000R are: 1) exciting driving performance thanks to the use of a newly-developed DOHC 12-valve 998cc liquid-cooled 3-cylinder engine and an industry-first sequential manual five-speed transmission, 2) newly-developed front and rear suspension that contribute to travel right across a variety of terrain, 3) special 27-inch tires and 14-inch aluminum wheels delivering superior ride comfort and controllability, 4) electric power steering (EPS) that assists steering operation under harsh environments, and 5) a design that achieves an overwhelming sense of presence and power.
In addition to the standard specifications in the YXZ1000R, the lineup also features the YXZ1000R SE. This model utilizes Beadlock rims and a body highlighted with the speed block design on a yellow base color. This specification commemorates the 60th anniversary of the founding of Yamaha Motor.

Yamaha Motor will continue to launch new ROV products to build a wide-ranging lineup that meets customer expectations, aiming for further sales expansion.
This model is not able to be registered to obtain license plates, and thus cannot be driven on public roads.
*1 RV: Abbreviation of 'Recreational Vehicle'.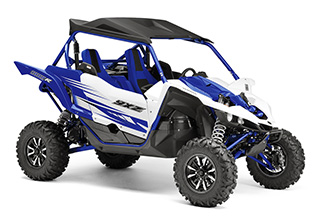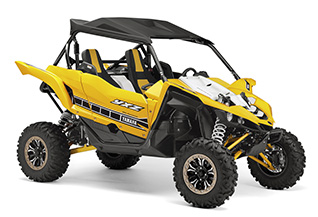 | | |
| --- | --- |
| Model | YXZ1000R |
| Launch Date | September 2015 |
| RRP | From 19,799 US dollars |
| Target Sales | 8,000 units (one year from release, North America) |