Yamaha Motor Releases New YK350TW of the YK-X Series, New orbit type model added to SCARA robot range
January 16, 2015
IWATA, January 16, 2015 – Yamaha Motor Co., Ltd. (Tokyo:7272) announced today the launch of the new SCARA robot – the orbit type YK350TW – a new member of the YK-X series.

The YK350TW is a ceiling-suspended SCARA robot that features a wide arm swing angle. This wide swing angle facilitates a more effective use of space, as it enables the arm to traverse the entire 700mm-diameter range beneath the YK350TW. Additionally, the unique configuration aimed at optimum weight balance realizes high-speed and high-precision capabilities. Moreover, this model boasts a 5kg payload, rating it among the very best of any ceiling-suspended SCARA robot with a similar range of movement.

This technology promises productivity improvements as it will contribute to accelerating conveyance and assembly processes for small parts (such as electronic components) as well as to the miniaturization of other devices.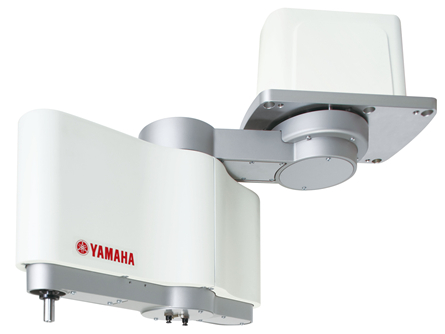 Model
Price
Launch Date
Target Sales
YK350TW
Open price
January 16, 2015
100 units


(first full year from time of release, both within Japan and internationally)
Product Features
The ability to access the entire diameter range beneath the KW350TW
Thanks to its ceiling suspension and a wide swing angle of ±225° for each arm, the new model is capable of accessing the full φ700mm range. This feature ensures more effective use of space, thereby contributing to the miniaturization of production facilities.
High-speed and high-precision motion contribute to reducing assembly takt time
As compared to the company's previous models, the cycle time is reduced by over 20%, thanks to the optimization of the internal weight balance and optimal point-to-point movement route.
In addition, high-precision positioning is possible thanks to the repeatable positioning accuracy of ±0.01mm in the X/Y-axes, ±0.01mm in the Z-axis, and ±0.01°in the R-axis.
High-speed and high-precision motion will contribute to reducing takt time, including the transfer of lightweight objects as well as the assembly of small parts.

5kg payload contributes to device multi-functionality
The maximum payload of YK350TW is 5kg, the best rating of any ceiling-suspended SCARA robot with a similar range of movement. This caters to heavier tools with multi-functional devices.
Basic Specifications
X-axis
Y-axis
Z-axis
R-axis
Axis specifications
Arm length
175mm
175mm
130mm
-
Rotation range
±225°
±225°
-
±720°
Motor output AC
750W
400W
200W
105W
Repeatable positioning accuracy
±0.01mm
±0.01mm
±0.01°
Maximum speed
5.6m/s
1.5m/s
3000°/s
Maximum payload
5kg
Permitted R-axis moment of inertia
Rated
0.005 kgm2
Maximum
0.05 kgm2
User wiring
0.15sq×8
User piping (outer diameter)
φ6×2
Unit weight
26kg