New Underbone-type Scooter Exciter T150 to be released in Vietnam, Featuring 150cc sports-model engine and a wide rear tire
December 19, 2014
IWATA, December 19, 2014 – Yamaha Motor Co., Ltd. (Tokyo:7272) will launch the new Exciter T150 in Vietnam in December 2014. The new model offers a sporty riding experience, featuring a 150cc liquid-cooled, fuel-injected engine – an engine featured in our ASEAN-region sports models – housed in a newly-designed lightweight frame. Manufacturing and sales will be carried out by our Group company in Vietnam, Yamaha Motor Vietnam Co., Ltd.

The concept of the Exciter T150 is "The King of the Streets" and it is developed with young men in their late teens and early twenties in mind. By being aggressive with its lightweight design, the body of the new model is lighter than the current Exciter T135 (135cc), despite it being equipped with a larger 150cc engine. Thanks to powerful acceleration and light handling in urban situations, the new Exciter T150 is engineered to satisfy those who desire a sporty ride.
Main features include: 1) a 150cc fuel-injected sports model engine with specially tuned intake/exhaust system, 2) a lightweight frame for easier handling, 3) lightweight aluminum wheels made with a new die-cast manufacturing method along with a wide 120mm rear tire, 4) a sporty design that incorporates the styling essence of the YZF-R1, bringing a new look to underbone scooters.

Yamaha Motor originally released the Exciter T135 in 2005, which featured a water-cooled engine for the first time in the company's 4-stroke underbone lineup. And in 2011, the second generation of the Exciter T135 was launched, packed with detailed refinements. Both models were popular amongst young people for their sporty riding performance.
The Exciter T150 is the third generation of this range, and was developed to answer the need for an even sportier ride in the midst of diversifying user preferences due to increasing income levels. Yamaha Motor will continue to develop products to respond precisely to market needs.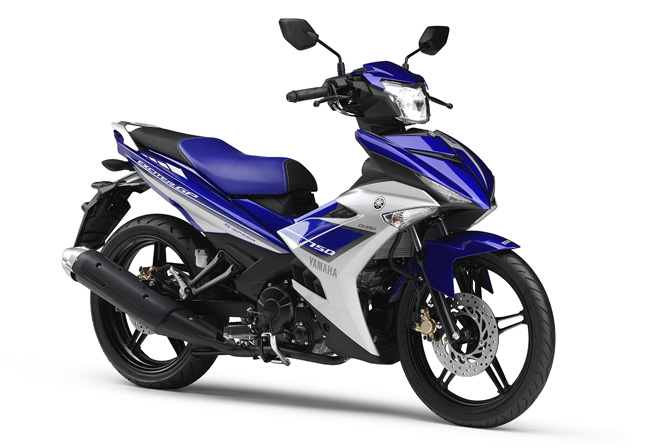 Model:
Exciter T150
Launch Date:
December 2014
RRP:
44,990,000 Vietnamese Dong (RC Spec)
45,490,000 Vietnamese Dong (GP Spec)
Target Sales:
170,000 units
(first full year from time of release, in Vietnam)