The 11th YAMAHA ASEAN CUP RACE, MotoGP riders Jorge Lorenzo and Pol Espargaro make guest appearances
December 8, 2014
IWATA, December 8, 2014 – Yamaha Motor Co., Ltd. (Tokyo: 7272) and Yamaha Motor group company P.T. Yamaha Indonesia Motor Manufacturing (YIMM) held "The 11th YAMAHA ASEAN CUP RACE" at Sentul International Circuit (Overall length: approx. 3.96 km) in West Java, Indonesia, over the two days of December 6 and 7, 2014.

This motorcycle racing event was launched in 2003 with the aim promoting the spread and development of motorsport and more. Since then, it has become widely recognized as an international one-make championship competition that young people across the ASEAN region set as their goal and dream of participating in, and it has thus contributed to the growth of many riders from countries in the region. Additionally, in recent years, classes using Yamaha sport models have been established to further spread the joy of watching the races, and organizing the races in combination with attractions like riding safety courses for children and demonstrations of trial competition riding makes it an event that involves the local community as a whole. The event is helping to introduce a growing number of people of all ages, genders and nationalities to the potential and appeal of motorcycles, while steadily winning more Yamaha fans in the process.

Some 60,000 spectators gathered over the two days for this holding of the YAMAHA ASEAN CUP RACE. The competition was held in three classes: the ST15 Class competed on the "YZF-R15" street sports model, the MT Class competed on the "JUPITER Z1"* sporty underbone model and the ST25 Class (exhibition race) using the "YZF-R25" supersport model that went on sale in Indonesia this year in July. Fifty-one riders from the five participating countries of India, Indonesia, Malaysia, the Philippines and Thailand and six riders from Japan joining as special entries were organized into the various classes for the competition, resulting in plenty of exciting racing.

In the final races, an Indonesian rider won the ST15 Class and the MT Class was won by a Thai rider, while the overall championship title for the No. 1 team in the ASEAN region went to Indonesia for a record 7th time. In the ST25 Class exhibition race held for the first time this year, Indonesian riders filled all three places on the winners' podium to the delighted cheers of the local fans. Furthermore, guest appearances by Yamaha riders Jorge Lorenzo and Pol Espargaro, both competing in the world's premiere class of motorcycle road racing, MotoGP, and Japanese riders Nobuyuki Osaki, Shinichi Nakatomi and Yoshiaki Kato, helped communicate the exciting world of motorsports to the many spectators at the event.
*"JUPITER Z1" is the model's Indonesian market name.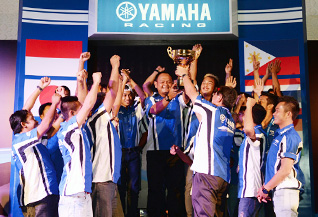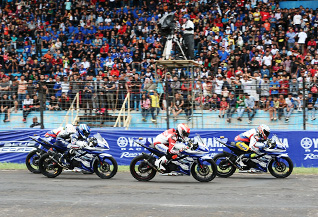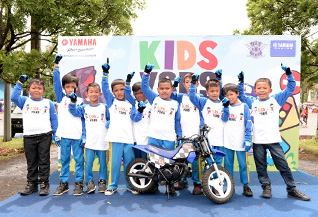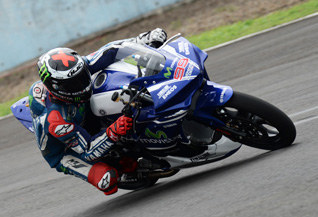 YAMAHA ASEAN CUP RACE Participant Comments
MT Class Champion: Peerapong Luiboonpeng (Thailand)
"I finished 2nd in last year's race and was hoping to finish in the top three this year, so I'm very happy that I was able to win this time. At the same time, ever since I started my race career, Yamaha has always been with me, helping to open up a bright future in the sport. Again this time, I've been able to take a new step forward thanks to Yamaha's support. I will have to work even harder than before to become a better rider than I am now, but with Yamaha as my valuable partner, I want to step up from this event and become the No. 1 rider in Asia like my countryman Decha Kraisart has done, and go on to compete on the international stage."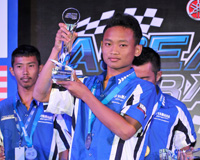 ST15 Class Champion: Rheza Danica (Indonesia)
"Last year, I competed in this race for the first time in the MT Class, and this time, I competed for the first time on a sport bike. But, I found the bike very comfortable and easy to ride, and I think that's why I was able to win. I'm really surprised to get this win. Until now, I've always competed on a Yamaha, and this relationship has brought me many opportunities and victories. From here onward, I want to continue with Yamaha and do my best to become a rider who can compete first of all in Asia on an international level."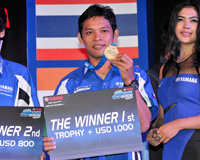 ST25 Class Champion: Sudarmono (Indonesia)
"I was aiming to finish in the top three, so I'm very satisfied with this result. This time, there were top riders from Japan and the ASEAN region competing and that made it a stimulating experience. In fact, I've competed in this event twice in the past. I won the Novice Class in 2007 and finished 2nd in the Expert Class in 2008, so I believe that this event has made me the rider I am today. Also, Yamaha has given me many opportunities such as rider training camps and entries in races. I haven't forgotten how they have treated me like family and helped my career along. In the future, as long as I am a rider, I will be aiming for victory in every race."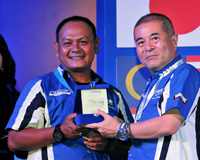 Overall Team Winner: Ade Taruna, Indonesia Team Manager
"This competition is very meaningful, not only for the riders of Indonesia but for riders across the region who have few opportunities to compete in other countries. We are very proud to have been able to win the overall championship title for a 7th time in such a respected event. This title is without a doubt the result of the efforts of the riders, mechanics and the rest of the team, as well as the teamwork they all showed. From now on, I hope this wonderful competition will continue and go on contributing to the growth of motorsport in the ASEAN region."
Yamaha Motor Representative: Yukihiro Ozaki, General Manager of Marketing & Sales Division, 1st Business Unit, Motorcycle Business Operations, Yamaha Motor Co., Ltd.
"This competition was started in 2003 with the aim of spreading and developing motorsport, and the sound and healthy development of youth in the ASEAN region. This was the 11th holding of this event, and over the years, the population of riders has grown tremendously. Races of all types have been established throughout the region and now the number of riders striving to compete in the YAMAHA ASEAN CUP RACE is larger than ever. Also, by organizing and running the event in recent years in a similar way to the MotoGP races that are so popular now in the ASEAN region by doing things like using higher-spec sport models as the competition machines, we have been able to increase the enjoyment of the spectators at the races. Also, by working with the local communities, we have been able to expand the scope of activities to include things such as riding safety courses for children. From now on, Yamaha will continue its challenge to use this event and other efforts to expand the possibilities of motorcycles and bring new energy and momentum to the ASEAN market. We hope everyone will look forward to and support us in this challenge."
Race Results by Team
| Place | Team | ST15 Class Points | MT Class Points | Total |
| --- | --- | --- | --- | --- |
| 1 | Indonesia | 108 | 80 | 188 |
| 2 | Thailand | 82 | 80 | 162 |
| 3 | Malaysia | 61 | 73 | 134 |
ST15 Class Race Results
Place
No.
Rider
Team
Points
Total
Heat 1
Heat 2
1
20
Rheza Danica
Indonesia
25
13
38
2
15
Fitriansyah Kete
Indonesia
16
20
36
3
16
Paitoon Nakthong
Thailand
1
25
26
4
23
Amad Syukran Aizat Bin Mohd Yusof
Malaysia
10
10
20
5
5
Muhammad Adib Bin Rosley
Malaysia
11
9
20
6
2
Tengku Amirul Haffirudin
Malaysia
20
0
20
MT Class Race Results
Place
No.
Rider
Team
Points
Total
Heat 1
Heat 2
1
18
Peerapong Luiboonpeng
Thailand
20
25
45
2
2
Mohd Affendi Bin Rosli
Malaysia
25
16
41
3
15
Yoga Adi
Indonesia
16
8
24
4
11
Peerapong Boonlert
Thailand
13
10
23
5
26
Anggi Setiawan
Indonesia
2
20
22
6
4
Ahwin Sanjaya
Indonesia
9
13
22
ST25 Class Race Results (Exhibition Race)
| Place | No. | Rider | Team |
| --- | --- | --- | --- |
| 1 | 14 | Sudarmono | Indonesia |
| 2 | 16 | Sigit Purno Harjono | Indonesia |
| 3 | 5 | Rey Ratukore | Indonesia |
| 4 | 6 | Nobuyuki Osaki* | Japan |
| 5 | 13 | Decha Kraisart | Thailand |
| 6 | 19 | Muhammad Taufiq Bin Roslan | Malaysia |
*Guest riders Nobuyuki Osaki, Shinichi Nakatomi and Yoshiaki Kato were not eligible for prizes.