Yamaha Motor Releases the new GF14XL and GF17XL, New additions to the long-stroke single-axis robot lineup in the FLIP-X series
September 9, 2014
IWATA, September 9, 2014 – Yamaha Motor Co., Ltd. (Tokyo:7272) will release two new models to the servo motor driven single-axis robot FLIP-X series: GF14XL and GF17XL.
Production facilities can have multiple requirements such as long-stroke, high-speed, and high-precision capabilities. However, for single-axis robots using ball screws, there were hurdles of top speed becoming compromised as their stroke became longer. The new GF14XL and GF17XL are able to run full stroke at its maximum speed thanks to Yamaha Motor's unique "Optimum Support Mechanism" (patent pending) while maintaining the level of precision achieved by previous models with the use of ball screws. These features realize long-stroke, high-speed, and high-precision capabilities.
The new products will answer to the needs of customers who require not only long-stroke capability but also other features, and allows the selection of the most appropriate single-axis robot for their production facility.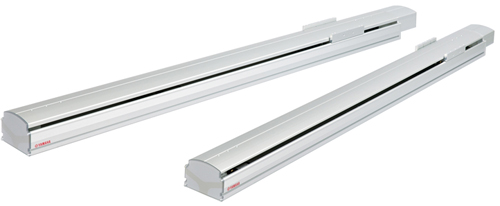 Model
Price
Launch Date
Target Sales
GF14XL
Open price
September 11, 2014
1,000 Units
(first full year from release,
both within Japan and internationally)
GF17XL
Open price
Product Features
Ability to operate at its maximum speed even for longer strokes
Yamaha Motor's unique "Optimum Support Mechanism", which controls ball screw vibrations by the placement of supporting components, allows the robot to operate at its maximum speed for a full stroke length. This feature may then lead to tact time improvements even in long-stroke operation.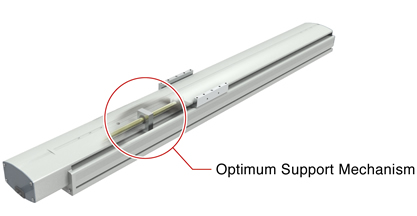 Resolvers on position detectors realize environmental resistance and high reliability
Resolvers are featured on the position detectors, which are driven magnetically. Resolvers do not use electronic components that are prone to external interference, and are widely used in fields such as the automotive, aerospace, and medical industries, where reliability is most vital. The use of resolvers on position detectors provides environmental resistance and reliability.
Compact cross-sectional area
The cross-sectional area is more compact when compared to previous single-axis robots with long-stroke capabilities - it is smaller by 40% or more compared with linear and rotating nut single-axis robots that require cableveyors.
Basic Specifications - GF14XL, GF17XL
Models
GF14XL
GF17XL
Motor output
200W
400W
Repeatable positioning accuracy
±0.01mm
Speed reduction mechanism
Ball screwφ15
(Grade: C7)
Ball screwφ20
(Grade: C7)
Ball screw lead
20mm
Maximum speed
1200mm/sec
Maximum payload (horizontal)
45kg
90kg
Rated thrust
170N
339N
Stroke
750~2000mm
(50mm pitch)
850~2500mm
(50mm pitch)
Length
Stroke+561mm
Stroke+686mm
Maximum cross-section external dimensions
W140×H91.5mm
W168×H105.5mm
Cable length
Standard: 3.5m (Optional: 5m, 10m)
Linear guide type
4-row circular arc x 2 rails
Position detector
Resolver
Resolution
20480 pulse/revolution