Yamaha Motor Releases High-Efficiency Modular Surface Mounter Z:LEX YSM20 Caters effectively to a wide range of production processes - it is also the world's fastest in its class
May 29, 2014
IWATA, May 29, 2014 - Yamaha Motor Co., Ltd. (Tokyo:7272) will release its new high-efficiency modular surface mounter, the Z:LEX YSM20, on July 1, 2014. This new surface mounter*1 has the versatility to cater to different production processes required for a wide variety of products, whilst achieving the world's fastest mounting speed in its class (under optimum conditions)*2 at 90,000 CPH.*3
The Z:LEX YSM20 combines features found in four of our current models - the 2-beam, 2-head compact super-high-speed modular mounter YS24 and compact high-speed flexible modular mounter YS24X; the single-head, single-beam high-speed general-purpose modular mounter YS100; and the multi-functional wide-range modular mounter YS88. With the concept "1 head solution" - which enables compatibility with a wide range of components, from small chips and large components, with one type of head - the new model achieves excellent production efficiency by providing not only high productivity, but also compatibility with a multitude of components. The new model also allows production changeovers to be carried out with ease. In addition to the universal platform (with 2-beam or single-beam options available for the X-axis configuration), the Z:LEX YSM20 allows customers to select a variety of specifications - such as the head, tape feeder,*4 conveyor system, and tray supply unit - to enable mounting line configurations optimized for the customers' production processes.
The new model was named "Z:LEX", as the letter "Z" evokes a sense of ultimateness, and "Limitless EXpansion" captures the new model's limitless compatibility.
To mark the release of our new mounter, the Z:LEX YSM20 will be exhibited at the 16th JISSO PROTEC Show to be held in the Tokyo Big Sight (Koto Ward, Tokyo) on June 4-6.
*1

Surface mounter (surface mount technology (SMT) machine): Manufacturing machine for mounting various electric/electronic components on the printed circuit boards (PCBs) used in electrical appliances and electronic devices.
*2

Components mounting speed (CPH) for a surface mounter with the 2-beam, 2-head layout. Based on YMC survey as at May 2014.
*3

CPH (Chips Per Hour): Total number of chips that can be mounted per hour (unit time). Indicates processing capability under various conditions.
*3

Tape feeder: Device that supplies chips (electronic components) to the surface mounter that are packaged on a tape.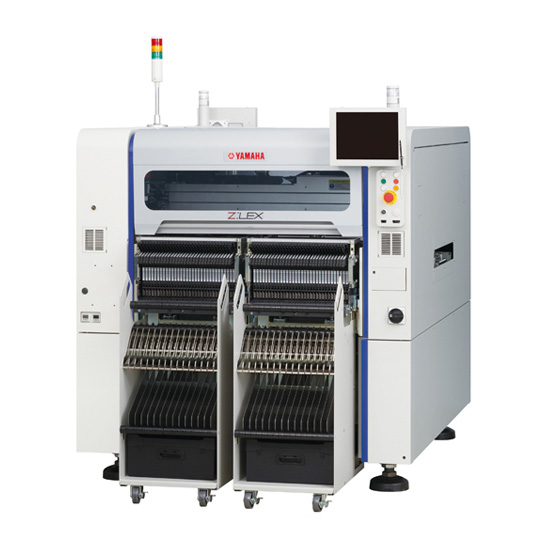 | | |
| --- | --- |
| Model | Z:LEX YSM20 |
| Launch Date | July 1, 2014 |
| Target Sales | 1,100 Units (first full year from release, both within Japan and internationally) |
Market Background and Product Outline
In recent years, various products from home electronics, personal computers, to mobile phones have become miniaturized, high-density, multi-functional, and diversified. In addition, their product cycle is becoming shorter. In line with these trends, the electronic component mounting process of these products requires efficiency and flexibility to allow both various product types in small quantities as well as mass production to be carried out using the same production line, instead of simply mass-producing one product for over an extended period.
With even further miniaturization and diversification of electronic components, a recent trend has been to have multiple heads (such as a head that mounts only small components at high speeds, or a head designed for mounting components that are large and odd shaped). And in order to handle a wide range of components while maintaining productivity, these heads were replaced according to the component characteristics and production quantity. However, there have been various issues associated with employing interchangeable heads. For example, head replacement may cause production time loss, as well as investing loss because of the underutilized expensive spare heads cost. Furthermore, if there is even a single large component that needs to be mounted on a PCB, a general-purpose low speed head may have to be used, which does not allow high-speed mounting of smaller components, which will then cause a loss in efficiency due to lower throughput and/or bottlenecking.
In order to solve these issues, Yamaha Motor has been developing and marketing its YS Series with "1 head solution" as the ideal concept, where a 1 type of head can provide compatibility from small chips to large components.
The new Z:LEX YSM20 is developed as "the ultimate" high-efficiency modular mounter that pursues the "1 head solution" ideal further: it flexibly and efficiently caters to a variety of production processes without the loss caused by head replacement, while achieving the world's fastest mounting speed in its class.
In addition, our advantage of offering a full lineup of surface mount equipment, including printers, dispensers, surface mounters, and inspection systems, allows an in-line mounting system to be set up seamlessly. Thus Yamaha Motor has achieved an improvement in production efficiency and quality for the entire mounting line.
Product Features
1) Two types of beam variations
The fundamental structure of the new Z:LEX YSM20 features a highly-durable, precision-made monocoque frame that is designed to maintain mounting accuracy over extended periods. In addition, the new model employs a universal platform, where customers are able to select from either the 2-beam or single-beam X-axis configuration to meet demands for mounting capacity, versatility and budget. This provides more freedom in configuring mounting lines.
2) Featuring two types of newly-developed heads that are based on the "1 head solution" concept
Compatible with super-small components (such as the 03015 (0.3mmx0.15mm) size) to large components
The two types of new heads are developed with the ideal of the "1 head solution" concept, which allows compatibility with a wide range of components at high speeds without the need for head replacement. The new heads can help reduce downtime due to head replacement, as well as expensive costs for purchasing spare replacement heads. Both head types come standard with side-view recognition function, enabling the detection of the existence of components as well as its pick-up orientation and tilt status. In addition, the unit's nozzle self-diagnosis function ensures a high level of mounting quality and reliability.
• HM (High-Speed Multi) Head: An all-round "high-speed multi-purpose head" which provides the world's fastest mounting speed in its class, as well as the versatility to handle super-small chip components such as the 03015(mm) size, as well as larger components of up to L45mmxW100mmxH15mm.
• FM (Flexible Multi) Head: An "odd-shaped components head" which is compatible with load controls, and handles super-small chip components such as the 03015(mm) size, as well as larger and taller components of up to L55mmxW100mmxH28mm.
3) Components supply device with excellent operability
• Compatibility with the electric-drive intelligent tape feeder "ZS Feeder" and "SS Feeder" that employ microcomputer controls to provide a high-speed components supply and high-accuracy components positioning. A maximum of 140 units (max. 8mm tape feeder conversion) can be installed. (When using the fixed plate; up to 128 units can be set for feeder carriage options.) When the "ZS Feeder" is used, a non-stop feeder replacement option can also be selected.
• The Z:LEX YSM20 is available with the sATS30 30-step fixed automatic tray supply unit, and the cATS10 10-step automatic tray supply carriage unit which allows for replacement with feeder carriages. A mixture of the two different tray supply units can be installed, and up to two tray supply units can be installed onto one YSM20 device.
4) Ability to select the conveyor system according to the production process
The conveyor system can be selected from dual stage (available for the 2-beam option only), dual lane, or single lane according to production volume and circuit board size. This enables the Z:LEX YSM20 to be compatible with a minimum circuit board size of L50mmxW50mm, and a maximum circuit board size of L810mmxW480mm (for dual stage or single lane) or L810mmxW230mm (for dual lane).
5) An excellent mounting speed of 90,000 CPH (under optimum conditions as defined by Yamaha Motor)
Through the use of the next-generation servo system featuring a high-speed control technology similar to that found in Yamaha Motor's high-end model "Z:TA YSM40'. Furthermore, other detailed refinements have been made, such as the newly-developed Z-axis linear motor, the use of a miniature scan camera unit, and miniaturization and weight reduction of the head. As a result, the new model has increased mounting capabilities. With the 2-beam, 2-head configuration (HM spec) and under optimum conditions as defined by Yamaha Motor, the Z:LEX YSM20 achieves the world's fastest mounting speed in its class of 90,000 CPH. This is an improvement of over 20% compared to the YS24 mounter.
6) "Smart recognition", which allows odd-shaped components to be handled quickly
"Smart recognition" comes standard with the Z:LEX YSM20, which allows recognition data of irregularly-shaped components to be created in a short period of time and realizing a highly robust recognition.
7) High level of mounting quality
The new Z:LEX YSM20 features a further-developed MACS (Multiple Accuracy Compensation System). This system provides comprehensive compensation for deviations in the numerous factors involved in accuracy multiple times, enabling a mounting accuracy level of ±0.035mm (±0.025mm) Cpk≧1.0 (3σ).
8) Easily-controllable operation system
While making it easily adaptable for users of conventional models, the Z:LEX YSM20 comes standard with a user-friendly touch panel that is easy to operate. Japanese, English, Chinese and Korean language options are available.
9) CE marking compliance*
The Z:LEX YSM20 complies with CE safety design standards, enabling the equipment to be sold worldwide.
*A safety compliance marking for equipment set up and used in the European Economic Area
Basic Specifications
Equipment Name
YSM20
Compatible Circuit Board Dimensions
Dual Stage (for X-axis 2-beam option only)
Single PCB: L810xW480mm to L50xW50mm
Double PCB: L380xW480mm to L50xW50mm
Single Lane: L810xW480mm to L50xW50mm
Dual Lane: L810xW230mm to L50xW50mm
Head types/Applicable components
High-Speed Multi (HM) head: 03015 to 45x45mm, L100mm, height 15mm or less
Flexible Multi (FM) head: 03015 to 55x55mm, L100mm, height 28mm or less
Mounting Capability
X-axis 2-beam: 90,000CPH (under optimum conditions as defined by Yamaha Motor), when HM heads are used
Mounting Accuracy
±0.035mm (±0.025mm) Cpk≥1.0 (3σ)
(Under optimum conditions as defined by Yamaha Motor
when standard evaluation materials are used)
Number of Component Types
Number of Component Types Fixed plate: Max. 140 types (8mm tape feeder conversion)
Feeder exchange carriage: Max. 128 types (8mm tape feeder conversion)
Tray: 30 types (fixed type), 10 types (carriage type); up to 2 units can be installed
Power Supply
3-phase AC 200/208/220/240/380/400/416V ±10% 50/60Hz
Air Supply
Clean dry air of 0.45MPa or more
Exterior Dimensions
(excluding protrusions)
L1,374xW1,843xH1,445mm
Weight
Approx. 1,800kg