Yamaha Motor: India Design Mark for CYGNUS RAY Z Scooter Targeted to Young Males in India
May 9, 2014
IWATA, May 9, 2014 –Yamaha Motor Co., Ltd. (Tokyo: 7272) announced today that the CYGNUS RAY Z, a scooter manufactured and sold by Yamaha Motor's India production base, India Yamaha Motor Private Limited (I.Y.M), has been awarded an India Design Mark (I MARK)※ sponsored by the India Design Council. This marks the third consecutive year that I.Y.M has received this award, following the success of the YZF-R15 in 2012, and the CYGNUS RAY in 2013.

The India Design Council is affiliated with the Indian Ministry of Commerce and Industry, and established the India Design Mark design award (corresponding to G Mark, Japan's good design award) through a partnership agreement with the Japan Institute of Design Promotion. The inaugural round of applications and assessments was held in 2012. In 2014, the third year of the awards, the CYGNUS RAY Z was one of 50 products to be recognized.

The CYGNUS RAY Z was developed for the young male demographic based on the 2012 CYGNUS RAY, the first model to be launched on the India scooter market by Yamaha Motor. On sale since May 2013, the CYGNUS RAY Z is characterized by a sporty appearance with 1) a smoked-finish visor for a motorcycle-like image, 2) aluminum rear wing-shaped tandem rider grab-bars, 3) a new instrument panel with a carbon fiber patterned background, 4) a carbon fiber patterned seat cover material, and 5) dynamic coloring and graphics.
A total of 150,000 units has been sold across the RAY series (as at the end of 2013).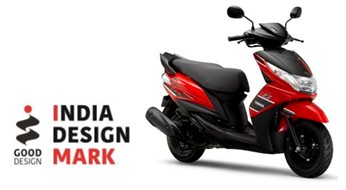 Yuta Tachimori, CYGNUS RAY Z lead designer, 3D Design Division, Design Center
We are delighted that the CYGNUS RAY Z has received an I MARK. The team was united in our efforts to create this unique sporty scooter with original strong distinctive styling and a cohesive design created with colors and graphics that include the seat and instruments. We believe that this model will bring something stimulating and stylish to the lives of India's young male riders.
With this award as encouragement, we hope to continue sending striking designs to India.


*India Design Mark (I MARK): A design award commenced in 2012. Through endorsing good design, this award aims to raise the value and awareness of design in India and encourage an interest in better design amongst Indian users and manufacturers, thereby improving lifestyles. To be eligible to apply, there are several requirements. The product must be a finished product and be mass produced, and it must meet two of the following three conditions: (a) made in India, (b) designed in India, and (c) sold in India. (From the promotional materials of the Japan Institute of Design Promotion)