Yamaha Motor Announces Release of the New "TRICITY" on the Thai Market. The first Yamaha LMW (Leaning Multi Wheel) model
March 25, 2014
IWATA, March 25, 2014 - Yamaha Motor Co., Ltd. (Tokyo: 7272) announced the release of the new "TRICITY" 125cc automatic transmission commuter model. It will be launched on the Thai market in April 2014 and is Yamaha Motor's first multi-wheeled production vehicle that represents our long-term vision of a "growing world of personal mobility."

Developed under the concept of a "New Standard City Commuter" model, the new TRICITY achieves the same ease of operation characteristic of an automatic transmission motorcycle, and is the first in what will be a series of vehicles using Yamaha's new LMW* design with the aim of creating a new category in the commuter vehicle market. Furthermore, the TRICITY is a "global model" that will be manufactured in Thailand, and plans call for sales to begin in Europe and Japan as well before the end of 2014.

The new model features: (1) both light, agile and sporty handling and a feeling of stability for a whole new kind of enjoyment; (2) a comfortable feeling to the ride in a variety of road conditions; (3) a high level of utility as an urban commuter model; (4) a powerful and economical liquid-cooled 125cc engine with Yamaha's YMJET-FI fuel injection system and; (5) a distinctive design that takes advantage of the unique twin front wheels to create a vehicle that is innovative and advanced but familiar in feeling at the same time.

Manufacturing and Thai domestic sales will be carried out by group company Thai Yamaha Motor Co., Ltd. (TYM).
*Leaning Multi Wheel (LMW): a patent-pending designation for vehicles with three or more wheels that can lean through corners like a motorcycle.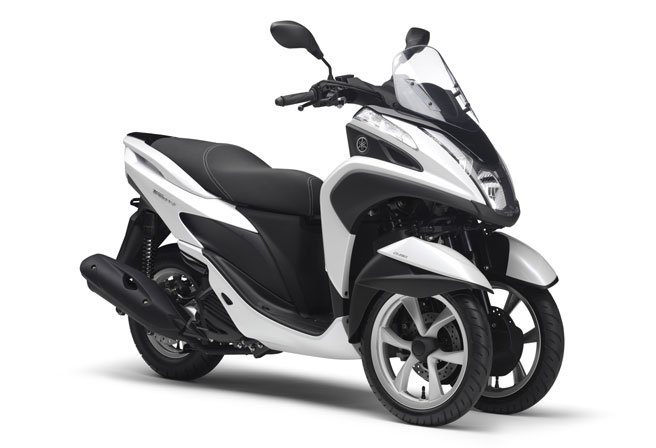 | | |
| --- | --- |
| Model name | TRICITY (White/Grey/Red) |
| Release date | April 2014 |
| Sales plan | 10,000 units (First year after release, in Thailand) |
Development Aims
In the urban areas of Europe, Japan and the ASEAN region, 125cc automatic transmission commuter and underbone motorcycles and scooters are used widely as personal vehicles due to their compact size, maneuverability in tighter spaces, agile, lively performance, economy and ease of use. Also, the chronic traffic congestion found in the urban centers of many countries in recent years has led to increased interest in this category of compact personal vehicles as more and more people recognize the convenience they bring.
The TRICITY is the first of Yamaha's series of LMW models that represent our "growing world of personal mobility," and it aims to offer new value for a city commuter vehicle in this 125cc category. Its development was aimed at winning current 125cc motorcycle users as well as creating a whole new base of users.
Product Features
1) Both light, agile and sporty handling and a feeling of stability for a whole new kind of enjoyment
The TRICITY adopts Yamaha's exclusive LMW mechanism that allows the two front wheels to lean with the chassis during cornering. The LMW uses a harmonious integration of a "Parallelogram link" and a "Cantilevered telescopic suspension" for the two front wheels with Yamaha-exclusive machine dimensions and geometry that helps create both agile, sporty handling and a feeling of stability while underway that gives the rider an experience of "a whole new kind of enjoyment." Furthermore, reflecting Yamaha technology born in MotoGP competition, the TRICITY is designed with 50:50 front-rear weight distribution. Another feature is the placement of the fuel tank as close as possible to the machine's center of gravity. This ensures that changes in fuel level cause almost no change in the machine's center of gravity, thus minimizing the effect of fuel volume on the machine's handling characteristics.

2) A comfortable ride in all kinds of road conditions
The independent suspensions and link mechanism in the two front wheels have excellent bump-absorbing performance, even on cobblestones and other rough road surfaces. This results in a more comfortable ride.

3) A high level of usability as a city commuter vehicle
With a ride that is light, agile and pleasingly comfortable in city traffic conditions, a step-through design and flat footboard that make it easy to get on and off the machine and a large-capacity storage space under the seat capable of holding a full-face helmet,* the TRICITY offers a high level of usability as a city commuter model.
*Some helmets may not fit in the compartment depending on their shape.
4) Powerful and economical liquid-cooled 125cc engine with YMJET-FI fuel injection 
The TRICITY adopts an engine with a continuously variable transmission (CVT). It is designed to provide smooth acceleration from a stop and through the low-speed range and bring out the model's smooth, agile performance in the mid- to high-speed ranges. The engine uses Yamaha's exclusive "YMJET-FI" fuel injection system and Yamaha's all-aluminum DiASil* Cylinder with its excellent cooling qualities.
*DiASil: Stands for Die-casting Aluminum-Silicon.
5) Advanced yet familiar design based on the unique twin front wheels
The TRICITY's styling conveys "Elegant" and "Modern" qualities based on its design concept of "Smart for All." Some of the defining features of the design are the beautiful body lines, the fender assemblies that accentuate the twin front wheels and inner panel that appears to embrace the rider.
TRICITY Main Specifications
| | |
| --- | --- |
| Overall length/width/height | 1,905 mm x 735 mm x 1,215 mm |
| Seat height | 780 mm |
| Weight (dry) | 146 kg |
| Weight (with oil and a full fuel tank) | 152 kg |
| Engine type | Liquid-cooled, 4-stroke, SOHC, 2-valve |
| Cylinders | Single cylinder |
| Displacement | 124.8 cm3 |
| Bore x stroke | 52.4 x 57.9 mm |
| Max. output | 8.1 kW (11PS) / 9,000r/min |
| Max. torque | 10.4 N·m (1.1kgf·m) / 5,500r/min |
| Fuel tank capacity | 6.6 L |
| Fuel supply system | Fuel injection |
| Transmission type | V-belt automatic |
| Tire size (front/rear) | 90/80-14 / 110/90-12 (both tubeless) |
| Brakes (front/rear) | Hydraulic disc / Hydraulic disc |
| Suspensions (front/rear) | Telescopic / Unit swing |