Allocation of new shares by PT. Bussan Auto Finance
December 19, 2013
Mitsui & Co., Ltd. ("Mitsui," Head Office: Tokyo, President & CEO: Masami Iijima) and Yamaha Motor Co., Ltd. (Head Office: Shizuoka, President & CEO: Hiroyuki Yanagi) together with its subsidiary ("Yamaha Motor Group") jointly announce that PT. Bussan Auto Finance ("BAF", Head Office: Jakarta, Indonesia), a Joint Venture between Mitsui and Yamaha Motor Group, a finance company for motorcycles, entered into a shares subscription agreement and relevant ancillary agreements for approximately IDR 350 billion (Approx. ¥3.1billion) with Yamaha Motor Group and PT. Ciptadana Capital ("Ciptadana"), one of Lippo Group's affiliated companies, a major Indonesian conglomerate. BAF will allocate new shares to Yamaha Motor Group and Ciptadana and after this transaction, Mitsui will hold 70%, Yamaha Motor Group will hold 20% and Ciptadana will hold 10% of BAF's share capital.

Supported by this capital increase, Mitsui and Yamaha Motor Group will aim to reinforce BAF's management and financial bases, and expand sales of Yamaha motorcycles. Through Ciptadana's investment, BAF welcomes Lippo Group, which engages in a wide range of businesses, as a new shareholder of BAF and believes this transaction will help to capitalize on the strong local demand for motorcycles. BAF and the shareholders will continue to contribute to the society by delivering motorcycles to even more people in Indonesia and in addition considering any possibility of entering into other relevant businesses in the future.

Due to the long term inflation and introduction of the new down payment regulation, the sales volume of the motorcycle in Indonesia has dropped down to 7.06 million units in 2012 which had reached to 8.00 million units in the prior year. However, the sales volume has been showing strong recovery this year and it is expected to recover up to 7.50 million units in 2013. Given the large population of more than 240 million with fairly low penetration rate of motorcycle compared to other ASEAN countries, the motorcycle market in Indonesia is expected to continue its growth moving forward.

BAF was established in 1997 as a finance company which provides loans to customers who purchase Yamaha-brand motorcycles in Indonesia. BAF has around 200 distribution channels across the nation and supports the sale of Yamaha-brand motorcycles in Indonesia through the loan origination. Indonesia is the third largest market in total sales volume of motorcycles and Yamaha has more than 30% market share in this market.
Shareholder Structure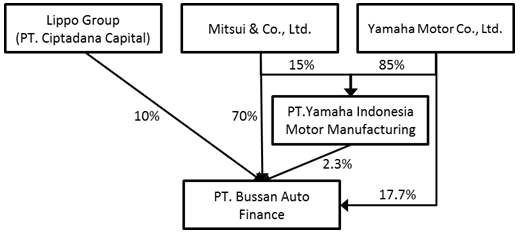 Description of PT. Bussan Auto Finance
Location
:
Jakarta, Republic of Indonesia
Founded
:
1997
Representative
:
Tetsuya Daikoku
Headcount
:
About 10,000
Capital
:
About IDR 275 billion (About ¥2.5 billion) (Pre Transaction)
Shareholder Structure
:
Mitsui Bussan Group - 70%, Yamaha Motor Group - 20%,
Lippo Group - 10% (Post Transaction)
Description of Lippo Group
Location
:
Jakarta, Republic of Indonesia
Founded
:
1948
Founder
:
Mochtar Riady
Headcount
:
About 35,000
Major Business
:
High-speed mobile service, Real estate development, Retail,
Hospital, Education, Paid cable television/satellite television,
Internet service provider, Media, Banking