Yamaha Clean Water Supply System', a Compact Water Purification System for Emerging Markets, Receives the 'Good Design Gold Award'
November 7, 2013
IWATA, November 7, 2013 – The 'Yamaha Clean Water Supply System', a compact water purification system for emerging markets from Yamaha Motor Co., Ltd., has received the 'Good Design Gold Award' as judged by the Special Awards Panel from among the products that received the Good Design Award 2013 'Good Design BEST100', as hosted by the Japan Institute of Design Promotion. The Good Design Gold Award (the Minister of Economy, Trade and Industry Prize) is given to products that feature high-quality designs that solve current issues in a superior way among those selected to receive the Good Design Award 2013.

The 'Yamaha Clean Water Supply System' is a water purification system aimed at people in emerging markets struggling to obtain clean drinking water. It features a simple construction based on the natural purification function 'slow filtration', and as it requires no filter replacement or maintenance by specialist technicians, its ease of use through being operable by residents of emerging markets themselves is highly rated. The highly-filtered water it produces has not only helped to increase people's awareness of hygiene, but in several villages where the system has been introduced, survey results have shown that incidences of diseases, such as diarrhea and fever, have in fact fallen significantly. Moreover, as women and children are relieved of the laborious task of drawing water, they have more time for study and more productive activities, and as the system has enabled village development through new businesses such as water delivery, it has brought many changes to residents' lifestyles.

Previous Yamaha products to receive the Good Design Gold Award include the 2001 'TMAX' 500cc scooter, the internationally-recognized FRP-construction 'SWIM21' temporary pool, the 2003 Yamaha Electric Commuter 'Passol', and the 2005 Yamaha Electric Commuter 'EC-02'.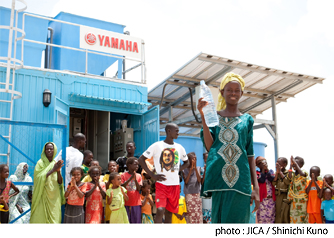 The 'Yamaha Clean Water Supply System', a Compact
Water Purification System for Emerging Markets Rating of the Awards Committee
As an initiative to secure 'safe water' (an essential for life) in emerging markets, we rate this product highly as a model of a contribution to global society by Japanese companies. We particularly commend its principle-based filtration system, which uses gravity and avoids using electricity as much as possible, and by enabling maintenance by local people, is an excellent example of system design that understands the situation in emerging markets. Moreover, while contributing to the maintenance of hygiene standards, relieving women and children of labor is support that provides the lifestyle values of technologically-developed markets, and is an initiative that leads the way for the future of Japanese design.

Comment from Yamaha Design Director Yasuhiro KIRA on Receiving the Award
We are very pleased to receive the Gold Award, which recognizes the product as a system design which can enrich people's lives. We will continue to provide a new Kando and enrich the lives of people the world over by design activities that go beyond simply external appearances.
Movie Documentary "Moving You" Featuring the Clean Water System
http://global.yamaha-motor.com/yamahastyle/movingyou/001/