- Toward Greater Communication for People and Society - Technical Display at the 20th ITS World Congress Tokyo 2013
October 10, 2013
Yamaha Motor Co., Ltd. will be displaying ITS-related technology at the 20th ITS World Congress Tokyo 2013, to be held at the Tokyo Big Sight (Kōtō-ku, Tokyo) from Tuesday, October 15 to Friday, October 18, 2013.
Yamaha Motor's vision for Intelligent Transport Systems
Yamaha Motor aims to offer human-centric ITS that connects people with society. Such ITS will not only provide information for traffic safety, but also aims to bring fun and leave happy memories with all of the people who use it.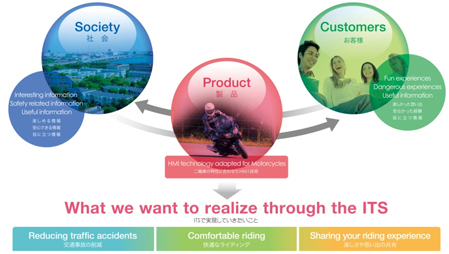 ITS Technology to be Displayed
Riding Support through Road-Vehicle and Vehicle-Vehicle Communication
This system senses obstacles on the road (such as road construction and crashed vehicles) and surrounding vehicles (cars and motorcycles), and alerts the rider to them while the motorcycle is in motion. It also transmits information about the position of the motorcycle to surrounding vehicles and road infrastructure to warn them of the presence of the motorcycle.
Stereo Optical Recognition System
This system senses people on the road in the direction of travel, warns the rider, and acts on the throttle and brakes.
Information Provision-type Slip Prevention System
When this system detects the possibility of rear-wheel slippage, it prompts the rider to restrict throttle opening by applying reaction force to the accelerator.
Smartphone Motorcycle Infotainment※
This analyzes and evaluates the motion of the motorcycle, and provides support for enjoyable skill improvement. Such information provision enables motorcycle riding to become a more enjoyable and integral part of the owner's life.
The themes of Yamaha Motor's medium- to long-term growth plan include creating "fulfilling lifestyles", "enjoyment in personal mobility", and "innovative technologies that harmonize with people, society and the Earth".
The ITS technology to be displayed at this Congress is in harmony with these themes, and Yamaha Motor will continue to actively work on its research and development.
※'Infotainment' is derived from 'information' and 'entertainment'. This service provides information with entertainment aspects