The 5th YAMAHA ASEAN CUP U-13 FOOTBALL Vietnam 2013 A youth football tournament for encouraging their aspirations and the development of sports
October 3, 2013
Yamaha Motor Co., Ltd. and its group company Yamaha Motor Vietnam Co., Ltd., with the cooperation of the Vietnam Football Federation, will hold the 5th YAMAHA ASEAN CUP U-13 FOOTBALL Vietnam 2013 tournament over the three days of October 4 to 6, 2013 at the My Dinh National Stadium in Hanoi, Vietnam.

The YAMAHA ASEAN CUP U-13 FOOTBALL is an international youth football tournament held since 2008. It serves as one of the important pillars of the Yamaha Motor group's corporate activities and among its goals is strengthening the Yamaha brand's sporty image in the ASEAN region. This 5th tournament will be contested by six under-13 teams selected to represent the countries of Vietnam (two teams), Indonesia (two teams), Malaysia and Thailand (one team each). The teams will be divided into two groups to compete in a round robin, and the top two finishers of each group will move on to compete in the final tournament.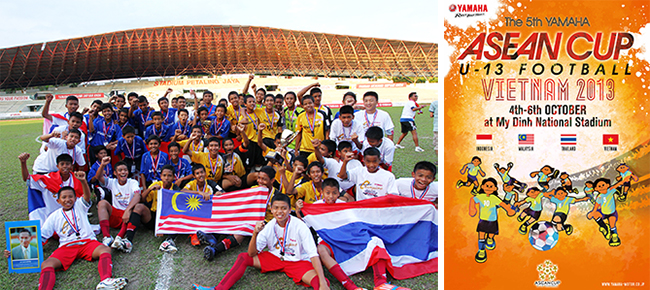 With our corporate mission to be a "Kando* Creating Company," Yamaha Motor is dedicated to offering value that exceeds customer expectations and experiences of Kando to people all over the world. As a part of this mission, the Yamaha Motor group is involved in promoting and supporting the development of a variety of sports worldwide, not only for motorsports and marine sports but also rugby, football and more. The ASEAN market is of great importance for Yamaha Motor, and in cooperation with our group companies in each host country, we have been holding the YAMAHA ASEAN CUP RACE one-make motorcycle championship event since 2003, and the YAMAHA ASEAN CUP U-13 FOOTBALL tournament for selected teams with players under 13 years of age since 2008.

The aim of these events is to encourage friendship while raising competitive skills through serious competition between teams, players and riders from different countries and bring shared experiences of Kando* to people around the world as well as contribute to youth development and the spread of sporting activities.
* Kando is a Japanese word for the simultaneous feelings of deep satisfaction and intense excitement that we experience when we encounter something of exceptional value.