Release of the "FORCE" for the Indonesian market. A fuel-injected MT model with great cost-performance
June 17, 2013
Yamaha Motor Co., Ltd. announces the release of the new "FORCE," a manual transmission (MT) model with a 115cc fuel-injected engine and a product concept of a "Fun and Easy-to-Ride Basic Model." It will be released on the Indonesian market in June 2013 and will be manufactured and marketed by group company PT. Yamaha Indonesia Motor Manufacturing (YIMM).

The FORCE is designed for day-to-day usability and features (1) a compact chassis that makes it easy to wheel around, (2) excellent economy thanks to the fuel injection system and other measures, (3) torquey engine characteristics and predictable handling and (4) a wide and long seat for good comfort even during tandem riding. 

The body design accentuates a look and feel of agility and dynamic motion. A total of seven color schemes are available: four "Elegant"-themed ones for a high quality look, and three "Sporty"-themed ones to target teenagers and express youth and liveliness through dynamic graphics and color combinations.

Indonesia's motorcycle market scale is approximately seven million units (Yamaha Motor survey, 2012 results), about 30% of which is for MT models. With the increase of automatic transmission model sales in recent years, the ratio of MT models has been decreasing but they are still very popular in the market for their high levels of practicality and cost performance. The addition of the FORCE strengthens the lineup of the current "JUPITER MX," "JUPITER Z1" and "VEGA RR" and will serve in expanding the Yamaha brand's share in the MT model category of the Indonesian market.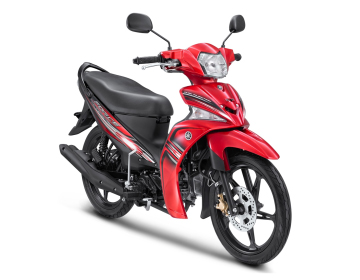 | | |
| --- | --- |
| Model name: | FORCE |
| Release date: | June 2013 |
| Manufacturer's suggested retail price: | 13,300,000 IDR (on the road price in Jakarta) |
| Sales target: | 100,000 units (first full year after release, in Indonesia) |