Release of the new 3-seater "VIKING" off-road vehicle. A new North American market model to lead the RV lineup under the new mid-term plan
June 12, 2013
Yamaha Motor Co., Ltd. announces the mid-August 2013 release of the North American market model "VIKING," powered by a 700cc fuel-injected engine, and the first of a new line of "Recreational Off-highway Vehicles" (ROVs).

The VIKING is Yamaha Motor's first 3-seater vehicle for off-road use and is positioned as a core model for the RV*1 business under the new medium-term management plan (2013-2015).

The current annual demand in North America's ROV market is on the scale of 200,000 units (Yamaha Motor survey). There is a stable demand for utility use in industries like agriculture and dairy farming and, in recent years, a growing demand for outdoor leisure and touring use. The VIKING's product concept positions it as a "Multi-purpose Off-road Vehicle" developed to offer both the practical functionality required for utility/commercial use and the kind of enjoyable running performance and on-board comfort leisure-use customers want. Among its main features are (1) the "Ultramatic" transmission and drive system that provides a smooth ride across the entire speed range, (2) separate seats with good body fit and hold designed for easy boarding for up to three people, (3) a large, flat rear cargo bed designed for ease of loading and (4) a 4WD system with excellent performance on rough roads. Note that this model cannot be licensed to run on public roads.

Yamaha Motor's wholesales of ATV*2 and ROV models in 2012 totaled approximately 70,000 units. In order to strengthen our presence as a pioneer of the ROV market, Yamaha will continue to introduce new ROV models like the VIKING with a target of expanding sales to a scale of 110,000 units by 2015 as laid out in our new medium-term management plan.
*1 RV: Recreational Vehicle
*2 ATV: All-Terrain Vehicle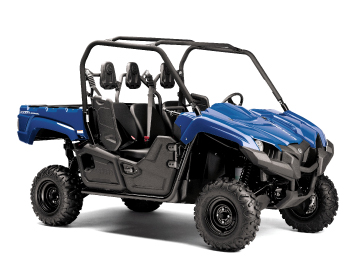 | | |
| --- | --- |
| Model name: | VIKING |
| Release date: | Mid-August 2013 |
| Manufacturer's suggested retail price: | 11,499 USD |
| Sales target: | 17,000 units (first full year after release) |