Introducing the new 2014 "MT-09" model for the European market. Mounting a newly developed 3-cylinder engine embodying the "Crossplane Concept"
June 12, 2013
Yamaha Motor Co., Ltd. announces the release of the new "MT-09" sport model powered by a newly developed 850cc in-line 3-cylinder engine. The new model will be released in succession in European markets from the first half of September 2013.

Designed and engineered under the product concept of a "Synchronized Performance Bike," the MT-09 is an entirely new model targeting the 700cc to 999cc class of the European motorcycle market's main category of "road sport" models, a displacement class that has seen growth in recent years. Also, this model represents the second in a series products designed to fulfill the goal of "broadening the product lineup of the motorcycle business in developed markets" laid down in Yamaha Motor's new medium-term management plan (2013-2015). Furthermore, its newly developed engine embodying Yamaha's "Crossplane Concept" is a power unit that will serve as a core component in attractive, high-performance developed-market product platforms with true Yamaha-ness.

"synchronized" riding experience to maximize the "pleasure of controlling the machine at will" in the typical everyday speed range.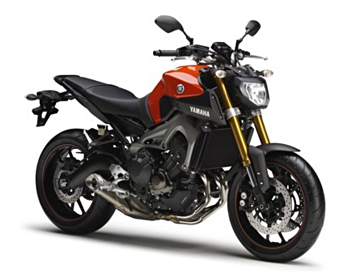 Model name:
MT-09
Release date:
First half of September 2013
Manufacturer's suggested retail price:
7,790 EUR
(VAT-included price in Italy, prices differ by country)
Sales target:
11,000 units
Development Aims
In Europe's sport bike market, there is a trend in recent years of customers seeking greater enjoyment in everyday use, which has led to a growing popularity of models in the "road sport" category. Contrary to the conventional values favoring bikes that are "bigger" and "faster," there is a new appreciation of models with sporty performance that fit one's own age and physique. To answer this trend, the new MT-09 is developed with Yamaha's exclusive "Jinki Kanno"* design philosophy to bring together the "fun of riding," the "sound and pulse" and "design" that make up the fundamental and universal appeal of motorcycles.
*Jinki Kanno: This is a motorcycle design philosophy unique to Yamaha in which the motorcycle not only represents a means of transport, but where there is also a focus on delivering fulfillment and satisfaction to our customers.
Main Features
1) A newly developed engine embodying Yamaha's "Crossplane Concept"
The engine has been developed based on Yamaha's "Crossplane Concept" that seeks "linear torque development in response to the rider's throttle action." It is an 847cc, fuel-injected, liquid-cooled, 4-stroke, in-line 3-cylinder, DOHC, 4-valve engine with a downdraft intake. The valve setting angle is a narrow 26.5° (Intake: 13° + Exhaust: 13.5°) that enables a compact combustion chamber that helps achieve quicker combustion for higher torque output.

2) YCC-T (Yamaha Chip Controlled Throttle) adopted
The YCC-T (Yamaha Chip Controlled Throttle) system is adopted for the throttle control system. In combination with features like the lightweight forged aluminum pistons, the plated cylinders with their excellent heat dissipation characteristics, the vibration-reducing balancer, the first offset cylinder design on a Yamaha multi-cylinder production motorcycle and the unequal-length intake funnels that contribute to the engine's linear torque characteristics, this system helps provide both excellent running performance and fuel efficiency.

3) Integrated exhaust pipe and muffler unit contributing to mass centralization
The exhaust system adopts a design integrating the 3-into-1 exhaust pipe and muffler (silencer) with three expansion chambers into a single unit. This not only helps achieve good exhaust efficiency and silencing performance but also contributes to centralization of machine mass that in turn helps provide light, enjoyable handling. The exhaust pipe is given a special nanofilm coating that is effective in preventing discoloration, rust and smudges/stains.

4) Newly designed lightweight aluminum frame and externally mounted rear arm
A lightweight aluminum frame with excellent rigidity balance and a look that helps create a distinctive exterior design is adopted. Furthermore, in order to achieve a compact riding position and slimmer shape in the foot area, the rear arm's pivot assembly is attached to the outside of the frame to achieve a width at the footrests that is comparable to a parallel twin engine model.

5) Tapered aluminum handlebars, long seat and fuel tank design
The aluminum handlebars are a tapered type that are not only lightweight with good strength balance but also add a motard bike flavor. The seat is a long type with a length of about 400 mm and a design with little height difference with the tandem seat area to increase the freedom of riding position. The front area of the seat has a frosted pattern material known for its excellent grip and increasing the feeling of rider-machine unity. The fuel tank, with its deeply recessed knee grip area, contributes to a compact riding position.

6) Design features
The body has a hybrid design that mixes the elements in a naked (roadster) bike and a motard bike. The design synchronizes various elements that include a "mass forward" machine silhouette that expresses the image of a machine with light handling that can be ridden freely, a concentrated central core of the machine created by mass centralization expressing the agility to move in any direction swiftly, and aspects to create a motard and off-road machine image.

7) Other features
Other features include (1) an irregularly shaped oil pan to minimize oil surface fluctuation, (2) the YAMAHA D-MODE running mode selection system, (3) radial mount front brake calipers, (4) full LCD instrument panel, and (5) forged aluminum brake and gear shift pedals and footrests.
Main Specifications
2014 MT-09 European market model (excluding France model spec)
| | |
| --- | --- |
| Overall length/width/height | 2,075 mm × 815 mm × 1,135 mm |
| Seat height | 815 mm |
| Wheelbase | 1,440 mm |
| Wet weight (with oil and a full fuel tank) | 188 kg |
| Engine type | Liquid cooled, 4-stroke, DOHC, 4-valve |
| Cylinder arrangement | In-line, 3-cylinder |
| Displacement | 847 cm3 |
| Bore × stroke | 78 mm × 59.1 mm |
| Compression ratio | 11.5:1 |
| Maximum output | 84.6 kW (115PS) / 10,000 r/min |
| Maximum torque | 87.5 N·m (8.9kgf·m) / 8,500 r/min |
| Starting system type | Electric |
| Fuel tank capacity | 14 L |
| Fuel supply system | Fuel injection |
| Tire size (Front / rear) | 120/70ZR17M/C (58W) / 180/55ZR17M/C (73W) |
MT-09 Feature Map