Release of the new Yamaha high-speed dispenser "YSD" -Major advances in tact time and dispensing performance-
May 29, 2013
Yamaha Motor Co., Ltd. has developed the new high-speed dispenser model "YSD," boasting the industry's highest levels of tact time at 0.07 sec./shot plus improved versatility. This new model will be released for sale on July 1, 2013.

The YSD comes to market as the successor to Yamaha's "YGD" dispenser model that won a reputation for answering market needs for compactness and low cost while achieving the industry's highest levels of dispensing speed and precision at the time of its release in April 2004. The YSD achieves major improvements (over 20% compared to the YGD) in tact time and dispensing performance.

In a conventional production line for mounting electric/electronic components on printed circuit boards (PCB), a dispenser for surface mount technology (SMT) systems is a special machine used to apply adhesive that temporarily holds the parts to be mounted on the PCBs in place. The YSD, however, is designed to perform a variety of dispensing functions in addition to temporary adhesive application, while also providing the capacity to handle large-sized PCBs of up to 510 mm in length and 460 mm in width, coming with a touch panel as standard equipment and other functions to increase versatility and operability. Environmental and safety concerns are also addressed with measures such as meeting CE marking requirements and operational compatibility with a low compressed air level of 0.45 MPa.

Using the YSD together with Yamaha's high-speed modular type surface mounters makes for a surface mounting production line that not only has a high level of productivity, but is also very efficient in its use of floor space.

Plans call for the new YSD to be on display at the JISSO PROTEC 2013 (15th Jisso Process Technology Exhibition) scheduled from June 5 to 7, 2013 at the Tokyo Big Sight exhibition center (Koto Ward, Tokyo).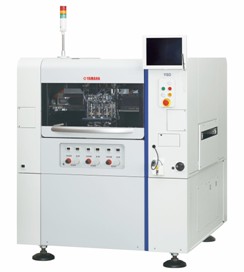 | | |
| --- | --- |
| Product name | Yamaha high-speed dispenser "YSD" |
| Release date | July 1, 2013 |
| First year sales target | 100 units |
Market Background and Product Outline
Currently, demand is still high for the dispensers that apply adhesive to temporarily fix surface-mount parts and components onto PCBs. At the same time, there is a strong demand for models that can accommodate the increasing density of part concentration on today's PCBs. Furthermore, in addition to adhesive application, there are new uses emerging such as application of supplementary solder paste to large lands in the case of mounting complex mixes of extra-small chips and large-size components. Attention is also focusing on the potential of dispenser technology to perform other tasks such as permanent bonding of parts like shield cases, sealing and coating of things like insulation, dam and fill applications, etc.
In recent years, demand in the SMT market has become much more sophisticated and diverse in its calls for greater productivity. To answer this demand, as Yamaha's first new dispenser model since the YGD released in April 2004, the YSD is a high-speed, high-performance, multi-functional model that achieves major improvements in tact time and dispensing performance while providing new functions such as non-contact dispensing, line dispensing and more for increased versatility.
Product Features
| | |
| --- | --- |
| (1) | Industry's highest levels of dispensing performance |
| | ・Over 20% faster tact time than the YGD at 0.07 sec./shot. |
| | ・ Improved dispensing accuracy (±0.05 mm μ + 3σ). |
| | |
| --- | --- |
| (2) | Improved versatility and operability |
| | ・Non-contact dispensing and line dispensing available as options. |
| | ・Handles large-sized PCBs up to 510 mm long and 460 mm wide. |
| | ・Touch panel as standard equipment for improved operability. |
| | |
| --- | --- |
| (3) | Environmental and safety measures |
| | ・Meets CE marking requirements.Meets CE marking requirements. |
| | ・Operable on low compressed air level of 0.45 MPa. |
(4)
Highly efficient manufacturing when used on a Yamaha SMT line
・Bad mark recognition function makes increased productivity on the entire production


line possible.

・Easy conversion of Yamaha surface mounter data to dispenser data possible.
(5)
Technologies and new mechanisms used to increase performance
①High speed

・Newly developed head unit with reduced weight.

・Latest servo control system adopted (same type as the YSM40).

・High-rigidity platform (same type as the YS12).

・Newly developed dispensing sequence.

②Dispensing position accuracy

・Yamaha's MACS* system for multi-staged mounting accuracy compensation is adopted on




this model. This system provides comprehensive compensation for deviations in the




numerous factors involved in accuracy multiple times, achieving a high mounting accuracy of




±0.05 mm

*MACS: Multiple Accuracy Compensation System

③Dispensing consistency

・High-speed response valve ensures consistency in dispensing dot shape.

・New high-precision temperature control system reduces temperature-induced variance in




adhesive consistency.
Basic Specifications
Model
YSD
Applicable PCB
L50×W50 mm to L510×W460 mm
Dispensing cycle time
(under optimum conditions)
0.07sec./shot
Dispensing accuracy
±0.05mm (μ+3σ)
Power supply
3-phase AC200/208/220/240/380/400/416V±10% 50/60Hz
Air supply
0.45 MPa or higher, in clean, dry states
External dimensions
L1,254×W1,419×H1,445 mm
Weight
Approx. 1,250 kg
Dispensing method
Compressed air pulse
No. of heads
Standard: 2 heads; Option: 3 heads
Min. deposited bead
Φ0.5~3.0 mm ±0.1 mm
Dispensing nozzles
11 types (same as YGD)
Adhesive dispensing forms
1 to 2 beads/dots; drawn bond lines
Applicable syringes
Standard: 30 cc; Option: 10 cc
Operational device
With touch panel