Yamaha wins a second consecutive India Design Mark (I Mark)
April 16, 2013
Yamaha Motor Co., Ltd. is proud to announce that the stylishly designed "CYGNUS RAY" scooter manufactured and marketed by group company India Yamaha Motor Pvt. Ltd. (IYM) is the recipient of the prestigious India Design Mark (I Mark)* awarded by the India Design Council. Following last year's award for the YZF-R15, this is Yamaha Motor's second consecutive I Mark award.
The India Design Council is affiliated with India's Ministry of Commerce & Industry and is made up of eminent people in academia, design and industry organizations. Its India Design Mark (I Mark) awards program was initiated in cooperation with the Japan Institute of Design Promotion, and in line with the same standards set by Japan's Good Design Award (G Mark). Open application and judging for the first I Mark awards was in 2012, and in the award's second year, 2013, the Yamaha CYGNUS RAY was one of 39 I Mark recipients.
As the Indian economy grows and more young women play an increasingly large role in society, there has been a growing demand for compact, easy-to-use, stylishly designed women-oriented scooters. Launched in September 2012, the CYGNUS RAY was developed to meet these needs and is the Yamaha brand's first scooter model for the Indian market.
Its innovative styling is based on a design concept of being "Sophisticated & Dynamic," and the model is full of fine touches that women appreciate, such as a seat designed with easy leg reach to the ground and good comfort in tandem riding in mind, convenient and practical storage space and easy-to-operate center and side stands.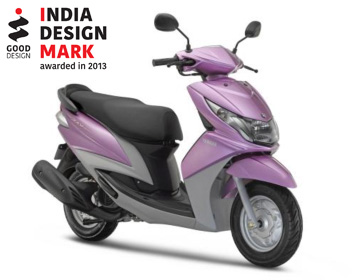 Comment from Seiji Higashihara, Design Manager for the CYGNUS RAY
I feel deeply honored that Yamaha's first scooter model for the Indian market, the CYGNUS RAY has won the I Mark. And all of the people who worked to help get this model to the customers certainly feel the same way.
The CYGNUS RAY is the product of great efforts and much trial and error to grasp a full understanding of the desires and aspirations of young Indian women who are entering society in increasing numbers as students and workers, and to reflect those feelings in its design. I believe that the I Mark award is Indian society's recognition of these efforts by Yamaha people. Encouraged by this award, we will continue to work to bring to the Indian market more products with attractive designs like the CYGNUS RAY.
*India Design Mark (I Mark): First held in 2012, this design award is intended to increase design awareness and promote value of design in the industry and society in India and improve the quality of life overall by encouraging and giving recognition to good design. Of the 39 recipients of the India Design Mark in the second awards (2013) were five products from three Japanese companies. Applicants for the I Mark award must satisfy any two of the three requirements: (1) "Made in India" (2) "Designed in India" or (3) "Sold in India." Furthermore, the product must pass other requirements, including that it is a complete and mass-produced product.
(Translated from a report from the Japan Institute of Design Promotion)