2013 WR450F Enduro competition model wins Yamaha a prestigious"red dot design award" for the second consecutive year
April 10, 2013
Yamaha Motor Co., Ltd. is proud to announce that its WR450F Enduro competition model (European market spec, 2013 model) has won the "red dot award: product design 2013" of the internationally renowned red dot design awards.* This award follows the red dot award for product design won by the TMAX last year to give Yamaha Motor its second consecutive red dot award.
The WR450F is an Enduro competition model boasting outstanding handling and off-road performance and easy machine setting adjustments, and its design is defined by sharp-looking styling that accentuates the mechanical parts such as the engine and suspensions. The model is sold primarily in Europe, North America, Oceania and Japan and is widely popular from competitive racing to fun, recreational riding.
The red dot design awards, organized by Germany Design Zentrum Nordrhein Westfalen, are widely recognized as one of the most prestigious design awards in the world. Internationally prominent design professionals judge designs in nine areas including innovation, functionality, quality and ergonomics to select products with designs of outstanding quality.
In 2013, about 1,800 companies and designers from 54 countries registered to the "red dot award: product design" competition, submitting a total of 4,662 products in its 19 categories, ranging from automobiles and motorcycles to home electronics and furniture. The Yamaha WR450F was among the eventual winners of the "red dot award: product design 2013." Two of our other products submitted in the same category, the European market high wheel scooter model Xenter 125 and the European market sport tourer model FJR1300A, received honourable mentions.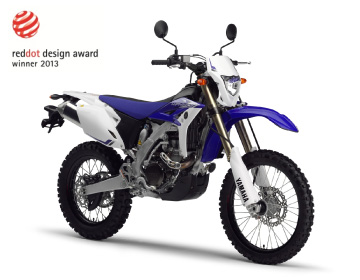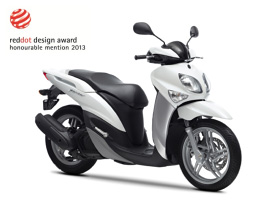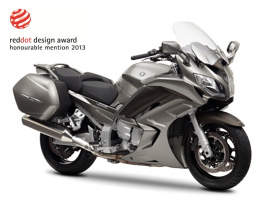 Comment from Takane Mitomi, Chief Designer for the WR450F, GK Dynamics Inc.
The red dot is a very prestigious design award in Europe and we are very happy to have won it. For an off-road competition model like the WR450F, functionality is the first priority, and then accentuating the best aspects of that functionality is the role of the design. In the case of this model, its uncompromising pursuit of handling performance and fitting a large engine into a compact body make the degree of difficulty for the designer quite high, and it was a big challenge bringing the design together. I feel that winning the red dot award serves as recognition of the efforts we made to realize the ideals of the entire development team.
*The red dot design awards have been presented annually by the Design Zentrum Nordrhein Westfalen of Germany since 1955 and are widely recognized as one of the most prestigious design awards in the world. The awards are given in the three categories of product design, design concept and communication design. Of these, the product design category is open to products released within the last two years. The awards ceremony for the 2013 winners will be held on July 1st in Essen, Germany and the awarded products are to be displayed in a special exhibition at the red dot design museum.