Release of the "Spark 115i" for the Thai market. Compact and easy to ride, and fuel injection for more economical performance
| | |
| --- | --- |
| | December 5, 2012 |
Yamaha Motor Co., Ltd. has developed the new manual transmission (MT) "Spark115i," a model mounting an air-cooled, 115cc fuel-injected engine and designed and engineered around the concept of a "basic model that is easy to use and easy to ride." This model will be released in early December 2012 by group company Thai Yamaha Motor Co., Ltd. (TYM).
Along with the gradual Thai market introductions of the "Mio115i," "TTX," "NOUVO SX" and "Mio125i" since the spring of this year, the new Spark115i is one more outgrowth of Yamaha Motor窶冱 medium-term growth strategy* to strengthen product competitiveness, appeal and profitability in the ASEAN motorcycle market.

Thailand窶冱 annual motorcycle market scale has smoothed out at approximately two million units (Yamaha Motor survey, 2011 results) and automatic transmission (AT) and manual transmission models each make up about 50% of the demand. Despite the growing percentage of AT models in recent years, MT models also retain strong popularity primarily in regional cities due to their practicality and excellent fuel economy. Among the MT models, the Spark Nano is appreciated for its ride and practicality. However, there have been increasing calls for a model with even better fuel economy and ease of use, and the new Spark115i has been developed specifically to answer these needs.
The Spark115i has been designed and engineered with precision and attention to detail throughout the machine with the aims of even higher levels of "a pleasant and enjoyable ride," "familiarity that makes it easy and inviting to ride" and "a comfortable ride" in everyday use for daily shopping or tandem riding. Both the engine and chassis have been newly designed and a fuel injection system has been newly adopted to provide outstanding power output and fuel efficiency with a good balance of environmental friendliness.
The new model窶冱 main features include (1) a compact body that is easy to maneuver and has a good feeling of fit and familiarity for the rider, (2) outstanding economy with 25% better fuel efficiency than the current model, (3) torquey engine character and natural handling that make for a powerful and smooth ride in around-town use, (4) a pleasing exhaust sound achieved with a new muffler developed using acoustic analysis technology and a quieter engine that enhances the sound, (5) a body design employing a sense of "undulation" to create an accentuated air of dynamism, and other features.
*Medium-term management plan: One of the four growth strategies in Yamaha Motor's 3-year (2010-2012) medium term management plan is strengthening product competitiveness, appeal and profitability in the ASEAN motorcycle market. This aims to be accomplished by enhancing product appeal by (1) increasing the ratio of models featuring a fuel injection system and (2) increasing profitability through reducing the cost of fuel injection systems and the benefits of larger scale production.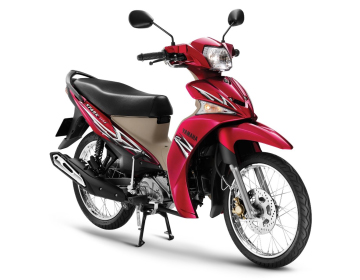 "Spark115i" (2013 Thai market model)
| | |
| --- | --- |
| Model name: | Spark115i |
| Release date: | Early December 2012 |
| Sales target: | 140,000 units (first full year after release, in Thailand) |