Participation in the "Toyota City Low-Carbon Society Verification Project"
| | |
| --- | --- |
| | November 13, 2012 |
On November 14, Yamaha Motor Co., Ltd. will commence with practical field tests of a fleet of Yamaha PAS bicycles in the "Ha:mo" urban transportation system of the Toyota City Low-Carbon Society Verification Project*1 that got underway on October 1, 2012. As a member of the Toyota City Low-Carbon Society Verification Promotion Council,*2 Yamaha Motor has been making preparations for these tests since April 1, 2012.

Yamaha Motor's participation in this project will involve one of the field tests aimed at implementing the "Communications-linked Next-generation Vehicles"*3 collaboration with Toyota Motor Corporation towards building a new mobility society of the future as announced on November 28, 2011. The test is designed to verify the convenience of the electrically power assisted bicycles as complementary vehicles in the "Last One Mile Domain"*4 of the "Low-Carbon Multimodal Society"*5 concept with the goal of eventual deployment as a practical system. Ha:mo is a service that aims to build a user-, town- and community-friendly transportation network by linking personal mobility vehicles to the public transportation system. It currently consists of two elements: "Ha:mo Navi"*6 and "Ha:mo Ride."*7

Yamaha Motor will conduct a test deployment of its PAS electrically power assisted bicycles for a vehicle sharing service in the Chukyo University area of Toyota City as part of the Ha:mo Ride system with the aim of proving the service's potential for improving convenience and business viability in the transportation system. Specifically, the service will function in a rental and return system where ten Yamaha PAS electrically power assisted bicycles will be deployed at unmanned vehicle sharing stations (complete with battery charging equipment and locking parking stalls) at Josui Station on the Nagoya Railroad (Meitetsu) line and Kaizu Station on the Aichi Loop Line. The vehicle sharing service will be run on a membership basis and plans call for the bicycles to be rentable at no charge for the time being in order to promote wide and regular use for the purpose of gathering information on the service's effectiveness. Actual operation of the system will be outsourced to Toyota Media Service Corporation. Going forward, as operations expand within Toyota City, the number of vehicle sharing stations and bicycles will be increased, etc., and links with the Ha:mo Navi service will be multiplied along with ongoing tests of potential demand and the technical elements involved in the project.

Yamaha Motor is currently working to increase its corporate value through sustainable growth by expanding "business scale," improving "financial strength" and augmenting "corporate strength" as outlined in the next medium-term management plan. This initiative falls in the realm of efforts to develop new business areas by expanding "business scale."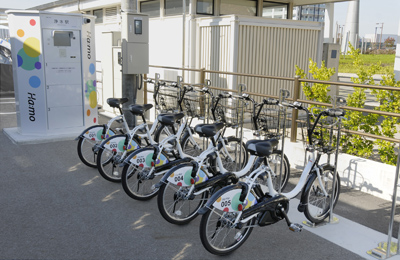 Charging area in front of Josui Station
*1

Toyota City Low-Carbon Society Verification Project: being conducted as a Next-Generation Energy and Social System Demonstration project (a five-year project running from 2010 to 2014) of the Japanese Ministry of Economy, Trade and Industry (METI). Toyota City was selected as a demonstration area for the Verification Project in April 2010 to support development of testing equipment and information systems. As a part of the efforts towards growing and developing Toyota City, in addition to constructing a system for a creating a low-carbon society in regional towns and cities, this project sets its future sights on not just bringing developments to Japan but also overseas and to create a system that can be used in the differing societies of areas, territories, developed and emerging countries around the world.

*2

Toyota City Low-Carbon Society Verification Promotion Council: set up in Toyota city on August 5, 2010 for carrying out verification tests for the construction of regional city low-carbon society systems for greater use in Japan and overseas.

*3

Communications-linked Next-generation Vehicles: the name of the products and service designed to create new value by linking Yamaha two-wheeled vehicles to the Toyota Smart Center via a network to provide an organic link between vehicle information and the information bank of the Toyota Smart Center. Cooperation between the two companies will enable:
(1) Shared use of vehicle charging infrastructure by the two companies窶・automobiles and two-wheelers (Yamaha electric motorcycles and electrically power assisted bicycles, etc.), early deployment of a comprehensive mobility information infrastructure made possible by linking to the Toyota energy management system "Toyota Smart Center," and establishing new traffic systems such as a vehicle sharing system;
(2) Early field tests to commercialize vehicles "linked" with information networks and the related services, reduced development cost in the IT service field through joint efforts by the two companies.

*4

Last One Mile Domain: the final means of transportation from public transportation stations or hubs to a residence.

*5

Low-Carbon Multimodal Society: a concept designed to promote low-carbon, smoothly operating transportation by providing choices for the most optimal combination of multiple means of transportation such as private-use automobiles, electric motorcycles, electrically power assisted bicycles and public transportation.

*6

Ha:mo Navi: a service supporting the realization of low-carbon, seamless transportation by creating a system that connects the individual users, transportation operators and communities by linking transportation services that have conventionally been run separately, and operating them according to actual traffic conditions and encouraging more widespread use.

*7

Ha:mo Ride: a service that employs the sharing of ultra-compact electric vehicles and electrically power assisted bicycles linked to the public transportation system to cover the "last mile" that can窶冲 be covered by public transportation, aiming to create modal shifts and other benefits to society and making transportation more convenient for citizens at the same time.