Release of the new "Mio125i" for the Thai market
| | |
| --- | --- |
| | October 19, 2012 |
Yamaha Motor Co., Ltd. has developed the new "Mio125i", an automatic transmission (AT) commuter model that mounts a liquid-cooled 4-stroke 125cc engine equipped with Yamaha's exclusive YMJET-FI*1 fuel injection system. The model will be released to the Thai market in mid-October 2012 by group company Thai Yamaha Motor Co., Ltd. (TYM).

The Thai motorcycle market has an annual demand of about two million units (Yamaha Motor survey, 2011 results) and about 50% of these are AT models. The current Mio125 model, which has been on sale since 2010, has become one of the standards for the Thai AT model market. It has proven popular among younger users for its sporty ride and exterior styling, selling around 180,000 units in Thailand since its introduction. As its successor, the new Mio125i, joins the "Mio115i", "TTX" and "NOUVO SX" models also introduced into the Thai market this spring as one more embodiment of Yamaha Motor's medium-term growth strategy*2 to strengthen product competitiveness, appeal and profitability in the ASEAN motorcycle market.

Inheriting the current model's excellent running performance and practical functions like storage space capacity, the adoption of the YMJET-FI fuel injection system on the new Mio125i brings better fuel economy and combines with other new features for an even more attractive offering.
Its main features include (1) the YMJET-FI-equipped engine with its excellent cost performance and smooth acceleration characteristics, (2) transmission performance that brings linear and smooth response to throttle input from the rider, (3) a lightweight body 3 kg less than the previous model, which contributes to light, enjoyable handling and (4) special low rolling resistance tires for both good fuel economy and comfort.
Also, its body design theme of "Aggressive, Sharp and Sporty" brings an even more dynamic and sporty look to the exterior styling. TYM will handle the manufacturing of this model.
*1 YMJET-FI (Yamaha Mixture Jet-Fuel Injection): A fuel injection system employing an auxiliary air intake passage besides the main passage to provide an "air assist" for more efficient mixing of the air and fuel that helps improve fuel economy in the practical use range.
*2 Medium-term management plan: One of the four growth strategies in Yamaha Motor's 3-year (2010-2012) medium term management plan is strengthening product competitiveness, appeal and profitability in the ASEAN motorcycle market. This aims to be accomplished by enhancing product appeal by (1) increasing the ratio of models featuring a fuel injection system and (2) increasing profitability through reducing the cost of fuel injection systems and the benefits of larger scale production.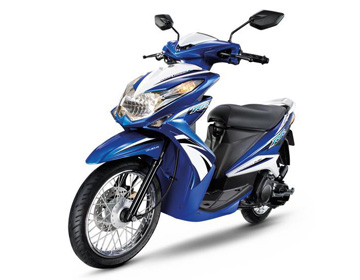 Mio125i (2012 Thai market model)
| | |
| --- | --- |
| Model name: | Mio125i |
| Release date: | Mid-October 2012 |
| Sales target: | 60,000 units (annual, in Thailand) |