Release of the new "CYGNUS RAY" scooter model for the Indian market
| | |
| --- | --- |
| | September 14, 2012 |
Yamaha Motor Co., Ltd. has developed the new "CYGNUS RAY" model, a "Stylish-design Scooter" mounting an air-cooled 4-stroke 115cc engine with CVT that boasts excellent reliability and good fuel economy in actual use onto a compact body. The model will be released to the Indian market in late September 2012. The CYGNUS RAY is the first Yamaha model to enter India's scooter category and is strategically positioned to expand Yamaha's share of the Indian market.

As India's continued economic growth brings more female students and working women out into society with a need for personal mobility, the new CYGNUS RAY was designed and engineered to answer the needs of this growing class of young female customers who wanted a scooter that is stylishly designed, compact and easy to use.
The engine achieves good fuel economy in the practical-use speed range, a power output characterized by smooth start-up acceleration and good pickup and more. The body has fresh, innovative styling based on a design concept of being "Sophisticated & Dynamic," and is full of fine touches that women will appreciate, like a seat designed with easy leg reach to the ground and ease of mounting in mind, ample storage space and easy to operate center and side stands.

This model will be manufactured and marketed by Yamaha Motor group company India Yamaha Motor Pvt. Ltd. (IYM).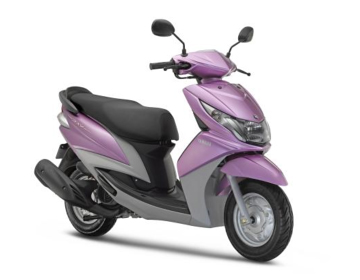 CYGNUS RAY
| | |
| --- | --- |
| Model name: | CYGNUS RAY |
| Release date: | Late September 2012 |
| Manufacturer's suggested retail price: | 46,000 Indian rupees (store price in Delhi) |
| Sales target: | 120,000 units (first full year after release, in India) |


Market and Product Background


The Indian motorcycle market has a current annual demand of approximately 13 million units (Yamaha Motor survey, 2011 results) and, with factors like continuously strong consumer spending and population growth, this demand is expected to surpass China's within 2012 to make India the world's largest motorcycle market.
Within this market, the scooter category, which accounted for about 11% of total demand at approximately 900,000 units in 2006, has grown rapidly to reach about 18% of total demand at roughly 2.4 million units in 2011.
Most recently, the market has seen a cooling down of consumer confidence and more due to factors like the rising price of gasoline and continuing high interest rates on loans. While this has caused a slowing of market growth overall, continued growth in the scooter category is still expected as the growing number of women entering society with a need for personal mobility increases the pool of potential scooter users.

In India's scooter market, the main model types are larger-bodied models with a sense of weight and volume targeting male users and models intended to be shared in use among the whole family. But, there were growing calls for an easy to use, compact model that fit the needs of a growing number of female users. The new CYGNUS RAY has been designed and engineered with this market background in mind and also with the aim of targeting young women for whom design and fresh new appeal are important.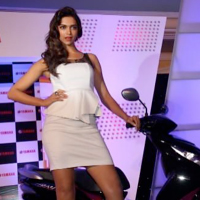 On July 23, 2012, IYM announced the signing of popular young Bollywood actress Deepika Padukone to be the brand ambassador for Yamaha scooters in India. Ms. Deepika's "cool beauty" image fits perfectly with the CYGNUS RAY's stylish image and plans call for the actress to appear in TV commercials, on posters and in a variety of other advertisements and promotions. Through these efforts, expectations are high that her association with Yamaha will make big contributions in terms of increasing brand appeal among her adoring young fans.