Release of "BlueFlex" spec "YS250 FAZER" for the Brazilian market
| | |
| --- | --- |
| | July 17, 2012 |
Yamaha Motor Co., Ltd. has added a new "BlueFlex*" spec "YS250 FAZER" to the lineup of Yamaha sport motorcycles sold in Brazil. The model, set for release in mid-July, can run on both gasoline and ethanol fuel.

In Brazil, where the mainstream class of motorcycles is the 125-150cc range, Yamaha Motor introduced the 250cc model "YS250 FAZER" into the market in 2010, targeting customers who look for sportiness in their motorcycles and it went on to gain wide popularity. The new model "YS250 FAZER BlueFlex" now to be released features technical modifications to the existing gasoline-spec engine so that it can run on gasoline, environmentally friendly ethanol or a blend of both over a flexible range of mixing ratios.

The Brazilian motorcycle market has been buoyed by steady economic growth and demand grew by 8% to 1.94 million units in 2011, with similar growth expected for 2012. Also, the Brazilian government has put significant efforts into increasing ethanol fuel production and both gasoline and ethanol fuel are sold at gas stations in the country. Approximately 30% of all motorcycles sold in Brazil are capable of using gasoline and/or ethanol fuel.

Yamaha Motor recorded a year-on-year increase of 7% in sales to 240,000 units in 2011 in Brazil from the current lineup of 115cc-1,200cc gasoline-spec motorcycles.
The "YS250 FAZER BlueFlex" model will be followed by more "BlueFlex" spec models in the lower engine displacement range to increase the choice of models available to customers and boost user satisfaction.

Yamaha Motor group company Yamaha Motor da Amazonia Ltda. will manufacture the new model while Yamaha Motor do Brasil Ltda. will handle marketing of the model.
*Yamaha Motor has trademarked the term "BlueFlex" to indicate features that enable models to run on gasoline, ethanol fuel or a mixture of both.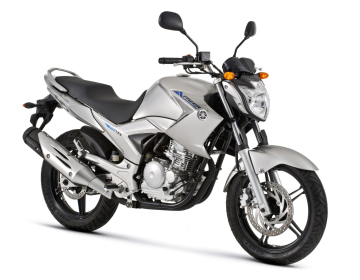 "YS250 FAZER BlueFlex"
| | |
| --- | --- |
| Model name: | YS250 FAZER BlueFlex |
| Release date: | Mid-July 2012 |
| Manufacturer's suggested retail price: | 11,690 BRL |
| Sales target: | 5,000 units (30,000 units if including gasoline models) |