Release of the new "SOUL GT" fuel-injected AT commuter model for the Indonesian market
| | |
| --- | --- |
| | April 9, 2012 |
Yamaha Motor Co., Ltd. announces the release of the new "SOUL GT," an automatic transmission (AT) commuter model mounting a YMJET-FI*1 fuel-injected 115cc engine for great fuel economy and cost performance. The model was released to the Indonesian market on April 7, 2012.
Yamaha Motor introduced the "Mio J" in February this year as a part of its medium-term growth strategy*2 to strengthen product competitiveness, appeal and profitability in the ASEAN motorcycle market. The "SOUL GT" is a follow-up offering as well as the successor to the current "Mio SOUL" model.

Indonesia's motorcycle market scale is approximately eight million units a year (Yamaha Motor survey, 2011 results) and over 50% of these are automatic models. Since its August 2007 release, the "Mio SOUL's" masculine styling defined by features like the low-set, stylish single-headlight design has made it popular among young males, with 1.3 million units sold.

With robust economic growth and a continued increase in motorcycle demand expected in Indonesia, the new "SOUL GT" was planned and developed with young male customers in their 20s who had been waiting for a model with a sporty and radically new design in mind. While inheriting the single-headlight design from the current model, the "SOUL GT" features an evolved body design with a sharp-looking front assembly, air intake-styled side panel covers for a powerful image, a dynamic and unique taillight assembly and more to create an authoritative and stylish look.

The "SOUL GT" is manufactured and marketed by group company PT. Yamaha Indonesia Motor Manufacturing (YIMM).
*1 YMJET-FI (Yamaha Mixture Jet-Fuel Injection): A fuel injection system employing an auxiliary air intake passage besides the main passage to provide an "air assist" for more efficient mixing of the air and fuel that helps improve fuel economy in the practical use range.
*2 Medium-term management plan: One of the four growth strategies in Yamaha Motor's 3-year (2010-2012) medium term management plan is strengthening product competitiveness, appeal and profitability in the ASEAN motorcycle market. This aims to be accomplished by enhancing product appeal by (1) increasing the ratio of models featuring a fuel injection system and (2) increasing profitability through reducing the cost of fuel injection systems and the benefits of larger scale production.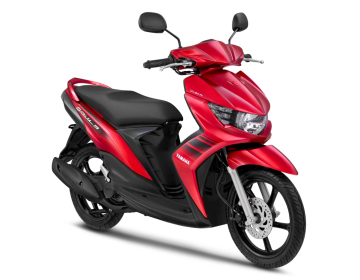 "SOUL GT" (2012 Indonesian market model)
| | |
| --- | --- |
| Model name: | SOUL GT |
| Release date: | April 7, 2012 |
| Manufacturer's suggested retail price: | 13,900,000 IDR (in Jakarta, tax included) |
| Sales target: | 400,000 units (annual, in Indonesia) |