Release of the Yamaha high-density modular surface mounter "YSM40"
| | |
| --- | --- |
| | January 13, 2012 |
Yamaha Motor Co., Ltd. has developed the new high-density modular surface mounter(*1) model "YSM40" Adopting a 4-beam, 4-head layout on a compact platform with a width of just one meter, this new model achieves the industry's top levels(*2) of mounting speed, at over 100,000 CPH(*3), and area productivity, as well as excellent flexibility of application in a variety of production formats. The model goes on sale April 1, 2012.
The new YSM40 was developed under a new concept of achieving a high level of area productivity and the ability to handle a wide range of components in one machine. This makes it a machine strategically positioned to best meet the growing need for high-speed surface mounters (SMT machines) optimized for manufacturing the small to mid-sized printed circuit boards (PCBs) used in rapidly spreading digital electronic products like smart phones and tablet devices.
With features like 4- or 2-beam layouts, three different types of heads and a dual-lane conveyor layout allowing for a great variety of work variations, this model achieves an industry top level mounting speed exceeding 100,000 CPH with the versatility to handle components ranging from super-small chips to large, odd-shaped components. The compact machine width of just one meter means outstanding area productivity(*4) and line length productivity(*5). Furthermore, a number of new functions are provided by devices like a tray-components supply carriage that enables changing of all pallets at once and the newly developed electric-powered "ZS Feeder" tape feeder with a non-stop insertion/extraction function that work together to increase the capacity for non-stop production. The new YSM40 will be on display at the 41st INTERNEPCON JAPAN trade show for electronics manufacturing and surface mount technology (SMT) held from January 18-20 at the Tokyo Big Sight (Ariake, Koto Ward, Tokyo).
*1: Surface mounter (surface mount technology (SMT) machine): Manufacturing machine for mounting various electric/electronic components on the printed circuit boards (PCBs) used in electrical appliances and electronic devices.
*2: Components mounting speed for a surface mounter of the 1-meter width class. Based on YMC survey as of Jan. 10, 2012.
*3: CPH (Chips Per Hour): Total number of chips that can be mounted per hour (unit time). Indicates processing capability under various conditions.
*4: Area-productivity: Surface mounting capacity per one square meter of factory floor space. It is an indicator of maximum production capacity for a given area of factory floor space.
*5: Line length productivity: Surface mounting capacity per one meter of a production line consisting of multiple machines. It is an indicator of maximum production capacity for use when considering the viability of constructing a production line and the maximum production capacity to be expected from a line.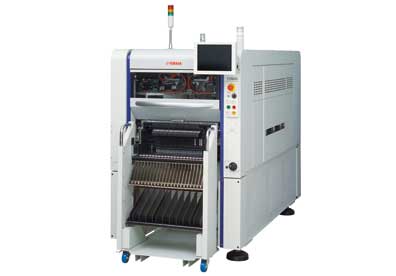 Yamaha high-density modular surface mounter "YSM40"
| | |
| --- | --- |
| Model name | Yamaha high-density modular surface mounter "YSM40" |
| Release date | April 1, 2012 |
| First (full) year sales plan | 200 units (first full year / Japan and overseas) |


Market Background and Product Outline


Recent years have seen the rapid emergence of electric/electronic products including mobile communications and IT devices like smart phones and tablets, and electronic control devices for automobiles, all of which require printed circuit boards (PCBs) mounting increasingly compact, high-density, high-function electrical/electronic components. At the same time, this electronics industry has been forced to improve manufacturing efficiency to accommodate mass production of these new products. This need has created a new field of surface mount technology (SMT) that not only meets the requirements of the new products and components, but also increases mounting capacity and speed on production lines as a whole and enables greater flexibility in production line composition, while also answering current demand for energy saving and reduced environmental impact.
To answer these growing market needs, Yamaha Motor has further evolved its "module concept" for production line equipment by developing revolutionary SMT-related products that deliver high added value under the motto of "SMT Innovation - Creating advanced "breakthrough" technology." With a compact platform with a width of just one meter, the YSM40 is a new-concept surface mounter that achieves the industry's top levels of mounting speed and area productivity while also providing excellent flexibility of application in a variety of production formats. It is a manufacturing machine geared to the latest trends of the constantly evolving SMT industry.


Product Features


(1)

Two types of beam variations
This model comes in either a 4-beam type focusing on mounting capacity or a 2-beam type better suited for handling a wide range of component types. This provides a good selection of application possibilities to meet demands for mounting capacity, versatility and budget. Furthermore, with the 2-beam type, it is possible to use the tray-components supply carriage to enable the changing of all pallets at once.

(2)

Three types of head variations
This model comes with a selection of three different head types to best accommodate the targeted main components to be mounted. This means that significant changes in production processes or product types can easily be accommodated by simply changing the type of head used.
●The high-speed head accommodates super-small components to standard sized chips. When used with the 4-beam type, it enables super-high-speed production at a mounting rate of more than 100,000 CPH.
●The multi-head is a type designed for handling standard chips or SOP/QFP parts with an excellent balance of mounting speed and versatility.
●The odd-shaped components head can handle taller and larger components. A variety of specialized nozzles can be fitted to the head for increased compatibility in handling odd-shaped components.

(3)

Compact machine size
This model's compact machine dimensions measure just one meter in width (direction of production line work-flow) and 2.1 meters in depth. This contributes to excellent area-productivity and line length productivity for more efficient use of factory floor space.

(4)

Conveyor system accommodating large-sized PCBs
A dual-lane conveyor layout is adopted to accommodate a wider range of transport formats. This provides the versatility to run dual lanes of small- to mid-sized PCBs for increased productivity while also accommodating large-sized PCBs. Large PCBs with lengths of up to 700mm can be handled.

(5)

Newly developed "ZS Feeder" adopte
As a further development of the existing electric powered SS Feeder with intelligence function, the new ZS Feeder adds greater speed and a non-stop injection/extraction function. This slim, light and compact unit provides good set-up and operability in single lane configuration and also enables non-stop, continuous production.

(6)

Featuring a wide variety of components supply systems
Besides the basic fixed bank type feeder plate, a feeder exchange carriage system capable of external set-up and tray components supply carriage are also offered with this model.

(7)

High level of mounting quality
●Yamaha's MACS (*6) system for multi-staged mounting accuracy compensation is adopted on this model. This system provides comprehensive compensation for deviations in the numerous factors involved in accuracy multiple times, ensures a mounting accuracy level of ±0.04mm at all times.




*6: MACS: Multiple Accuracy Compensation System.




●A side-view function is provided. This ensures a high level of mounting quality and reliability through verification of the attitude of chip components and a nozzle self-diagnosis function.

(8)

SMT line support software
Software is provided for production data generation/conversion/optimization, set-up navigation, remote line monitoring, traceability, production quality control, etc., to help achieve greater production efficiency on the SMT line and expedite the addition of new functions.

(9)

Variety of options
A number of options are available, such as a built-in automatic tape cutter, the Yamaha Dual Lane System, tray-components supply carriage, coplanarity checker, UPS system, etc.

(10)

Easy-to-use operating system
The easy to read and understand interface ensures ease of operation. The display has four language options to select from: Japanese, English, Chinese and Korean.

(11)

CE marking compliance (*7)
Compliance with the CE marking standard of machine design safety enables use worldwide.




*7: CE marking: The representative safety standard required for machines in the European region.


Basic Specifications


L700*×W580mm to L50×W50 mm

Mounting heads
(mountable head types)

Choice of three head variations to accommodate various components
●High-speed head: 0402 - 4532 (metric base), height 3mm or less
●Multi-head: 0402 - 45×100mm, height 15mm or less
●Odd-shaped components head: 0402 - 45×100mm, height 25.5mm or less, odd shapes

Over 100,000 CPH
(using 4-beam format with high-speed head/multi-head)

Absolute accuracy (μ+3σ): ±0.04mm/CHIP, ±0.04mm/QFP
Repeatability (3σ): ±0.03mm/CHIP, ±0.03mm/QFP

Number of component types

2-beam type:Tape reel 92 types (Max./8mm width)
4-beam type: Tape reel 88 types
(Fixed bank conditions, max./8mm width)

3-phase AC200/208/220/240/380/400/416V ±10%

L1,000×W2,100×H1,550mm(excluding protrusions)