Release of the New Yamaha SCARA Robots YK250XG/YK350XG/YK400XG
| | |
| --- | --- |
| | October 28, 2011 |
Yamaha Motor Co., Ltd. announces the development of the new compact SCARA (Selective Compliance Assembly Robot Arm) robot models YK250XG/YK350XG/YK400XG as full model changes of Yamaha Motor's existing YK series robots (YK250XH/YK350XH/YK400XH). These new models will be released on November 25, 2011.
The new YK250XG/YK350XG/YK400XG models inherit the high-speed, high-precision and low cost qualities of the Yamaha SCARA robot series, and feature new designs and specifications in the motors, decelerators and other mechanical components, as well as the structure to achieve high levels of positioning accuracy and shorter cycle times. Additionally, with high rigidity enabling larger transportable weight (load) limits despite the robots' compact size, it is expected that these new models will help expand Yamaha Motor's SCARA robot market.
Plans call for the new YK250XG/YK350XG/YK400XG to be displayed at the International Robot Exhibition 2011 from November 9-12 at the Tokyo Big Sight exhibition center (Ariake Koto Ward, Tokyo).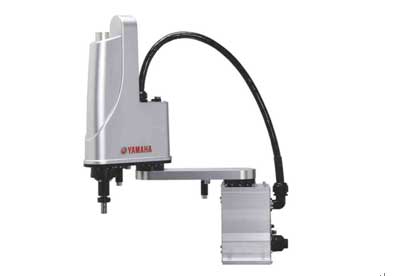 Yamaha SCARA Robot "YK400XG"
| | |
| --- | --- |
| Model name | Yamaha SCARA Robot "YK250XG/YK350XG/YK400XG" |
| Release date | November 25, 2011 |
| First (full) year sales plan | 1,000 units (3-model total) |


Outline of Market Background and Product


The rise in demand for handheld electric/electronic products and precision devices in recent years has resulted in a trend toward greater compactness, precision and speed in manufacturing equipment. Yamaha Motor has responded to these manufacturing market needs with small- to mid-size SCARA robots capable of extremely high-precision assembly work, and in 2010, Yamaha Motor became the world's No. 1 supplier of this class of industrial robots.*1
The new models YK250XG/YK350XG/YK400XG have been developed to answer user needs in today's manufacturing environment with further advances in maximum transport weight, cycle speed, performance capability in high-precision assembly tasks and space-saving within manufacturing facilities. These advances have been made while maintaining the basic traits that have made Yamaha SCARA robots the leaders in their segment.
The YK250XG/YK350XG/YK400XG models handle a wide variety of high-precision tasks required in the manufacture of today's electric/electronic products and precision components, including assembly, inspection/verification, transfer, transport, etc. The performance capabilities of these robots also make them suited for a growing number of uses in pharmaceutical and medical equipment manufacturing and inspection.

*1: Based on figures for unit shipments of industrial SCARA robots in 2010 (according to Fuji-Keizai's 2011 research report about the current and future situation in the global robot market)


Product Features


(1)

Compact and space-saving
Inheriting the advantages of the existing Robot Position TS-S controller, the TS-SD has achieved functionality and performance equivalent to those of AC servos at a low price.
The mounting surface area of 140 mm × 132 mm vs. arm lengths of 250/350/400mm has been achieved (▲33 mm vs. the current YK series models). This smaller mounting space increases freedom in system design.

(2)
High positioning accuracy
Replacing the toothed drive belt of the ZR axis with a beltless construction has greatly increased repeatable positioning accuracy for the R axis. The resulting high level of repeatable positioning accuracy (R axis: ±0.004°) makes possible assembly applications involving precision placement of extremely small parts while maintaining accuracy over longer periods of operation.
(3)

High rigidity
The newly achieved maximum transportable mass of 5.0 kg is approximately 1.6 times greater than the existing YK series models. The R-axis tolerable moment of inertia is set at 0.05 kgm2, which makes it possible to attach heavier tools at the end of the arm. This enables high-load operation equivalent to the next larger class SCARA robots despite the compact size.

(4)

High speed
The speed of the combined XY axes is 6.1m/sec (YK400XG) and the standard cycle time has been sped up to 0.49 sec. (on all three models).

(5)

Maintenance free for longer periods
With the only beltless construction in its class, there is no worry of belt deterioration, which makes these models maintenance free for a much longer duration.

(6)

High reliability
As with other Yamaha robots, the positioning detector (sensor) is a resolver type. It has a robust construction and compared to an optical type encoder, it has a much smaller environmental footprint and lower incidence of malfunction.

(7)

Usability
· The absolute position transducer (sensor) that comes as standard equipment on these models helps minimize time loss at the start of operations.
· The robot is fitted with 10 user wires and φ4×3 tubing/piping as standard equipment to enable compact layout of wiring and tubing.
· As options, users can order internal supply-line wiring for the user wiring and tubing/piping.


Basic Specifications


Model name

YK250XG

YK350XG

YK400XG

Axis specifications

X-axis

Arm length

100mm

200mm

250mm

Rotation angle

±140°

Y-axis

Arm length

150mm

Rotation angle

±144°

Z-axis

Stroke

150mm

R-axis

Rotation angle

±360°

Motors

X-axis/Y-axis/Z-axis/R-axis

200W/150W/50W/100W

Maximum speed

X, Y axis combined

4.5 m/s

5.6 m/s

6.1 m/s

Z-axis

1.1 m/s

R-axis

1020°/s

Repeatable positioning accuracy*1

X, Y axis

±0.01mm

Z-axis

±0.01mm

R-axis

±0.004°

Maximum transportable mass

5.0kg

Standard cycle time (with 2.0kg payload)*2

0.49sec

0.49sec

0.49sec

R-axis tolerable moment of inertia

0.05kgm2

User wiring

0.2 sq × 10

User tubing/piping

φ4×3

Motion limit settings

1.Soft limit 2.Mechanical stopper (X, Y, Z axis)

Robot cable length

Standard: 3.5m Option: 5m, 10m

Controller

RCX240S

Weight (Excluding robot cable)

18.5kg

19.0kg

19.5kg

*1: Under constant ambient temperature
*2: When reciprocating 300mm horizontally and 25mm vertically with rough positioning