Release of the New "TS-SD" Yamaha Robot Driver
| | |
| --- | --- |
| | September 29, 2011 |
Yamaha Motor Co., Ltd. has developed the new robot driver "TS-SD" dedicated to the TRANSERVO series that supports pulse train command input and offers low price and easy operation while achieving high performance. The company will begin selling the TS-SD on October 1, 2011.

The TS-SD has been developed as a new driver that can perform closed-loop control and is dedicated for use with the single-axis robot TRANSERVO series, which utilizes a stepping motor controlled with a vector control method. The result is a model that supports a variety of command pulse input methods while achieving low price and easy operation.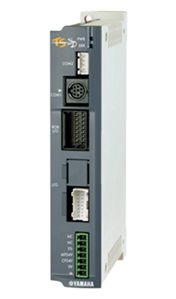 Yamaha Robot Driver "TS-SD"
| | |
| --- | --- |
| Model name | Yamaha Robot Driver "TS-SD" |
| Release date | October 1, 2011 |
| First (full) year sales plan | 1,200 units (domestic and overseas) |


Outline of Market Background and Product


The need to both reduce cost through automation and semi-automation of production systems, and decrease energy consumption by replacing air-driven equipment with motor-driven equipment has recently been expanding the market for actuators that are compact, low-cost, highly reliable and durable.
Yamaha Motor窶冱 existing TS-S model has gained a reputation as a low-price, easy-operation position controller that can control the single-axis robot TRANSERVO series, offering both high functionality and efficient energy use.
At the same time, market needs have been rising for a low-priced driver for the TRANSERVO series that supports pulse train command input. Yamaha Motor has developed the robot driver TS-SD in response to these needs.
The TS-SD is suitable for a variety of work processes and uses in facilities involved in the manufacture of electric/electronic parts or components for compact precision machinery that require high-precision assembly. These processes and uses include assembly, inspection, transfer, feeding/conveying, etc., and uses are also anticipated in the medical and food product fields for handling and inspection process applications.


Product Features


(1)

Vector control adopted
Inheriting the advantages of the existing Robot Position TS-S controller, the TS-SD has achieved functionality and performance equivalent to those of AC servos at a low price.
1) Minimized reduction in torque at high speeds
Because the TS-SD uses a vector control method like the TS-S, it suffers little torque loss in the high-speed region and can operate at high speed even with higher transport loads, thereby shortening tact time.
2) Extremely quiet operation
The high-pitched sound characteristic of stepping motors is suppressed, achieving the same quiet operation as AC servos.

(2)
Closed-loop control by resolver
High-resolution of 20,480 pulses per revolution and closed-loop control have achieved high-precision positioning and eliminated the problem of loss of synchronization commonly associated with stepper motors.
(3)

Supporting a variety of pulse train command input methods
Supports both the open collector method and the line driver method. Also, the open collector method is compatible with a power supply of between 5V and 24V.

(4)

Operations using the dedicated TS Series software TS-Manager
As with conventional TS Series controllers, the TS-SD can be operated using the TS-Manager, equipped with a wide variety of convenient functions such as robot parameter setting, backup, and real-time trace.


Basic Specifications


Model
TS-SD
Controllable robots
TRANSERVO series
External dimensions
W30 × H162 × D82mm
Weight
Approx. 200g
Input power supply
DC24V±10%
Power capacity
Over 3A
Position detection method
Resolver
Resolution
20480 pulses/rev
Control method
Closed-loop, vector control method
Command pulse input
Line driver method: 500kpps or less
Open collector method: 100kpps or less (5V to 24V±10%)
Operation temperature/Storage temperature
0 to 40°C/-10 to 65°C
Operation humidity
35 to 85%RH (non-condensing)