Construction Begins on New Motorcycle Test Course at Kikugawa, Shizuoka Pref.
| | |
| --- | --- |
| | May 12, 2011 |
Yamaha Motor Co., Ltd. will begin construction in June of this year on its planned new test course in the Tanno area of Kikugawa City, Shizuoka Prefecture, Japan.
Construction of this Kikugawa Test Course was originally scheduled to begin in October of 2009 upon acquisition of all the land after a permit for diverting agricultural land for other use was granted in August of that year. According to that plan, the facility was scheduled for completion in the autumn of 2012. However, the economic effects of the Lehman Shock and ensuing recession caused a postponement of the construction project. The decision has been made to proceed with the project, albeit with reduced budget, due to requests from the national and local government as the grantors of construction rights and the local landowners involved, as well as increased demand for motorcycle development for the growing markets of Asia, Central and South America and other regions.
The new test course facility will be constructed on acquired land, an area of approximately 490,000 m2 and will consist of a 1.9 km/lap closed course, roads over hilly terrain, road sections for dust-resistance testing and related facilities. It will be used for tests involved in achieving the required levels of safety and environmental performance for medium to small displacement motorcycles for emerging markets.
In consideration of maintaining the natural environment surrounding the facility, a prescribed width of existing vegetation will be preserved and measures will be taken to protect the existing wildlife ecosystems in other wooded areas of the site.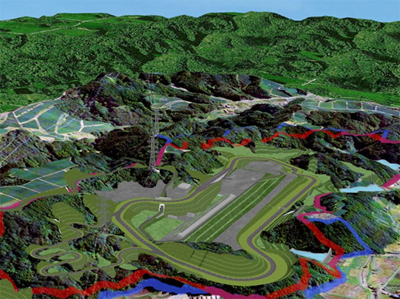 Artist's image of the completed "Yamaha Motor Kikugawa Test Course"