Release of the Yamaha TRANSERVO Series "SR Type" Models
| | |
| --- | --- |
| | August 5, 2010 |
Yamaha Motor Co., Ltd. has newly developed six "SR Type" models to expand its TRANSERVO series of single-axis robots (actuators) with stepping motors. These new models will be released from September 1, 2010.
The new TRANSERVO series SR Type models are compact actuators powered by stepping motors that achieve performance on the same level as servomotor types. Compared to the existing slider spec TRANSERVO series SS Type models, the new SR Type models adopt a combination of stepping motor and ball screw in a mechanism in which a rod extends and contracts against the stationary arm body. With this mechanism, the desired tool is attached to the end of the rod to perform tasks such as feeding/conveying, width determination/gap closing and tasks where the rod is used to push the work into attaching position. Used in combination with the designated "Robot Position TS-S" controller, these robots can perform tasks in a variety of production processes.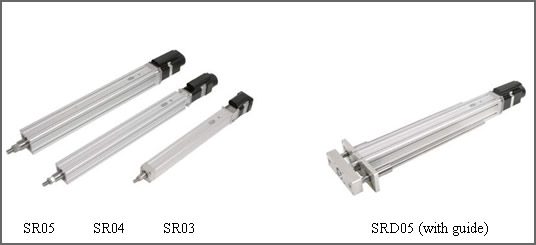 Yamaha TRANSERVO series "SR Type" models

| | |
| --- | --- |
| Name: | Yamaha TRANSERVO series models SR03/SR04/SR05/SRD03/SRD04/SRD05 |
| Release Date: | September 1, 2010 |
| Price: | SR04-50 (50mm stroke): from ¥35,000 (robot unit, excluding consumption tax) |
| Yearly sales plan: | 1,500 units (series total, domestic and foreign markets) |



Market Background and Product Outline


With the recent trend toward the automation and semi-automation of work processes in manufacturing sectors, there is a demand for compact, low-cost, highly reliable and durable actuators that can handle today's increasingly compact parts/components and answer the needs for greater space saving and energy saving in manufacturing facilities. The market for such actuators is expanding.
To answer these needs, the Yamaha TRANSERVO series SR Type models have been developed as actuators that adopt vector control type stepping motors. The resulting actuators are suitable for a variety of work processes and uses in facilities involved in the manufacture of electric/electronic parts or components for compact precision machinery that require high-precision assembly. These processes and uses include assembly, inspection, transfer, feeding/conveying, etc., and uses are also anticipated in the medical and food product fields for handling and inspection process applications.



Product Features


(1)

Vector control adopted
Stepping motors have benefits such as low cost and absence of hunching (low-level vibration) when stationary, but other characteristics such as decreased torque at high speeds, electricity consumption when not in use, and high noise levels when in motion have been considered disadvantages. With the TRANSERVO series SR Type models, these disadvantages have been solved by adopting vector control to achieve functions and performance levels comparable to actuators using servomotors. The effects are as follows:
•
Excess electricity consumption is reduced, thus contributing to energy savings and reduced CO2 emissions.
•
It is possible to select a stop mode without hunching as required.
•
An operating noise level equivalent to servomotor types has been achieved.

(2)
Maintenance-free operation achieved
Fitting the ball screw assembly with a lubricating device has made it possible to provide lubrication over long periods of use. Adoption of 2-layer contact scrapers at the rod entrance/exit mouth (guide) prevents small foreign particles from entering the mechanism, thus making it possible to greatly extend the maintenance interval.
(3)

Closed-loop control by resolver
A high-reliability resolver is adopted for the position detector, making use possible in poor conditions with oil mist, dust, or vibration.
The adoption of a closed-loop control system that eliminates the problem of loss of synchronization commonly associated with stepper motors.

(4)

When used with the designated "Robot Position TS-S" controller, operability is improved and a wide variety of control functions are achieved, as below:
1)
Point number input for movement to the designated coordinate or relative movement from current position
2)
Maintaining a set push force
3)
Variance in speed, acceleration settings for each point possible
4)
Zone output in designated areas or output in areas adjacent to specified areas possible
5)
Full range of monitor functions
6)
Supports various field networks, including parallel input/output, CC-Link, DeviceNet, etc.



Basic Specifications




■ TRANSERVO series "SR Type" actuator

Model No.

SR03/SRD03

SR04/SRD04

SR05/SRD05

Motor

□42 stepping motor

□56 stepping motor

Repeatability (mm)

±0.02

←

←

Ball screw lead (mm)

6

12

2

6

12

2

6

12

Maximum speed (mm/sec)

250

500

80

250

500

50

150

300

Maximum payload
(kg)

Horizontal

20

10

45

40

25

60

55

50

Vertical

SR

8

4

25

12

5

30

20

10

SRD

7.5

3.5

24

11

4

28.5

18.5

8.5

Maximum pressing force (N)

100

75

600

300

150

900

550

250

Stroke (mm)

50~200

50~300

50~300



■ Robot Positioner

| | |
| --- | --- |
| Model | Robot Positioner TS-S |
| Controllable robots | TRANSERVO series |
| External dimensions | W30 × H162 × D82 mm |
| Weight | Approx. 200g |
| Input power supply | DC24V±10% |
| Power capacity | 70VA |
| Position detection method | Resolver |
| Resolution | 20480 pulses/rev |
| Control method | Closed-loop, vector control method |
| Memory capacity | Points: 255 |
| Operation temperature/Storage temperature | 0 to 40℃/-10 to 65℃ |
| Operation humidity | 35 to 85%RH (non-condensing) |