Release of the EC-03 (50cc License Class) Zero-emissions Electric Commuter Vehicle
| | |
| --- | --- |
| | July 14, 2010 |
Yamaha Motor Co., Ltd. announces the release of the new electric commuter "EC-03," a model designed and engineered with the product concept of a "Smart Minimal Commuter." Yamaha Motor will begin selling from September 1 in the Tokyo metropolitan area*1 and nationwide from October 1, 2010.

The new EC-03 is a "zero-emissions" vehicle with a smooth and quiet ride that also allows the rider to enjoy lightness and slim design not found in conventional 50cc scooters. This model features a new high energy density 50V lithium-ion battery manufactured by SANYO Electric Co., Ltd. and Yamaha Motor's exclusive super-slim Yamaha Integrated Power Unit (YIPU), which combine to provide smooth running performance at all times. Furthermore, it achieves a running distance per charge of 43km (@ 30km/h on a flat road)*2 to provide the functionality and running performance desired for short-range transportation needs in the urban environment.
This new model also features plug-in recharging from a 100V household electrical outlet (3-hole grounded type), excellent ease of maneuvering thanks to its lightweight aluminum alloy frame and other features to ensure the high level of functionality and convenience as a "smart, minimal commuter" vehicle. Prior to its market release, advance orders for EC-03 will be accepted at designated dealerships beginning from July 15 in the Tokyo metropolitan area and nationwide from September 15, 2010.
*1: Tokyo, Kanagawa, Chiba, Saitama, Gunma, Tochigi, Ibaraki and Yamanashi prefectures
*2: When operated on windless flat roads at 25°C, running in Standard Mode with a load (rider) weight of 55kg, and on a fully charged battery.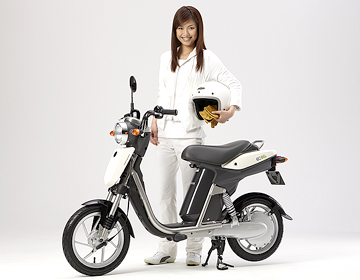 Electric Commuter "EC-03"
Name:

EC-03

Start of advance order taking:

July 15 (Tokyo metropolitan area*1), September 15 (nationwide)

Release dates:

September 1, 2010 in Tokyo metropolitan area
October 1, 2010 nationwide

Coloring:

- White
- Very Dark Orange Metallic 1 (brown)

Sales plan:

1,000 units (annual in Japan)


Development Background


Leaders in a variety of fields are working to solve environmental problems and improve economic efficiency for the society of tomorrow by clustering or dispersing urban activity into a new structure, in which vehicles are used more selectively than they are now e.g. automobiles for long-distance traveling while motorcycles for short-distance traveling. Small motorcycles offer excellent mobility for easy short-distance transportation, ideal for the transportation needs of the new society. They will provide still greater convenience and ease of use when they are powered by electricity.

In 2002, Yamaha Motor became the first manufacturer to market a production-model electric commuter, the Passol, as a minimal commuter designed to play a role in next-generation urban transportation. Then in 2005, Yamaha Motor released the Passol-L and the EC-02 with further improvements in the motor and higher energy density batteries that combined to increase running distance per charge. Due to exclusive technologies, such as the electronic control technology garnered from Yamaha Motor's PAS electrically power assisted bicycle development, these models offer a level of quietness and smoothness to the ride that only an electric vehicle can provide. As a result, they have been put to use in a growing range of areas besides short-range urban commuting, including use as rental vehicles in tourist areas and fleet vehicles in resorts.
The new EC-03 has been developed as a "personal commuter" vehicle that is expected to find even more diverse uses in the future. For Yamaha Motor, this model is a manifestation of our efforts to develop new forms of "Smart Power"*3 as defined in our current medium term management plan.
*3: New power sources, primarily for electric vehicles, designed to create a new paradigm of mobility.


Main Features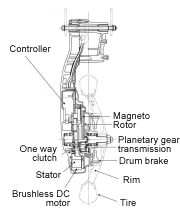 1) Super-slim power unit (YIPU) that provides outstanding power on starting and low-speed torque
The super-slim power unit YIPU (Yamaha Integrated Power Unit) is adopted on this model.
It features a direct-drive type in-hub motor to minimize drive power-transmission loss and computer control to calculate output based on rear wheel rpm and throttle position for smooth running performance. In combination with optimum gear settings, the built in electronic throttle and specially designed tires, this unit helps provide a silky-smooth and quiet ride. The newly designed motor and control unit help achieve added torque when starting and in the low-speed range (approximately 10%-15% more than the existing model).
The basic structure of the super-slim power unit integrates into the rear hub (1) a super-flat surface opposing type brushless DC motor, (2) a super-compact controller, (3) a planetary type decelerator transmission unit and (4) a drum brake. To achieve even greater compactness, the unit is built into the rear arm. The motor features an anisotropic bonded magnet to help provide excellent performance when starting, in the middle speed range, and when climbing steep inclines.

2) High energy density 50V lithium-ion battery
The EC-03 mounts a newly developed high energy density 50V lithium-ion battery that also contributes to improved torque (power development) characteristics in the low-speed range. Furthermore, the battery charging is completed in approximately six hours and the running distance per charge is 43km at 30km/h on a windless flat road at 25°C, running in Standard Mode with a load (rider) weight of 55kg on a fully charged battery.
3) Plug-in type recharging
The battery charging system is a plug-in type that increases convenience by making it possible to charge the vehicle where an electric outlet is available. The charger unit is built into the vehicle at the rear end of the seat, so charging is done by simply connecting the plug from the machine to the outlet (3-hole grounded type) by means of an electric cord. The electricity cost of one charge is about ¥18*4.
*4: Average cost for a general customer of Tokyo Electric Power Company when charging the battery from zero to a full charge.
4) Mutual-communication control system (YMCS)
This model adopts a mutual-communication type controller YMCS (Yamaha Mutual Communication System) featuring exclusive Yamaha control technology. In this system the (1) battery, (2) controller, (3) charger and (4) meter systems operate constantly, exchanging data via a data exchange circuits to achieve integrated overall machine control. This enables automatic control of system activation, motor drive operation, ancillary drive, etc. in all conditions, including when the machine is on standby, when running and when being recharged. The result is easier operation for the user and smooth running performance.
5) Lightweight aluminum alloy frame for easier machine handling
The newly designed aluminum-alloy frame is lightweight and is designed with optimized pipe diameters and thickness to increase rigidity and improve handling stability. Furthermore, the effect of the optimized wheelbase and weight balance of the various components helps provide excellent straight-line running stability. The compact design with an overall length of just 1,565 mm allows it to fit in a standard apartment building elevator. This model is very space-efficient for parking and storage and can be kept indoors if desired. Due to the use of aluminum in the frame and wheels, the weight of the machine is just 56 kg, which makes it approximately 30% lighter than a gasoline engine model of the same class (based on Yamaha Motor survey). Also, the slim chassis and simple designs contribute to providing an aesthetic lightness as well.
6) Other features
Other features that come as standard equipment on this model include an electronic throttle built into the handlebar grip, a choice of two running modes*5, a PIN input type anti-theft device, a "High-function LED Meter Panel" with odometer and tripmeter switching function, key-operated pop-up type seat lock, a wire type helmet holder, luggage hook and more.
*5: The EC-03 is equipped with a choice of motor modes to adapt to power output characteristics required for different running conditions. The Standard Mode is for normal riding and the Power Mode is for inclines.


Yamaha Motor "EC-03" Technical Specifications


| | |
| --- | --- |
| Power unit designation | ZAD-SY06J/Y804E |
| Overall length x width x height | 1,565 mm × 600 mm × 990 mm |
| Wheelbase | 1,080 mm |
| Minimum ground clearance | 110 mm |
| Seat height | 745 mm |
| Vehicle weight | 56 kg |
| Running distance per battery charge | 43 km (30 km/h on a flat road) |
| Minimum turning radius | 1.7 m |
| Power unit type | AC synchronous electric motor |
| Rated output | 0.58kW |
| Maximum output | 1.4kW (1.9PS)/2,500rpm/min. |
| Maximum torque | 9.6N•m (0.98kgf•m) / 280r/min |
| Battery type | Lithium-ion battery |
| Battery voltage/capacity | 50V 14Ah (1hr) |
| Battery charging current | Designated current designated voltage |
| Charging time | Approximately 6 hrs |
| Transmission type | Planetary-type decelerator |
| Primary reduction ratio | 5.647 (17/31/79) |
| Frame type | Backbone type |
| Caster / Trail | 25°00′/ 75mm |
| Tire size (front / rear) | 60/100-12 36J (tube) / 60/100-12 36J (tube) |
| Brake type (front) | Drum (leading/trailing) |
| Brake type (rear) | Drum (leading/trailing) |
| Suspension type | Telescopic / unit swing |
| Headlight type | Halogen 12V, 40W/40W × 1 |


EC-03 Feature Map