Models to be Displayed at the 41st Tokyo Motor Show 2009 (Part 2)
| | |
| --- | --- |
| | October 9, 2009 |
Yamaha Motor Co., Ltd. is proud to announce that it will mount a booth organized around the concept of "The Art of Engineering" at the upcoming 41st Tokyo Motor Show 2009 to be held over the 12 days from October 24 (Sat.) to November 4 (Wed.) (Organizer: Japan Automobile Manufacturers Association; Venue: Makuhari Messe, Chiba Pref.; Special invitation day: October 23). In addition to the display models introduced in our press release of September 30, Yamaha Motor will also display the following models under a booth theme of "A moment - Feeling Kando*" in hopes of offering a wider range of people beyond motorcycle fans an intuitive experience of the wonderful future, potential and fun of personal vehicles.
*Kando is a Japanese word for the simultaneous feeling of deep satisfaction and intense excitement that people experience when they encounter something of exceptional value.
[Summary of the main display models]




«World Premiere Models»

•Products making world debut at the Tokyo Motor Show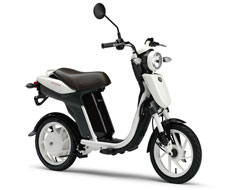 EC-03 (Reference vehicle)
The EC-03 is 100% electric powered commuter vehicle developed with a concept of "Light, Smart, Clean and Silent."
It mounts a slim electric power unit and lithium-ion battery on a lightweight aluminum frame. With Yamaha-exclusive motor control technology it provides smooth start-ups and acceleration. The charger is built into the vehicle for easy recharging from a home electric outlet.
EC-f / EC-fs (Reference vehicle)
The EC-f and EC-fs are electric commuter vehicles designed to make motorcycle riding easy and familiar for many people of all ages regardless of riding experience. They feature simplicity of operation that only an electric vehicle can provide, plus futuristic styling. Their ease of use, quietness and smoothness make riding a joy.
The EC-f features a color scheme accentuating its cleanness as a commuter vehicle, while the EC-fs coloring accentuates stylishness.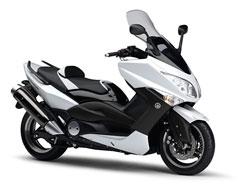 TMAX 10th Anniversary WHITEMAX (Production vehicle)
TMAX is a model that combines the convenience and comfort of a commuter vehicle with the riding enjoyment of a motorcycle. It established a new category as an "automatic supersport" model and won a large popular following in Japan and abroad.
To commemorate the model's 10th year, a special version with white coloring for a quality look and carbon-pattern finish accents for added distinction.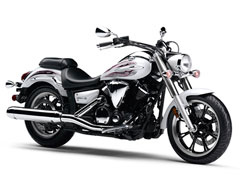 XVS950A (Reference vehicle Export-specification vehicle)
The XVS950A is a cruiser model designed for long-distance cruising with a lively, pleasing engine pulse and a comfortable riding position.
To ensure pride of ownership beyond the mere fun of riding, this model is fitted with beautiful functional parts and components throughout its design. Among these are the finely finished cooling fins that keep their shine and accentuate the imposing presence of the air-cooled V-twin engine.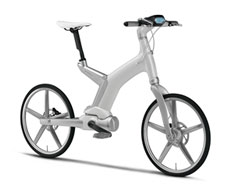 PAS er (Special exhibition vehicle)
The PAS bicycles were developed by Yamaha Motor and released in 1993* as the world's first electro-hybrid bicycles running on a combination of human pedaling power and a power assist from an electric motor.
The "PAS er" is a prototype model developed on the concept of a more advanced hybrid relationship between the rider and the motor. It adopts a two-wheel-drive mechanism that applies the electric motor "assist" is applied to both the front and rear wheels and an automatic electronic gear shift (transmission). Together they contribute to a smooth, enjoyable ride even over changing road surface conditions. The motor of the front wheel is also designed with a regenerative function that charges the battery during deceleration or downhill riding.
There is also a sensor to monitors the rider's rate of heartbeat and adjust the assist level to help maintain an appropriate level of rider exertion. To accompany this function, there is a large LCD meter panel with a speedometer and multi-information display showing calorie consumption, etc. The model also adopts shaft drive and styling defined by a simple design.
*Limited regions in 1993, nationwide in 1994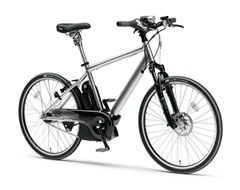 PAS Brace-L Special (Special exhibition vehicle)
The PAS Brace-L Special is an electro-hybrid bicycle designed for sportiness in riding performance and styling with male riders as its primary target group. Mounting the Yamaha S.P.E.C.8 (Shift Position Electric Control × in-hub 8-speed gear mechanism) that provides an appropriate assist level for each gear to ensure a sporty ride in all conditions and speed ranges, from start-ups and acceleration to cruising.
This display model is outfitted with quality finish and special parts chosen to heighten pride of ownership and accentuate the stylish appearance.