Japan Launch of the 2010 Model YZ450F
| | |
| --- | --- |
| | September 9, 2009 |
On October 30, Yamaha Motor Co., Ltd. will begin sales of the 2010 season model YZ450F, a motocrosser developed for "faster and easier cornering with museum-look styling" and mounting a liquid-cooled, 4-stroke fuel injected engine on an aluminum frame. (White version of this model will also be launched on November 30, 2009)

The 2010 model YZ450F newly adopts a fuel injection system (F.I.) and a unique engine layout adopting front straight air intake and a rearward-slanting cylinder, while the chassis adopts a new frame design called the Bilateral Beam frame. These features combine to achieve a high level of competitiveness for the total package. Also provided as standard equipment is the new YZ Power Tuner (shipped with the machine) that significantly increases the ease of tuning. The body design features a look of quality worthy of a new-generation motocrosser.
For the coloring, the Yamaha racing blue version (Deep Purplish Blue Solid E) that symbolizes Yamaha racing is joined by a white version (Purplish White Solid 1) with a more stylish image as a limited order variation. In Japan, the YZ series models are sold at the dealerships officially certified to sell Yamaha off-road competition models.
YZ450F
Name:

YZ450F

Release date:

October 30, 2009 (White version: November 30, 2009)

Advance order period:

September 16, 2009 to November 30, 2009
(White version: September 16 to October 12, 2009)

Coloring:

- Deep Purplish Blue Solid E (blue)
- Purplish White Solid 1 (white)


Main Features


Engine

1) Newly designed liquid-cooled 4-stroke, DOHC, single-cylinder 4-valve fuel injected engine
A newly developed liquid-cooled 4-stroke DOHC 4-valve single-cylinder engine with a bore × stroke of 97.0 × 60.8 mm and fuel injection is adopted. The valves' pinch angle is reduced to 21.5 degrees to help achieve a compact combustion chamber and the compression ratio of 12.5:1 contributes to outstanding power output and torque characteristics. The combustion chamber is designed to induce a tumble effect, making effective use of the merits of the 4-valve cylinder design to achieve outstanding response and power output characteristics. The piston is a forged aluminum type and the cylinder is a liner-less type with ceramic composite plating, while the intake/exhaust valves are made of titanium like those of the existing model.
The new engine also adopts an offset crank. This is designed to minimize the angle of slant of the connecting rod at the moment maximum pressure in the cylinder at the moment of combustion and thus reduce friction loss.


2) Front straight intake, rearward-slanting cylinder and under-seat rear exhaust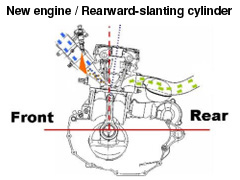 The biggest defining feature of the new engine's design is the unique combination of frontal straight-intake fuel injection, a rearward-slanting cylinder (7.5 degrees) and under-seat rear exhaust.
Fuel injection is a technology that contributes to outstanding drivability and on a motocrosser it offers the advantage of greater freedom of layout in the chassis design with regard to such factors as the fuel tank and intake/exhaust system positions, and the layout adopted on this model takes advantage of these characteristics. This contributes to easy-to-use power development and greater centralization of machine mass while making possible a new dimension of performance not possible from a chassis evolved directly from a conventional chassis for carburetor engine models.
The front straight intake directs fresh air from the intake ducts on the right and left sides of the inside of the front air duct through the air cleaner positioned inside the frame and into the intake port, thus achieving excellent intake efficiency while also contributing to better centralization of machine mass. Because the intake ducts are positioned in front of the engine, heat from the engine has less effect on the intake air temperature and there is less chance of dust stirred up by the machine's wheels being drawn into the intake system. Furthermore, this intake passage design interferes less with the suspension unit, thus enabling a more efficient layout. The exhaust system is a rear-positioned type that passes under the seat. This enables a smooth arc in the exhaust pipe that makes it possible to maintain an exhaust pipe length comparable with that of the existing model while achieving better centralization of machine mass.

3) Fuel injection that contributes to drivability
A fuel injection (F.I.) system that optimizes fuel injection volume in real time with changing running conditions with calculations by the compact ECU based on data from the sensors monitoring engine temperature, air temperature and air pressure is adopted. For the fuel supply system, a compact, lightweight motocrosser-specific fuel pump has been adopted along with a simplified periphery parts layout to achieve a weight reduction. For the fuel injection, a 12-hole injector is used and the spray of atomized gasoline is directed at the opposite wall of the intake port at an optimum angle. This combines with the optimized port shape to contribute to outstanding combustion efficiency. And a positive "flow tumble" effect is created within the combustion chamber that increases combustion speed.
Also, a large-capacity ACM (alternating current magneto) has been adopted and the need for a battery eliminated to further reduce weight.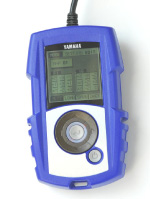 4) YZ Power Tuner included in the YZ450F package
A YZ Power Tuner is included with the new YZ450F to enable the rider to adjust the fuel injection volume and the ignition timing to meet personal taste or course conditions. This is a compact tool with liquid crystal display has 1) a setting function and 2) a monitor function. The injection and ignition setting maps created on this tool can be easily input directly into the machine simply by connecting the YZ Power Tuner to the coupler on the bike. The monitor function enables the user to monitor the data from the various sensors, the engine running time and the malfunction self-diagnosis function for greater ease of maintenance. The tuner is powered by two AA batteries.


Chassis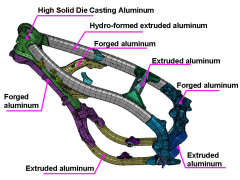 1) New-design aluminum Bilateral Beam frame
In order to take advantage of the greater layout design freedom made possible with the adoption of FI and utilize it to improve handling performance, a newly designed Bilateral Beam aluminum frame has been adopted. The Bilateral Beam frame's outstanding shock-absorbing capacity, which combines with the frame's design for improved centralization of machine mass to help bring out a higher level of handling performance. In particular, optimization of the balance of strength, rigidity and flexibility makes it easier for the rider to feel the movement of the machine and thus helps achieve a higher level of stability.
The Bilateral Beam frame is made up of 16 parts welded together into a single unit. The head pipe, which requires a high-level balance of strength and rigidity, is made by the High Solid Die Casting method, in which the aluminum is shaped while still in a semi-solidified state.

2) New-design swingarm
The swingarm has been newly designed to help achieve an even more linear performance in cornering. The basis design of the irregular cross-section swingarm is the same top-bottom asymmetrical design as that on the existing model, while the thickness of the rear axle clamp has been increased for greater rigidity. To help realize the chassis design concept of good longitudinal flexibility and high lateral and tortional rigidity, the swingarm is made of aluminum parts produced by the hydro-forming method just like that on the existing model.

3) Rear suspension aligned on the machine's central axis
The F.I. system with front intake and the front-positioned air cleaner enables more efficient use of space in the rear that made it possible to mount the rear suspension in an optimum position in line with the machine's central axis. This helps provide a good feeling of stability in machine movement, especially when landing from a jump. Also, the position of the suspension spring has been moved about 30 mm lower and the cylinder diameter has been increased from the existing 46 mm to 50 mm for greater capacity. The suspension stroke remains the same as on the existing model and the bump rubber characteristics have been optimized to improve the absorption feeling when bottoming.

4) Front assembly with new dimensions and upside-down front fork
New parts with excellent rigidity properties have been adopted for the front fork brackets. The offset has been reduced from 25 to 22 mm. And other dimensions have been optimized in relation to each other to help achieve high-level handling performance. Also, the same 4-step adjustable handlebar position as on the 2009 model is adopted again.
In order to achieve a good feeling of shock absorption and smooth functionality when entering a turn at high speeds, the spec of the damping valve on the upside-down type front suspension has been optimized. The stroke has also been increased from 300 to 310 mm.

5) New-design flat seat, under-seat fuel tank, etc.
A new flat seat has been adopted. The rigidity of the seat bottom and the structure at the point of load have been optimized for a better riding feeling and sense of fit. The seat surface material combines smoothness and the right amount of grip necessary to firmly grasp the machine.
Other new parts include a plastic resin fuel tank under the seat, thinner front fender, rear fender, front number plate, front fork protector, side covers and air scoop, etc. Other lightweight parts include the new sprocket, a plastic resin engine guard (existing model has aluminum guard) and lightweight electrical parts, etc.

6) Body design expressing a next-generation motocrosser
This model adopts new design elements that reflect the fast and nimble movement of this machine with its smooth and agile cornering performance, ease of rider movement on the flat seat and high-level handling potential enabled by the centralization of machine mass. The result is a look that sets it apart as a new-generation motocrosser with styling that accentuates its outstanding cornering performance. It also boasts the kind of structural and functional beauty and look of quality that is sure to make it stand out in the owner's garage like a work of art in a museum.


2010 Model Yamaha Motocrosser "YZ450F" Technical Specifications (Japanese market model)


Overall length x width x height
2,195mm×825mm×1,310mm
Seat height
997mm
Wheelbase
1,487mm
Minimum ground clearance
381mm
Curb weight
112.1kg
Engine type
Liquid-cooled, 4-stroke, DOHC 4-valve
Cylinder arrangement
Single cylinder
Displacement
449.7cm3
Bore & stroke
97.0mm×60.8mm
Compression ratio
12.5:1
Maximum power
NA
Maximum torque
NA
Starting system
Kick
Lubrication
Dry sump
Engine oil volume
1.2L
Fuel tank capacity
6.0L (unleaded premium gasoline)
Fuel supply
F.I.
Ignition system
T.C.I.
Primary / Secondary reduction ratio
2.652 / 3.769
Clutch type
Wet multi-plate coil spring
Transmission type
Return type 5-speed forward
Gear ratios
1st: 1.929, 2nd: 1.533, 3rd: 1.278,
4th: 1.091, 5th: 0.952
Frame type
Bilateral Beam
Caster / Trail
27°01' / 119.9mm
Tire size (Front / Rear)
80/100-21 51M / 110/90-19 62M
Brake type (Front / Rear)
Hydraulic, single disc / Hydraulic, single disc
Suspension type (Front / Rear)
Telescopic / Swing arm (link type Monocross)


YZ450F Feature Map


* The YZ450F is not approved for license plating by Japan's Ministry of Land, Infrastructure, Transport and Tourism and can not be ridden on public roads. Riding it on public roads is a violation of traffic law and transport law. Private roads, temple grounds, beaches, dykes, farm and forestry roads and other such places where people and vehicles can enter freely are also considered public roads. * This is a product that is not subject to insurance claims.