Release of the 2010 model YZ250F
| | |
| --- | --- |
| | July 22, 2009 |
From September 10, 2009, Yamaha Motor Co., Ltd. releases the 4-stroke motocrosser "YZ250F" for the 2010 season mounting a compact high-performance liquid-cooled, 4-stroke, DOHC, single-cylinder 250cc engine on a newly designed aluminum frame in a design that achieves a high level of "quick-turn performance." (White version release to follow on December 10)
The concept for the 2010 model YZ250F was to maintain the existing model character as a machine with outstanding "quick-turn performance" while adding the new development keywords of "a machine that can be handled at will," achieving further maturation of the engine and adopting a new "Bilateral Beam Frame" to achieve an even higher level of competitiveness.
The main features include, (1) a new specially designed frame that contributes to outstanding cornering performance, (2) a 5-valve engine with improved characteristics in the low- to mid-speed range for a more linear performance character and (3) exterior parts with smaller surface areas for an impression of lightness and new styling that inspires pride of ownership.
To the Yamaha racing blue version (Deep Purplish Blue Solid E) has been added a fresh red version and also a white version (Purplish White Solid 1) with a more stylish image as a limited order variation.
In Japan, the YZ series models are sold at the dealerships officially certified to sell Yamaha off-road competition models.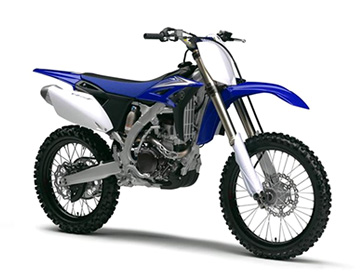 YZ250F
Name:

YZ250F

Release date:

September 10, 2009 (White version release on December 10)

Advance order period:

July 29 - November 30, 2009
(White version: July 29 - October 12, 2009)

Coloring:

- Deep Purplish Blue Solid E (blue)
- Purplish White Solid 1 (white)


Main Features


Engine

1) New engine with refined character
Improvements have been made to the liquid-cooled 4-stroke, DOHC single-cylinder 5-valve engine with its inherent qualities of excellent engine response and power. The improvements include optimized intake/exhaust systems, lightened valve assemblies, revised carburetor settings and new ignition advance characteristics. In particular the measures to reduce power loss in the valve drive mechanism have given this engine a new character.
The new engine is characterized by improved continuity in the climb through the rpm range, which especially improves drivability in the mid- to low-speed ranges.

2) Aluminum retainer and low weighted valve springs adopted
To improve the continuity in the climb through the rpm range, especially in terms of power development in the mid- to low-speed ranges, the retainer that holds the intake/exhaust valves has been changed to an aluminum unit (steel on the existing model) to reduce inertial mass in the valve drive mechanisms. In addition, the spring rate of the valve springs has been reduced to balance the reduced inertial mass. Adoption of this new valve spring reduces the amount of force necessary to open the valves, which minimizes power loss and thus contributes to superior torque characteristics in the low- to mid-speed ranges. This helps bring out drivability that exceeds expectations for a high compression ratio engine.

3) New carburetor settings and funnel shape
The settings of the FCR-MX37 carburetor have been optimized to accommodate the changes in the intake/exhaust systems. Also, the spec of the cam for the acceleration pump and the shape of the air passage on the air cleaner side have been changed. Together, these factors contribute to improved power development in the low- to mid-speed ranges.
As for the air cleaner, the shape of its funnel has been optimized and the shape of the cleaner box modified to best fit the new frame.

4) Other engine-related changes
(1) Modified exhaust port shape (from a round cross-section to a "D" cross-section); (2) Transmission ratios changed for 3rd and 4th gears (slightly closer ratios); (3) New silencer spec to accommodate the new engine character; (4) New design to reduce clutch operational load (revised clutch spring load, revised length of the push lever cam to optimize the lever ratio); (5) New crankcase cover design with oil level gauge window.


Chassis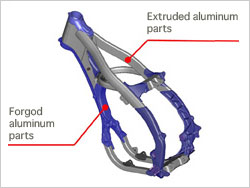 1) New-design aluminum Bilateral Beam frame
In order to promote centralization of machine mass, in particular centralization of fuel tank mass, that can contribute to making this model "Excellent cornering performance," a newly designed 250cc motocrosser-specific all-aluminum Bilateral Beam frame has been adopted. This new frame is made up of about 20 parts of forged, extruded and panel aluminum parts welded together into a single unit.
In addition, parts and components other than the frame are also designed and positioned with centralization of mass in mind. The total effect makes this new model significantly more compact than the existing model and that can be felt by the rider as a heightened level of rider-machine communication. Also, it helps achieve an excellent balance that contributes to a feeling of agile lightness, good front wheel ground hold, strong traction and light handling in tight turns. The straight line running back from the head pipe gives these models a distinctive design difference.

2) New dimensions adopted
The wheelbase, caster and trail dimensions have been optimized to bring out the characters of the new engine and frame. The handlebar position has also been changed for optimum performance.

3) Front suspension with further development
In order to achieve dependable cushioning performance and smooth operation when entering a turn at high speed, the valve that produces the damping force has been optimized and the specs of the inner rod has been changed. This is a key factor for achieving a good feeling of front-wheel ground hold when leaning the machine over at the entrance to a turn. The shape of the outer tubes has also been changed to optimize rigidity balance with the new frame.

4) Rear suspension spring position optimized
The new model adopts the same basic rear suspension spec as the existing model with its excellent cushioning feeling and reliability. Also, in order to enable the straight intake passage, the position of the spring of the suspension unit has been lowered 29 mm.

5) New-design flat seat
A new flat seat has been specially developed for the 250cc model. The rigidity of the seat bottom has been optimized for a better riding feeling and sense of fit. The seat surface material is the same as on the 2009 model. It is vinyl chloride leather with an optimized mix of compounds added to the smooth wooly nylon base fabric to provide the right balance of grip and ease in sliding. These qualities are especially felt in the ease of sliding when the rider starts to shift body weight on the seat and the sure grip at times when the rider needs a firm hold on the machine. The surface texture is designed to resist clogging of the surface grain with sand or mud to ensure superior grip and reduce the amount of dirt build-up after a ride.

6) New body styling with smaller-surface exterior parts
Befitting the new motocrosser standard the 2010 model represents, it is designed with styling that accentuates compactness and lightness. This design, with fewer plastic parts and an impression of lightness, is created by keeping the basic lines horizontal. Also, the exterior parts have textured surface finish that keep the beautiful "museum look" of this model's design concept even if there are the scratches and dents on the surface caused by rough rider movement and contact.

7) Other chassis-related features
(1) Newly designed radiator adopted (radiator core thickness increased); (2) New-design fuel tank (center of the tank moved closer to the rider for better centralization of machine mass); (3) Newly designed lightweight parts adopted (new sprocket, plastic resin under-guard, compact oil tank, new brake pedal shape and smaller brake hose guides); (4) New-design exterior parts adopted (front, rear fenders, front number plate, front fork protector, side covers and air scoop, etc.).


2010 Model Yamaha Motocrosser "YZ250F" Technical Specifications (Japanese market model)


Overall length x width x height
2,167×825×1,304mm
Seat height
990mm
Wheelbase
1,473mm
Minimum ground clearance
377mm
Curb weight
101.4kg
Engine type
Liquid-cooled, 4-stroke, DOHC 5-valve
Cylinder arrangement
Single cylinder
Displacement
249cm3
Bore & stroke
77.0×53.6mm
Compression ratio
13.5:1
Maximum power
NA
Maximum torque
NA
Starting system
Kick
Lubrication
Dry sump
Engine oil volume
1.2L
Fuel tank capacity
6.4L (unleaded premium gasoline)
Carburetion
FCR-MX37×1
Ignition system
C.D.I.
Primary / Secondary reduction ratio
3.353 / 3.923
Clutch type
Wet multi-plate coil spring
Transmission type
Return type 5-speed forward
Gear ratios
1st:2.143, 2nd:1.750, 3rd:1.444,
4th:1.222, 5th:1.042
Frame type
Bilateral Beam
Caster / Trail
27.20° / 118.7mm
Tire size (Front / Rear)
80/100-21 51M / 100/90-19 57M
Brake type (Front / Rear)
Hydraulic, single disc / Hydraulic, single disc
Suspension type (Front / Rear)
Telescopic / Swing arm (link type Monocross)


YZ250F Feature Map


* The YZ250F is not approved for license plating by the Ministry of Land, Infrastructure, Transport and Tourism and can not be ridden on public roads. Riding it on public roads is a violation of traffic law and transport law. Private roads, temple grounds, beaches, dykes, farm and forestry roads and other such places where people and vehicles can enter freely are also considered public roads. * This is a product that is not subject to insurance claims.