Additional Relief Aid for Sichuan Earthquake by Yamaha Motor Group Companies in China
| | |
| --- | --- |
| | October 27, 2008 |

Yamaha Motor Co., Ltd. announces that the Yamaha motorcycle marketing company in China, Shanghai Yamaha Jianshe Motor Marketing Co., Ltd. (YMSM) has begun a "Smile Project* Sichuan Yamaha Aid Campaign" to provide service in the areas stricken by the Sichuan Earthquake. Beginning October 25 and continuing through the month of November, three teams of Yamaha Motor service people will offer motorcycle inspections, maintenance and traffic safety instruction at a total of 42 locations in Chengdu City, the capital of Sichuan Province, and the surrounding areas. At the same time, charity activities will be conducted at 35 elementary and middle schools in the area aimed a hastening recovery from the earthquake disaster.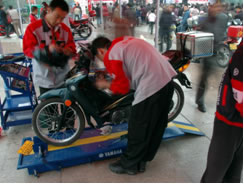 Shortly after the earthquake in May of this year, Yamaha Motor Co., Ltd. made an initial emergency relief donation of one million RMB (approx. 15 million yen) via the Japanese Red Cross Society, and this was soon followed by a donation of an additional 1.16 million RMB (approx. 17.4 million yen) in relief funds and supplies (1,000 sets of warm clothing, 200 cartons of mineral water, 280 tents, etc.) by 14 Yamaha Motor group companies in China. Now, five months after the earthquake, the lifelines to the stricken areas are being rebuilt and the Yamaha Motor group has undertaken this new service caravan campaign as part of humanitarian aid efforts to speed in the area's recovery.

The service campaign will be conducted by volunteer service people from Yamaha dealerships around China holding first level or higher service technician certification under Yamaha Motor's YTA (Yamaha Technical Academy) program and service staff from YMSM for a combined total of 42 people.
The campaign will provide 1) donations of school supplies for students of area school's (35 schools, 5,000 students planned), 2) free service inspections for Yamaha motorcycles in Sichuan Province, 3) free oil changes and spark plug replacements plus discounts on other parts and 4) riding safety instruction.

The campaign will be run primarily by YMSM with cooperation from the three Yamaha motorcycle manufacturing companies in China (Chongqing Jianshe Yamaha Motor Co., Ltd., Zhuzhou Jianshe Yamaha Motor Co., Ltd. and Jiangsu Linhai Yamaha Motor Co., Ltd.). In the future, Yamaha Motor Co., Ltd. and the companies of the Yamaha Motor group in China will continue to work together to provide additional earthquake natural disaster relief aid when and where the need arises.
Once again the Yamaha Motor group offers its sincere condolences to the victims of the Sichuan Earthquake and our wishes a quick recovery.

* "Smile Project" is a riding safety educational program conducted by Yamaha Motor in China since 2007.