The new Indian Market Model "FZ16" With features including a Mid-ship Muffler and Radial Tire
| | |
| --- | --- |
| | September 17, 2008 |
Yamaha Motor Co., Ltd. announces the October 2008 release of the new Indian market model "FZ16" powered by a newly designed 153cc air-cooled, 4-stroke SOHC, single cylinder engine and designed to offer a completely new type of naked (cowl-less) model.

The FZ16 has been designed and engineered as Yamaha Motor's answer to calls from the marketplace for new models that offer outstanding basic performance as well as the individuality and appeal to make the motorcycle a means of self-expression for the owner. The FZ16's development aim was to provide "great performance potential for around-town riding plus unmatched pride of ownership, not only in the way the machine looks but also the way the rider looks on the machine." With new features like a mid-ship muffler that contributed to greater concentration of mass near the machine's center of gravity, the first radial rear tire on a motorcycle manufactured in India and the first front fork made in India with φ41mm inner tubes, this model boasts a look of concentrated, muscular beauty.
In Yamaha Motor's new three-year (2008-2010) medium-term management plan, restructuring the motorcycle business in India has been designated one of the company's top priorities. The now-to-be released FZ16 joins the very well received new model YZF-R15 released in June to give Yamaha two highly attractive models to help realize the high value-added marketing strategy that is central to this restructuring.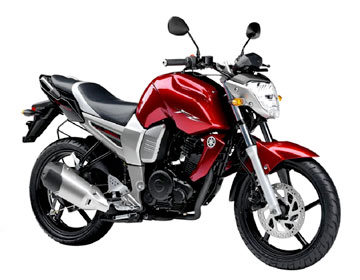 FZ16


Market background and product summary


The Indian motorcycle market is presently the world's second largest behind China. Demand is focused in the 100cc to 200cc range, which makes up about 80% of the market. In particular, the 125cc category has attracted a wide range of models by the different makers. Yamaha has expanded demand in the Indian market with the introduction of the "FAZER" (2004) and "Gladiator" (2006) models. Also, Yamaha has catered to riders seeking sportier performance by introducing in June of this year the new YZF-R15 powered by a 150cc liquid-cooled 4-valve engine with a DiASil Cylinder and distinctive styling based on Yamaha's famed YZF-R supersport series machines. Meanwhile, the Indian motorcycle market has also shown a new trend toward riders who want enjoy motorcycles as a means of self-expression and are looking forward to next-generation models that are more "aggressive" and have a look and feel that inspire pride of ownership. The new FZ16 is a model designed to answer these new needs.