New 2009 North American market models "V Star 950" and "V Star 950 Tourer" to be released as "Sporty & Classic Cruisers" with air-cooled 950cc V-twin engine
| | |
| --- | --- |
| | September 9, 2008 |
Yamaha Motor Co., Ltd. announces the development of two new cruiser models, the "V Star 950" powered by a newly designed 950cc air-cooled 4-stroke, V-twin, fuel injected engine and the "V Star 950 Tourer" adding a windshield, side bags and a backrest as standard equipment. These models will be released on the North American market from December 2008. They are models characterized by a light, sporty riding feeling and the full body size of a real cruiser.

The new V Star 950 and V Star 950 Tourer have been developed around a product concept of a "Sporty & Classic Cruiser" that offers a chassis with easy-to-handle functionality, a ride with an enjoyable sense of pulse and a design defined by a harmonious fusion of the classic and the modern. In the North American market, where cruiser models with large-displacement engines of over 1,000cc are popular, there have been increasing calls recently for new models that are easier to handle and lighter in feeling. These new models have been developed to answer this new demand. While maintaining the basic cruiser requisites of an air-cooled V-twin engine, steel fenders, belt drive and "long & low" styling, the new models add new technologies throughout its design. They are targeted to meet the needs of a wide range of users from entry level on up.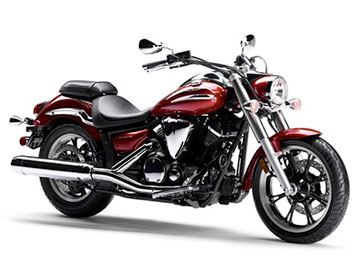 2009 North American model V Star 950
Name:

V Star 950, V Star 950 Tourer

Release date:

December 2008

Coloring:

V Star 950
- Deep Red Metallic K
- Purplish Blue Metallic 7
- Black Metallic X
V Star 950 Tourer
- Black Metallic X
- Very Dark Red Metallic 2
- Silver 3


Main Features


1) New-design 950cc air-cooled, V-twin, SOHC engine
A newly designed 950cc air-cooled 4-stroke, 60-degree V-twin, 4-valve fuel injected engine is adopted. The arrangement of the three axes, the crankshaft, main shaft and drive shaft, is the same as on the V Star 1300, while the displacement is changed, air cooling and a balancer-less design adopted, along with new designs and specs for the accompanying parts and components to give the engine a completely different character. The right-side 2-into-1 muffler features a honeycomb type 3-stage catalyzer to promote cleaner emissions that pass the 2008 CARB (California Air Resources Boad) regulation standard.

2) New-design double cradle frame
The frame is a newly designed double cradle type steel frame. The rear frame section is the same spec as that on the V Star 1300 and is made of steel pipes welded together into one unit. The simple head pipe assembly is one of the distinction features of the bike's exterior design, and combined with the optimized machine dimensions, it contributes further to the light feeling of the ride that you hope for from an air-cooled model. As with other Yamaha cruisers, the engine is mounted to the frame with rigid mounts that accentuate the pleasurable feeling of pulse from the engine.

3) Long wheelbase and light body
The wheelbase has been set at a class longest 1,685 mm. The chassis weight is 20kg lighter than the V Star 1300, which contributes to lighter, sportier handling. This means excellent performance in everything from cruising to sporty riding on winding roads. The seat height is 4mm lower than on the V Star 1300.

4) A body designed in the image of a "New-generation Classic"
The concept behind the exterior styling of the body is a "New-generation Classic." It is characterized by a "stream line" that runs through the entire body in one flow of motion. The open space around the head pipe accentuates the presence of the 18-inch front tire as well as the simplicity of the air-cooled engine.

5) Other features
Other features include 1) plated cylinders and forged pistons, 2) buff finish cylinder fins that form "V" shaped lines, 3) roller rocker arms, 4) an upright front fork with 41mm diameter inner tubes, 5) belt drive with an aramid fiber belt, 6) a new 8-spoke cast wheel, 7) steel fenders 8) a tear-drop shape fuel tank with wide upper surface and 9) a rear mud guard with a high horizontal cut.


2009 North American market models V Star 950 and V Star 950 Tourer specifications
[ ] indicates V Star 950 Tourer features


| | |
| --- | --- |
| Overall length x width x height | 2,435mm x 1,000mm x 1,080mm [1,340mm] |
| Seat height | 675mm |
| Wheelbase | 1,685mm |
| Wet weight (with oil and full fuel tank) | 278kg [298kg] |
| Engine type | Air cooled, 4-stroke, SOHC, 4-valve |
| Cylinder arrangement | V-type 2-cylinder |
| Displacement | 942cm3 |
| Bore & stroke | 85.0mm x 83.0mm |
| Compression ratio | 9.0:1 |
| Maximum horse power | N.A. |
| Maximum torque | 78.9N•m / 3,500r/min |
| Starting system type | Electric starter |
| Fuel tank capacity | 16.7 L |
| Fuel supply | FI |
| Tire sizes (front/rear) | 130/70-18M/C 63H / 170/70B16M/C 75H |