Supporting Youth Development and Promoting Sports in the ASEAN Region YAMAHA ASEAN CUP U-13 FOOTBALL Held for the First Time
| | |
| --- | --- |
| | August 4, 2008 |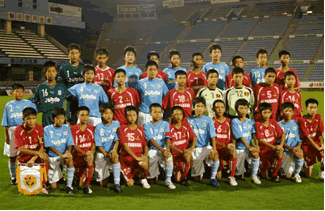 The goodwill match between the winners of the YAMAHA CUP 2007
held in August last year and the Jubilo Iwata Junior Youth Team.

Over the three days from August 4 through 6, 2008, Yamaha Motor Co., Ltd. will join Yamaha Motor Vietnam Co., Ltd. (YMVN), Yamaha Motor's subsidiary in Vietnam, in supporting the first YAMAHA ASEAN CUP U-13 FOOTBALL Vietnam 2008, international football tournament for under 13's in the ASEAN region. Staged at Chi Lang Stadium in Da Nang, Vietnam, this event is promoted by the Vietnam Football Federation (VFF) and attracted teams from Indonesia, Vietnam, Thailand, Malaysia, and Singapore.
The six teams who emerged victorious in the preliminary rounds among the five ASEAN nations (host Vietnam contributed two teams) are divided into two leagues and a final playoff will be held between the winners of each league to determine the overall champion.

As part of its commitment to youth development and social contribution activities, Yamaha Motor, whose corporate goal is creating Kando*, carries out activities to popularize, promote, and support a range of sports, including motor and marine sports as well as rugby and soccer both at home and abroad. The YAMAHA ASEAN CUP RACE, a motorcycle race that also helps train young riders, has been held every December since 2003 in the ASEAN region. As an official sponsor of the Asian Football Confederation since 2005, Yamaha Motor also helps popularize and promote soccer. YMVN was the sole sponsor of the July 2007 Elementary Schools National Soccer Tournament promoted by the VFF and organized the Yamaha Cup 2007. The winning team was invited to Japan where it played a goodwill match with the junior youth team of Jubilo Iwata, which plays in the soccer J League, Japan Professional Football League. Through sports activities such as these, Yamaha Motor seeks to promote friendly relations across international borders.

This year's YAMAHA ASEAN CUP U-13 FOOTBALL tournament is the first time this event has been held. It is a symbol of Yamaha Motor's commitment to sport in the ASEAN region and provides something for the children of the region who are striving to improve their soccer skills to aspire to and aim toward. In an effort to popularize and expand sports activities and improve competitiveness, from next year the Cup will be rotated among the participating nations. The second Cup — the 2009 event — will be held in Thailand.

*Kando is a Japanese word for the simultaneous feeling of deep satisfaction and intense excitement that people experience when they encounter something of exceptional value.



YAMAHA ASEAN CUP U-13 FOOTBALL OUTLINE


Event name
:
The 1st YAMAHA ASEAN CUP U-13 FOOTBALL VIETNAM 2008
Organization Board
:
Vietnam Football Federation, Nhi dong Newspaper Vietnam
Sponsored by
:
Yamaha Motor Co., Ltd., Yamaha Motor Vietnam Co., Ltd.
Date
:
From 3rd to 6th August, 2008.
Location
:
Chi Lang Stadium (Da Nang city- Vietnam)
Qualification
:
The tournament is competed by teams of players 13 years of age and younger that have won their national qualifying tournaments.
Participating Delegations
:
Vietnam 1 (Da Nang Team), Vietnam 2 (Phu Yen), Indonesia, Malaysia, Singapore, Thailand
(18 players per team, total of 108 players)
Tournament's Regulations
:
Six teams are divided into 2 groups for the preliminary round-robin.
The second position teams of each group compete in the play-off match to decide 3rd place and the first position team of each group will compete in the final championship match.
Playing time: 30 minutes per half and break time is 10 minutes.
Purposes and Meaning
:
The aim of this event is to contribute to youth development, the promotion and spread of sports and improvement of the competitive skills of the participants. Yamaha Motor hopes that this event will become a symbol of its sports promotion efforts in the ASEAN region and contribute to the development of football skills for young people by providing an opportunity for them to compete with teams of other countries.
This event will rotate among the participating countries, with the 2009 event scheduled to be held in Thailand as the second holding.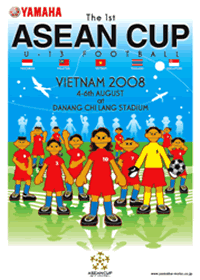 The YAMAHA ASEAN CUP U-13 FOOTBALL tournament poster