Cast Wheel Production Shifts to New Facility at Vietnam Parts Factory -Casting, Processing and Painting Facility with 600,000-unit Annual Production Capacity-
| | |
| --- | --- |
| | July 16, 2008 |

Yamaha Motor Co., Ltd. announces the completion of a new cast wheel production facility in the premises of Yamaha Motor Parts Manufacturing Vietnam Co., Ltd. (YPMV) in response to the growing demand for cast motorcycle wheels in the ASEAN region. Transition to the new facility will be completed and manufacturing will begin in September 2008.
YPMV's new specialized cast wheel production facility features three die casting machines that will operate as part of a comprehensive casting, processing and painting production process with the capacity to turn out 600,000 cast wheels annually. The investment for the construction and outfitting of the new facility and subsequent transfer of production is approximately 1.5 billion yen.

Cast wheels have become the mainstream wheels of choice for motorcycles in advanced markets due to their advantages in design freedom, processing ease and cost performance. In the ASEAN region with its growing motorcycle demand, there is also an increasing preference for cast wheels as opposed to conventional spoke wheels that have been predominant in the region. As evidence of this trend, the percentage of Yamaha motorcycles fitted with cast wheels has grown from 13% in 2004 to 44% in 2007 in the five ASEAN nations of Indonesia, Vietnam, Thailand, the Philippines and Malaysia.

Yamaha Motor has met this demand thus far with cast wheels produced at PT. Yamaha Motor Parts Manufacturing Indonesia (YPMI) and wheels from external makers. Plans call for the cast wheels produced at the new YPMV facility to be supplied to Yamaha Motor Vietnam Co., Ltd., the Yamaha Motor group manufacturing company in Vietnam, as well as to group bases in Thailand and the Philippines.


In the company's current, three-year medium-term management plan covering the period from 2008 to 2010, the ASEAN market is designated as a growth market for which the group will be aggressively investing corporate resources to "introduce attractive new products," implemet aggressive promotions," "strengthen sales networks" and "expand production capacities." The aim of these activities is to increase motorcycle unit sales to 4.3 million units annually by 2010, a 50% increase from 2007.

About Yamaha Motor Parts Manufacturing Vietnam Co., Ltd. (YPMV)


| | | | |
| --- | --- | --- | --- |
| | Name | : | Yamaha Motor Parts Manufacturing Vietnam Co., Ltd. |
| | Location | : | |
| | Headed by | : | Katsuaki Watanabe, President |
| | Capital | : | 14,286,000 US dollar (approx. 1.43 billion yen, at US dollar = 100 yen) |
| | Investment ratio | : | Yamaha Motor Co., Ltd. (100%) |
| | Founded | : | January 4, 2005 |
| | Area of business | : | Manufacture of motorcycle parts |
| | Employees | : | Approx. 700 |


The newly built cast wheel production facility (right) at YPMV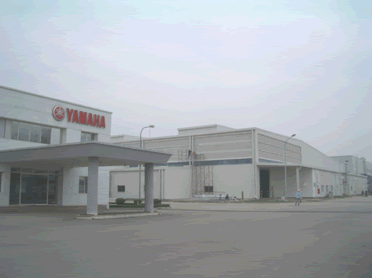 The "NOUVO LX " (liquid-cooled 135cc) model with cast wheels