Yamaha Motor's Communication Plaza Reaches 900,000th Visitor Milestone
| | |
| --- | --- |
| | June 13, 2008 |

Yamaha Motor Co., Ltd.'s Communication Plaza celebrated its 900,000th visitor milestone on Saturday, June 14, presenting a commemorative gift to the arrivals. Communication Plaza is a facility housing Yamaha Motor's corporate museum at the company's headquarters in Iwata, Shizuoka Prefecture, Japan.


The Communication Plaza has functioned as a museum and archive of the history of Yamaha Motor products that have served customers worldwide over the decades with displays of historical models and a library of materials relating to them. The facility has also presented a series of special exhibitions about technologies and a variety of themed subjects. At the same time, the Plaza has contributed to corporate-community communication by providing numerous events aimed at families and children, such as family motorcycle schools and engine dismantling/assembling workshops, and actively inviting school classes to attend guided tours of the company's factories.

Plans to build the Communication Plaza arose at the time of Yamaha Motor's 40th anniversary celebrations and the building opened on July 1, 1998, the 43rd anniversary of the company's founding. The 900,000th visitor milestone comes in the 10th year since the Plaza's opening.

Over the years there has been a steady increase in visitors, including visitors from abroad. In 2007, an all-time record of 130,000 visitors was set, and the cumulative visitor count is expected to top one million by April of 2009.

To celebrate the Communication Plaza's 10th anniversary in July 2008, part of the first floor has been renovated and special events for children have been planned as part of ongoing efforts to expand the facility's role in promoting communication between people inside and outside the company.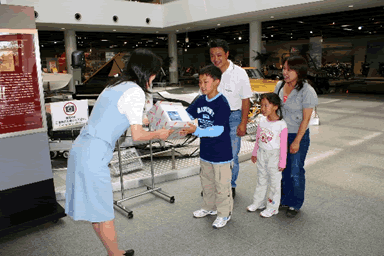 The 900,000th visitors received a commemorative gift on June 14