Mounting a newly designed V4 engine on an aluminum frame First Full Model Change in 24 Years 2009 European/North American Model VMAX
| | |
| --- | --- |
| | June 5, 2008 |
Yamaha Motor Co., Ltd. has developed a new VMAX model mounting a 1679cm3 liquid-cooled 4-stroke, DOHC, 4-valve, V4, fuel injected engine on an aluminum frame to achieve an outstanding acceleration feeling. This new VMAX will be released as a 2009 model on the European and North American markets.

Debuting in 1985, the VMAX quickly won acclaim as a flagship model of the Yamaha motorcycle line due to its unique character. The new model represents the first full model change for the VMAX in 24 years. While maintaining the basic VMAX concept and identity, the new model boasts a newly designed V4 engine with state-of-the-art features like YCC-T and YCC-I developed in line with Yamaha's G.E.N.I.C.H. engineering ideal. The new body design is one that embodies both strength and refined beauty. The North American market model will be sold under the Yamaha "Star" brand name.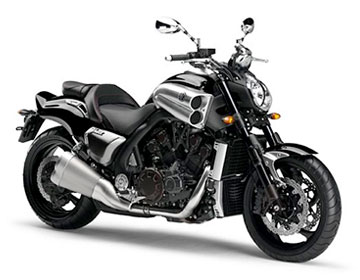 2009 European Model VMAX
| | |
| --- | --- |
| Name: | VMAX |
| Release date: | After October 2008 |
| Coloring: | Black Metallic M |


Market Background and Product Summary


Born in 1985 as a new American market model, the VMAX was designed for outstanding performance in straight-line acceleration, and adopted a 1198cm3 liquid-cooled 4-stroke, DOHC, 4-valve V4 engine. With a muscular-looking body, an oversized rear tire that made the machine look like it was ready to run a drag race and a chrome plated meter panel and headlight, the original VMAX had a distinctive look all its own. Soon after the debut of the original VMAX, it won a passionate following among big bike enthusiasts in North America, Europe and Japan and went on to become an epoch-making model that transcended categories with its unique aura over the next twenty years. Its influence on the market was enormous, and by the end of 2007 the total production reached approximately 100,000 units. But, at the same time, there were frequent calls from the marketplace for a new updated version of the VMAX.
While maintaining the basic product concept of the existing VMAX, this new model adopts state-of-the-art technologies utilizing Yamaha's advanced electronic control technologies in line with our G.E.N.I.C.H. engineering ideal to enable machine response that answers rider demands and expectations at a very high level. The result is a total package that creates an exciting and stylish new VMAX world of riding enjoyment.


Main Features


Engine

1) New-design V4 engine adopted for awesome acceleration feeling
A new-design liquid-cooled 4-stroke, DOHC, 65-degree V4, 4-valve engine is adopted to provide awesome acceleration feeling and powerful cruising performance. One of the new technical features that enabled the compact combustion chamber design is the new cam chain layout. In this system, the cam chain drives only the intake side. The exhaust side camshaft is driven by a gear mechanism from the intake side. This enables a better concentration of mass and makes it possible to minimize the pitch between the intake and exhaust camshafts to enable a more compact design for the combustion chamber. Also adopted are forged aluminum pistons and FS connecting rods with a potential for greater accuracy in journal roundness to contribute further to reliability.

2) YCC-I and YCC-T adopted
A large-capacity air cleaner box has been adopted. Also, new air intakes have been positioned on the front right and left that combine excellent fresh air intake performance and an impressive exterior look. These intakes are made of a Yamaha-exclusive anti-corrosive composite material and hand crafted by skilled craftsmen.
The YCC-I (Yamaha Chip Controlled Intake) system is adopted. This variable intake funnel system creates a positive intake pulse effect by varying the intake funnel length. The system adjusts the length of the funnel between a long and a short length depending on engine rpm. The switching of the funnels is performed instantaneously by means of electronically controlled servomotors to help achieve outstanding acceleration performance.
Fuel injection (F.I.) has been adopted as the fuel supply system to ensure environmentally sound performance and good response. And, YCC-T (Yamaha Chip Controlled Throttle) system has been adopted for the throttle valve control system. Also, the fuel injection system has a control function that varies the fuel injection cylinder by cylinder based on pressure in each cylinder as read by a pressure sensor. This contributes to excellent drivability.

3) Other features
Other features include: 1) slipper clutch, 2) shaft drive, 3) 4-1-2-4 type muffler and 3-way catalyzer and 4) magnesium alloy parts (the clutch cover, ACM cover and drive shaft cover).


Chassis

1) Newly designed aluminum frame
A newly designed all aluminum frame has been adopted. The frame structure consists of gravity-cast hollow aluminum stock for the main frame and a rear frame that is welded together from CF aluminum die-cast parts and extruded aluminum parts. In particular, the optimum varying of wall thickness in the main frame by increments of just a few millimeters, has made it possible to achieve good rigidity balance throughout the frame.
The wheelbase has been set at 1,700 mm to achieve excellent straight line running stability in combination with the new aluminum frame with its excellent rigidity balance (the current VMAX is 1590 mm).

2) Front and rear suspensions that contribute to outstanding acceleration feeling
An upright front fork with 52mm diameter inner tubes has been adopted. The inner tubes have been given an oxidized titanium coating for hardness, surface roughness and operability. The 2-piece outer tubes with upper and lower sections are made of cast aluminum. The upper part of the outer tubes are made of extruded aluminum with cutting work for better performance and sense of quality. The rear suspension is a linked type Monocross suspension. It is a fully adjustable type with adjustment front and rear for initial pre load and compression and rebound damping.

3) 18-inch tires to enhance acceleration feeling
Specially developed tires that contribute not only to handling performance but also the feeling of powerful acceleration have been adopted. These tires are characterized by an optimum balance of 1) the balance between road contact surface and sidewall, 2) compound qualities and 3) tread pattern.

4) Linear controlled ABS system (3-position ABS)
The front brake features a large wave-type disc of 320mm diameter and 5.5 mm of thickness and a radial-mounted opposed-piston 6-piston caliper. The master cylinder features a radial type pump that helps provide strong stopping power in proportion to the lever pressure. The rear brake adopts a 298mm diameter, 6mm thick wave disc.
Also, a newly developed linear controlled 3-positon ABS system has been adopted. For the hydraulic control system a linear solenoid valve is utilized to provide smooth hydraulic pressure control optimized to the various use conditions. The result is a natural braking feeling free of undesirable sensations.

5) New VMAX design defined by beauty within an image of strength
The new VMAX body design carries on the unique identity of the original VMAX. The design visually accentuates the flow from intake to exhaust, integrated with expression of the great strength harbored within the machine.

6) Other features
Other features include 1) a 2-piece radiator unit, 2) plastic resin fuel tank positioned under the seat to contribute to concentration mass, 3) multi-function meter display with organic EL panel (mounted behind the handlebars and featuring a stopwatch with countdown function).


2009 model VMAX Specifications (North American market model)


| | |
| --- | --- |
| Overall length x width x height | 2,395mm x 820mm x 1,190mm |
| Seat height | 775mm |
| Wheelbase | 1,700mm |
| Weight | 310kg |
| Engine type | Liquid-cooled, 4-stroke, DOHC 4-valve |
| Cylinder arrangement | V4 |
| Displacement | 1,679cm3 |
| Bore x Stroke | 90.0mm x 66.0mm |
| Compression ratio | 11.3:1 |
| Maximum output | N.A. |
| Maximum torque | 166.8N•m / 6,500r/min |
| Starting system | Electric |
| Fuel tank capacity | 15 liters |
| Fuel supply | Electronic fuel injection |
| Tire size (Front/Rear) | 120/70-18R M/C 59V / 200/50-18R M/C 76V |