Motorcycle test course to be constructed in Kikugawa, Shizuoka Pref.
| | |
| --- | --- |
| | April 21, 2008 |

Yamaha Motor Co., Ltd. has invested a total of approximately 6.4 billion yen to construct a new test course in the Tanno area of Kikugawa City, Shizuoka Prefecture, Japan, in response to increased demand for motorcycle development in the growing markets of Asia, Central and South America and other regions.

Construction on the new "Yamaha Motor Kikugawa Test Course" is scheduled to begin in October 2009, and end in the second half of 2012. Six courses will be constructed over 486,000 m2, including an approximately 3-km circular course with hill sections and a floodable course.

These courses will be used for the various types of road tests involved in achieving the required levels of safety and environmental performance for primarily medium to small displacement motorcycles for the Asian and Central and South American markets.

The land for this new facility has been acquired with the full consent of its owners, including the city of Kikugawa and private landowners.

Out of concern for environmental preservation, Yamaha Motor will plant vegetation along the perimeter of the Kikugawa Test Course. The company will also preserve all wildlife ecosystems found in the wooded area of the current site where possible.

Yamaha Motor operates four test courses in Japan for the development of the company's motorcycles, automobile engines, ATVs and snowmobiles, including the Fukuroi Test Course (Fukuroi City, Shizuoka Pref.), Trail Land Hamakita (Hamamatsu City, Shizuoka Pref.), Hamaoka Test Course (Omaezaki City, Shizuoka Pref.) and the Shibetsu Test Course (Shibetsu City, Hokkaido). The Kikugawa Test Course will be Yamaha Motor's fifth test course and the one with the largest surface area.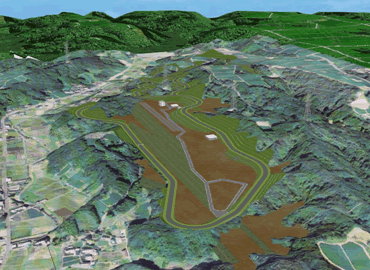 Artist's image of the completed "Yamaha Motor Kikugawa Test Course"