Italian manufacturing base celebrates 10 millionth motorcycle engine milestone
| | |
| --- | --- |
| | April 14, 2008 |

Motori Minarelli S.p.A., the Italian motorcycle engine manufacturing subsidiary of Yamaha Motor Co., Ltd., celebrated the manufacture of its 10 millionth engine since the company's founding at a ceremony held at its headquarters in Bologna on April 11. Representing Yamaha Motor at the ceremony was President and Chief Executive Officer Takashi Kajikawa.
Motori Minarelli was founded as a company manufacturing engines in 1951. In 1986, Yamaha Motor's European subsidiary Yamaha Motor Europe N.V. (YMENV) made a 3% investment in the company, after which it continued to increase its share of investment until Motori Minarelli became a 100% YMENV-owned subsidiary in 2003.
Presently, Motori Minarelli primarily manufactures motorcycle engines ranging in size from 49cc to 660cc, which are supplied to the Yamaha Motor group's European motorcycle manufacturing bases of Yamaha Motor Italia S.p.A. in Italy, Yamaha Motor Espana S.A. in Spain and MBK Industrie S.A. in France.
The current volume of engine production at Motori Minarelli is 280,000 units (planned, 2008).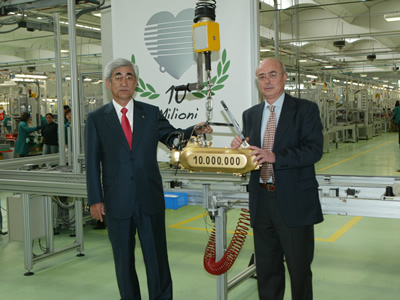 At the ceremony in Italy