21 Yamaha motorcycle service technicians from 17 countries worldwide compete in 4th "YAMAHA World Technician Grand Prix 2007"
| | |
| --- | --- |
| | November 6, 2007 |
Over the two days of October 30 (Tue.) and 31 (Wed.), qualifying Yamaha motorcycle mechanics from dealerships in 17 countries gathered to compete with their service skills in the "YAMAHA World Technician Grand Prix 2007 (WTGP) " held at the Yamaha Resort Tsumagoi in Kakegawa, Shizuoka Pref., Japan.
This contest was begun as a part of the Yamaha Technical Academy (YTA) program Yamaha Motor Co., Ltd. (YMC) has been promoting since 2000. In addition to help win more Yamaha fans around the world by providing high added-value service, this contest seeks to raise the service people's consciousness of their important place in the global Yamaha group, stimulate the desire for improvement and build and strengthen the worldwide Yamaha service network.
For this 4th holding of the Yamaha World Technician GP, the competition was divided between a sports model class and a commuter/business model class. The contest was designed to judge the contestants' skills in the areas of "proper service knowledge and skill," "providing service that communicates the appeal of the products" and "providing friendly customer service." To judge these skills, the contestants were tested in (1) motorcycle repair knowledge and theory, (2) troubleshooting and repair on actual motorcycles and (3) skills for dealing with customers, and the winners were decided on the basis of cumulative points in the three test areas.
When the contest was over, the winner in the sports model class was the Italian representative, Massimiliano Cordeschi, with 2nd place won by the German representative, Tom Lischitzki and 3rd by the U.S. representative, Christopher Scott Sirucek.
The commuter/business model class winners were the Indonesian representative Dewa Putu Gunawirawan (1st), the Chinese representative Wei Gang (2nd) and the Indonesian representative Djarot Imam Kristanto (3rd).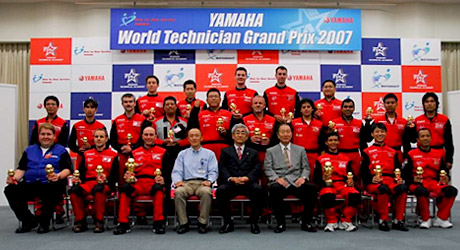 The 21 Service contestants from 17 countries with YMC's President Kajikawa (front center)


Outline of the Contest


The contents of this year' s contest included (1) a written test with questions concerning motorcycle structure, etc. (50 min.), (2) a practical skills test of pre-delivery machine preparation, and troubleshooting (80 min.) and (3) test of customer reception/handling skills and contents (15 min.), and 1st, 2nd and 3rd place winners were decided on the basis of cumulative points.
Written test

Questions dealt with subjects like tools and troubleshooting process
Practical skills test

In the two areas of pre-delivery inspection and troubleshooting a vehicle with malfunction, the contestants were tested concerning the use of tools and parts and the troubleshooting process
Customer handling

Contestants were tested on their handling of a customer bringing in a motorcycle for servicing


Sports Model Class winner comments


1st place Massimiliano Cordeschi, Italy
"I think I was able to win this international competition because I have always had an attitude of doing my best in my work all the time. Still, there were many things that I learned by competing in this WTGP contest and areas where I feel that I need to re-evaluate myself in. I believe that this is proof of the fact that the Yamaha Technical Academy (YTA) program and the WTGP are very relevant and useful for a great many Yamaha service people. I want to remember the things I have learned here and use them to work in ways that bring smiles to our customers' faces."
2nd place Tom Lischitzki, Germany
"I realized through this competition what high standards there are at the international level. It was a tough contest and I am very happy to have won 2nd place. It is not easy to constantly challenge to find new areas and goals for improvement in our daily work as service people, but this WTGP has been very stimulating in that regard. When I get back to Germany, I want to communicate what I have learned here to our other staff members and help us win higher levels of customer satisfaction."
3rd place Christopher Scott Sirucek, U.S.A.
"By participating in the WTGP and talking with the service people from the other countries, I realize how much I still have to learn and what areas for improvement there are. I have always sought to be uncompromising in my work when I service customers' motorcycles, but thanks to this experience I have realized that there is still a lot more I can do in the area of dealing with customers in order to give them the highest quality service possible. I think that WTGP is a competition of the very highest level that is well organized as an opportunity for service people to elevate the level of satisfaction their customers get."


Commuter/Business Model Class winner comments


1st place Dewa Putu Gunawirawan, Indonesia
"My goal is to become the best service person possible for the customers. To do that, there is a lot that I have to learn, and this WTGP has been a wonderful opportunity for that. I happen to win 1st place this time, but watching the other contestants' techniques and customer handling skills, I realized that there is still so much I have to learn. In the future I want to share what I have learned with my colleagues so that we can achieve higher levels of customer satisfaction."
2nd place Wei Gang, China
"I have 11 years of experience as a service person but this is the first time that I have taken part in a competition like this. It has been very meaningful to me to have this opportunity to test my skills. This first-hand experience in high-level customer handling skills and service technique has shown me that there is still a lot to be learned. And it has also shown me new goal to work toward. The first thing I want to do now is to share the things I have learned here at WTGP with my staff to raise the level of service my shop provides by sharing."
3rd place Djarot Imam Kristanto, Indonesia
"I believe that WTGP is an excellent competition for helping service people around the world educate themselves and raise their level of skills. I am proud of being a service person and I make an effort to always do my best, but watching these service people from around the world working with innovative methods has raised my motivation even higher. From now on I want to continue to improve myself and the way I deal with the customers as a member of the Yamaha family."