Yamaha Motor's 4-Stroke Outboard Motor "F350A" Receives Innovation Award from US National Marine Manufacturers Association World's First Commercially Sold V8 Outboard Motor Available in US since July 2007
| | |
| --- | --- |
| | November 6, 2007 |

The "F350A" four-stroke outboard motor manufactured by Yamaha Motor Co., Ltd. received the National Marine Manufacturers Association's (NMMA) "Innovation Award" at the International Boat Builders' Exhibition & Conference (IBEX2007), an international marine trade show held October 10~12, 2007 in Miami Beach, Florida.

The F350A is the industry's first commercially sold V8 outboard motor, which was unveiled in February 2007 as the world's most powerful, commercially sold outboard motor with a maximum output of 257.4kW (350ps) and an engine displacement of 5,330cm3. Sales of the product began in July 2007 in the US. The F350A is not currently available in the Japanese market.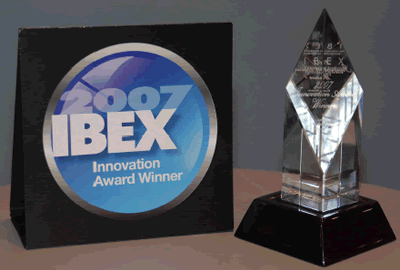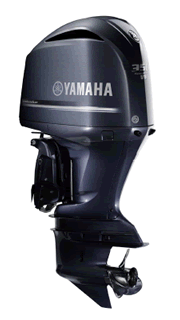 Yamaha 4-stroke outboard motor "F350A"



About the "F350A" 4-Stroke Outboard Motor


The following features developed with Yamaha Motor's in-house technology give the "F350A" excellent power and torque, as well as superior durability and reliability:
1)
"In-Bank Dual Exhaust with Power Surge Chambers" to suppress exhaust interference and improve output
2)
"Variable Camshaft Timing" that dramatically improves torque performance at low and mid-range rpm
3)
"Ionic Combustion Sensor" that detects the production of ions and maintains good combustion
Furthermore, operability has been significantly improved by the following features:
1)
Newly developed "Yamaha Command Link Digital Electronic Control System"
2)
"Variable Trolling RPM Control Function" with adjustable idling rpm
3)
"Automatic Multi-engine RPM Synchronization Function" that synchronizes the rpm of up to three engines
4)
"Tilt Limiter" to enable free adjustment of the tilt angle to accommodate varying mounting well shapes
In terms of environmental responsiveness, the "F350A" clears the highest standard (3-star rating) of the California Air Resources Board's (CARB) 2008 emission regulations, considered to be the strictest regulations in the world.
The awarding attests to the product's advanced performance enabled by Yamaha Motor's in-house technologies and its environmental responsiveness, as well as the company's efforts in developing a new domain for outboard motors as power units for large off-shore boats that have won acclaim in the US, a leading marine products market.



About the NMMA Innovation Award


The NMMA Innovation Award is presented at the annual international marine trade show organized by NMMA, following a screening of the products. This year, 79 new products were entered for the Innovation Award, and a total of 10 products received the award in nine categories including "boat manufacturing technology and materials", "mechanical systems", "inboard motors", "outboard motors" and the "environmental responsiveness".
Award winners are nominated following a screening by a panel of judges selected from members of Boating Writers International (BWI) who possess superior technical knowledge. The screening criteria include the following factors:
1)
The product must be innovative compared to conventional products
2)
The product must benefit the marine industry and consumers
3)
The product must be highly cost effective
4)
Consumers must be able to procure the product within 60 days of the awarding