Yamaha Motor to Strengthen Business in Argentina Launch of Motorcycle Assembly Plant and Office Relocation
| | |
| --- | --- |
| | October 12, 2007 |

Shizuoka, October 15, 2007 – Yamaha Motor Argentina S.A. ("YMARG"), a Yamaha Motor group company, which imports and markets Yamaha Motor products in Argentina, will strengthen its business organization by establishing a new, 3,600 m2 motorcycle assembly plant to begin operations in April 2008 with an output of 6,000 units between April and December 2008, while relocating to a new, integrated facility in October 2007.
YMARG will relocate its office to a new, 3-story building with a total floor space of 4,500 m2 constructed over a 10,000 m2 leased site in the Buenos Aires Province municipality of Ituzaingo. In addition to the company's sales functions, the building will house customer service and parts supply facilities and provide more space than the current, 1,000 m2 premises located in the municipality of Olivos, also in Buenos Aires Province. The new motorcycle assembly plant will also occupy the new site.

YMARG's major product lines include a full range of street, on/off-road, motocross, sports, touring and American-type motorcycles, ATVs, 4-stroke and 2-stroke outboard motors, personal watercraft, and a range of power products including generators and water pumps.

YMARG was established in 1996 as a joint venture between Yamaha Motor Company Co., Ltd. and Mitsui & Co., Ltd. to serve as a local subsidiary of Yamaha Motor, importing and selling Yamaha Motor products. In 2003, Yamaha Motor bought out Mitsui's stake in the company, which in the following year became 90% owned by Yamaha Motor do Brasil Ltda. Today, YMARG has 150 authorized dealers and supplies a broad lineup of Yamaha products to the local market.

Since 2003, the Argentine economy has been recovering at a rapid pace and the demand for motorcycles, marine products and power products is growing. In the motorcycle market in particular, total demand is expected to reach 600,000 units in 2007 (up 43% from the previous year), and between 800,000 and 1 million units by 2012.
YMARG anticipates selling 30,000 motorcycles this year in Argentina, a 135% increase from last year.



Yamaha Motor Argentina S.A. (YMARG)


| | |
| --- | --- |
| Name of the company: | Yamaha Motor Argentina S.A. |
| Location: | Presidente Peron 8370, Ituzaingo, Buenos Aires, Argentina |
| Headed by: | Yutaka Kume, President |
| Investment amount: | 1.056 million Argentine pesos (341,000 US dollars*) |
| Investment ratio: | 90% by Yamaha Motor do Brasil Ltda.(YMDB) and 10% by Yamaha Administradora de Consorcio S.C. Ltda. (YAC) |
| Foundation: | January 1996 |
| Area of business: | Import, assembly and sales of motorcycles; import and sales of ATVs, marine products and power products; import and sales of repairing parts and accessories for ATVs, marine products and power products |
| Sales volume (2006): | 88.301 million Argentine pesos (28.484 million US dollars*) |
| Production volume: | 6,000 units (planned, April-December 2008) |
| Number of employees: | 94 (estimated, by April 2008) |

* At an exchange rate of 3.1 Argentine pesos to the dollar



Flagship Model to be Manufactured and Sold by YMARG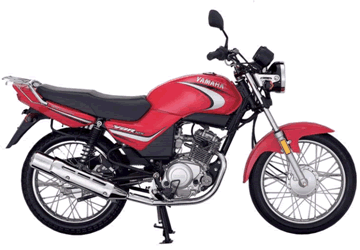 YBR125